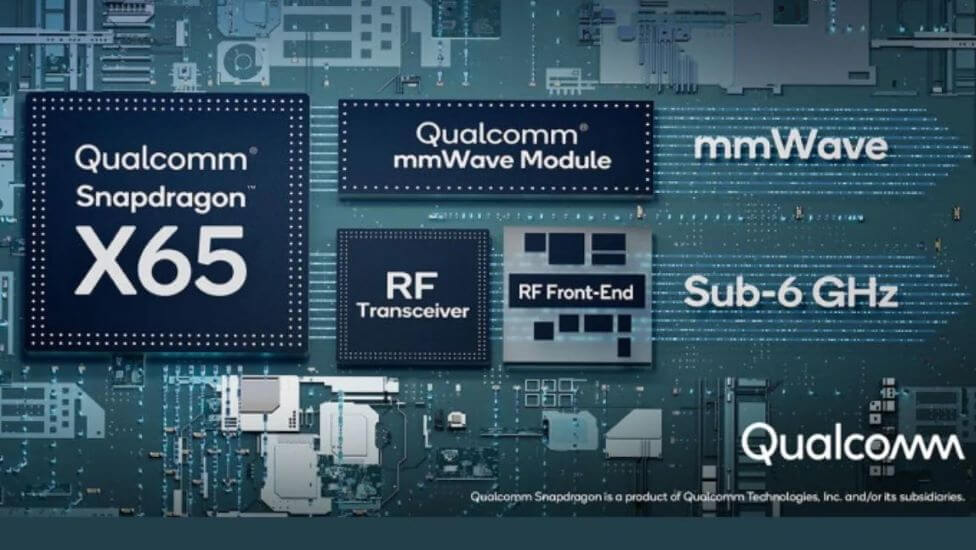 What is Radio Frequency Front End (RFFE), and what part does this critical mobile technology play in delivering advanced RF-Modem systems? These are just the first two answers that I will answer in this three-part series about how RFFE is a critical piece in the 5G puzzle. RFFE is already solving the growing engineering complexities of 5G, perhaps chief among them how to elegantly solve mmWave challenges, deliver high performance solutions like Qualcomm's X65 modem-RF system, and provide high speed, low latency connectivity to mobile devices, vehicles, and IOT devices.
Mobile devices have become globally ubiquitous: Over six billion people around the world currently own a cellular device, with over 1.5 billion additional cell phones expected to ship this year. Cellular connectivity has become as necessary to everyday life in 2021 as electrification was in 1921. From 2G to 3G to 4G to 5G, the expansion of increasingly complex and high-performance cellular networks has radically transformed the world for the better, and now constitutes the new fabric of data, communications, information, security, automation, education, and entertainment around the world.
In addition to cellular phones, entirely new categories of connected devices have also emerged to transform industries and people's lives and are commonly referred to as "the internet of things," or "IOT" for short. These include but are not limited to wearables (like smart watches), medical devices, consumer and commercial vehicles, cameras, smart buildings, traffic lights, drones, AR/VR/XR headsets, and such a fast growing ecosystem of industrial equipment that an entirely separate category had to be created to encompass that particular slice of the IOT pie: The "Industrial IOT," or "IIOT" for short.
While there is disagreement on precisely how many active connected devices are currently in operation around the world, we estimate that the number will land somewhere north of 46 billion this year. That's a lot of wireless connectivity, with each device presenting its very own set of performance requirements, form factor limitations, specific engineering challenges and radio frequency (RF) needs to be solved.
Why RFFE is a Critical Piece of the 5G Puzzle
RFFE is, in fact, a critical piece of the 5G puzzle. In a perfect world, RF solutions and cellular modems would receive equal attention. They are, after all, equal partners in the overall modem-RF system that allows connected devices to receive and transmit data over cellular networks. Unfortunately, RFFE doesn't always enjoy as much press as cellular modems. Part of the reason behind this imbalance of coverage may be that modem performance benchmarks provide simple metrics to the public, like download speeds. It's a bit like talking about a new car in terms of horsepower, acceleration and mpg or L/km, while mostly ignoring the complex systems that make it possible for the car to perform as well as it does.
As a result, RFFE often gets lost in the shuffle whenever we talk about connected devices, and particularly the role that RF innovation plays in solving both basic and complex radio frequency challenges that modems, on their own, cannot. To illustrate my point, take Qualcomm's newest 5G RF-modem (5G modem-RF) system: the fourth generation Snapdragon X65. When it was announced in February of 2021, the system's most obvious market-facing feature was that it was "the world's first 10 Gigabit 5G modem-RF system." While Qualcomm has done a fairly consistent job of referring to the X65 as a modem-RF system, because the tech press has spent so many years focusing on modems, the RF piece of the system got pushed aside by default as it often does.
The thing is, modems can't function without the RF piece of the system. In other words, RF isn't and cannot be an afterthought. Whether fully integrated or merely working in tandem with a modem, RF is an integral piece of the modem-RF solution that makes cellular connectivity possible. It doesn't matter how fast and advanced a cellular modem is: If the RF part of the system isn't working or isn't optimized for that modem's performance (and for the network), the device's connectivity needs will not be adequately met.
Taking this a step further, it is important to note that as modem performance and network complexity push the limits of wireless connectivity, it is RF solutions that must solve the most complex engineering challenges. Case in point: 5G mmWave. The Snapdragon X65's record-breaking 10 Gbps download speeds can only be achieved through mmWave bands, and those require extremely sophisticated mmWave antennas (RF solutions) to properly connect the modem to those radio signals.
Without the right RFFE technology to solve the complex engineering challenges presented by mmWave radio signals, both in the downlink and the uplink, including MIMO, the X65 modem by itself would essentially be like the fastest, most powerful race car in the world sitting there without wheels or tires.
The $1.5 Billion TDK Acquisition was an Inflection Point for Qualcomm — Bringing RFFE Capabilities In-House
Qualcomm has been a cellular industry leader in modem and RF innovation for decades, but for most of the company's history, much of the RF portions of its overall modem-RF solution ecosystem had relied on industry partnerships. Most notably, Qualcomm had partnered with TDK in 2016 to launch RF360 Holdings, which helped both companies focus on developing SAW, BAW, TC-SAW, and other RF filters and modules that could isolate specific bands used by 2G, 3G, 4G and 5G technologies as well as co-existence with Wi-Fi and GNSS. This changed in 2019, when Qualcomm was able to acquire the radio frequency chip business it operated in partnership with TDK for $1.15 billion. The acquisition was an inflection point for the company, which would now be able to sell a more complete modem-RF solution. All in all, Qualcomm spent approximately $3.1 billion between 2016 and 2019 to acquire TDK's relevant technologies and patents.
Until then, Qualcomm, which was already the world's largest smartphone chip maker, had enjoyed the lion's share of the $20 billion market for 2G, 3G and 4G modems chipsets, but had begun selling more RF chips around its baseband modems. This included switches, antenna tuners, power amplifiers, filters, envelope trackers and other modules designed to deliver higher data speeds, coverage and energy efficiency. That made sense for a while, but with 5G on the horizon, it made sense for Qualcomm to bring RF/RFFE in-house. The TDK acquisition served that purpose.
Around the time that Qualcomm acquired TDK in 2019, Qualcomm started selling fully integrated end-to-end modem-to-antenna solutions designed for 5G, starting with an RFFE solution designed to work with its second generation X55 5G modem. The RFFE module was, of course, designed to handle both sub-6 GHz and mmWave bands.
One of the more advantageous aspects of this transition for both Qualcomm and the mobile industry at large was that Qualcomm could now offer a complete system that included 5G/4G compatible modems, RFFE modules, and RF transceivers. Not only did this simplify and streamline development, implementation, and testing timelines for handset OEMs, it also lowered handset costs as well, which could either be translated into lower costs for consumers or higher profit margins for OEMs (or ideally both).
In Part two of this three-part series, we'll take a closer look at where Qualcomm's RFFE business is today, how much it has influenced and enabled the expansion of 5G technologies and deployments in the last couple of years, and how it holds the key to making 5G mmWave possible.
Disclosure: Futurum Research is a research and advisory firm that engages or has engaged in research, analysis, and advisory services with many technology companies, including those mentioned in this article. The author does not hold any equity positions with any company mentioned in this article.
Other insights from Futurum Research:
Zoom To Acquire Five9: Turns Its Focus On The Contact Center 
Windows 365 And Cloud PC: Microsoft's Cloud-Based Version Of Windows OS
PROS Launches New SaaS Editions Of Pricing Platform
The original version of this article was first published on Futurum Research.
Senior Analyst at @Futurumxyz. Digital Transformation + Tech + Disruption. Author, keynote speaker + troublemaker. Opinions are my own. I like croissants.