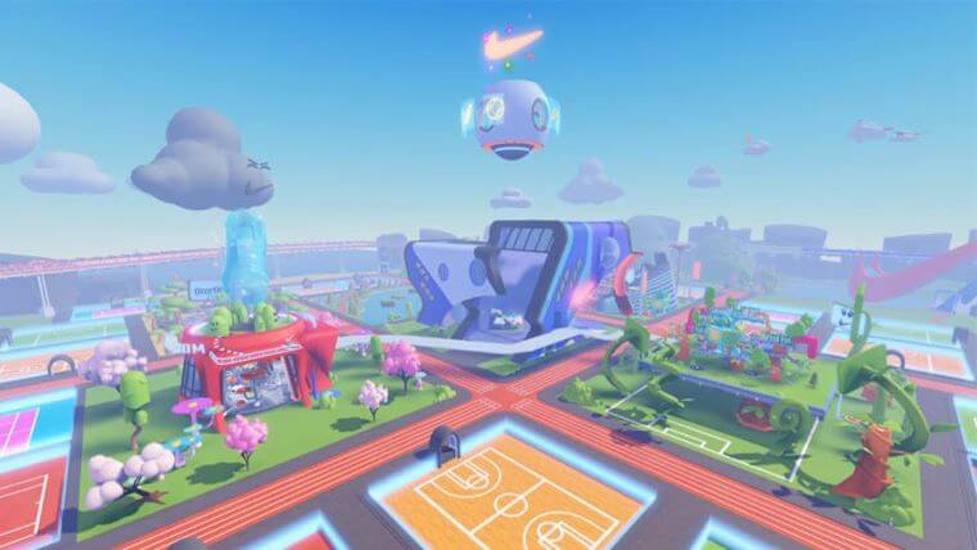 The News: Nike's metaverse store has been visited by nearly 7 million people in less than six months. The store's early success clears the way for other brands to enter the metaverse and prompts questions about the value of digital goods. Read reporting from The Drum here.
Nike's Metaverse Store Paves a Pathway into the Future
Analyst Take: Nike's metaverse store is on a roll. Less than six months ago, Nike became one of the first brands to open a store in the metaverse. Since then, nearly 7 million people (including LeBron James!) have visited the virtual space known as Nikeland. What Nike's metaverse store and Nike's success means for other brands, tech-savvy consumers, and the value of digital products is very interesting, especially at what is really the nascent stages of all things metaverse.
For starters, ecommerce has boomed in the two years since the pandemic put a damper on consumers' ability and desire to visit brick-and-mortar retail stores. While online shopping has been a fixture of the consumer landscape for years, COVID-19 sparked changes in consumer behavior that appear to be permanent, especially among younger generations of shoppers. For major brands such as Nike, this poses a challenge — how to provide an engaging customer experience that adds value and reinforces brand loyalty in a digital environment. That's where the Nike metaverse store comes in.
Brands Enter the Metaverse
Nike's answer was to build a virtual store on Roblox, an experience platform that enables users to create their own worlds and games and inhabit them digitally as customized avatars. While many brands hung back to await proof-of-concept, Nike bravely dove into the waters of the metaverse and built Nikeland, where consumers can try on and purchase virtual products, interact with each other, and play games such as dodgeball and basketball. And of course, Nike being Nike, celebrities were a part of the experience as well. To celebrate NBA All-Star Week, Lebron James visited Nikeland to engage with consumers, who were rewarded for physical gameplay with the ability to unlock virtual products.
Nike's early success on this front is a clear sign that the metaverse can be more than a virtual playground. It is also a space where brands can create customized experiences that reinforce brand identity, add value to digital interactions, and provide access to virtual products that drive revenue growth. In fact, the sporting goods company has revealed that Nike Digital is the fastest-growing component of its marketplace and now represents 26% of total Nike Brand revenue.
Is the Metaverse the Future of Shopping?
As the frontier of digital innovation, the metaverse provides an unlimited expanse for exploration and development, but it poses big questions for the brands who enter it as well. Metaverse stores are an opportunity to enhance brand identity and loyalty through digital experiences but, as largely user-created spaces, may not offer enough protections for brands hesitant to allow consumers to modify or customize those experiences outside of their control. Will metaverse stores become a portal to sell physical products to consumers IRL or are they spaces where only virtual products will be purchased by digital avatars?
The answers to these questions remain unknown, at least for now, but one thing is certain – there is a strong market for virtual products. NFTs have been all over the news in the last year, prompting responses across the spectrum from intense enthusiasm to total dismissal (and more than a few head scratches along the way). Regardless of any skepticism, the NFT market continues to see daily sales in the millions of dollars months after the initial peak that made them a hot subject of debate. Virtual products available in Nikeland include NFTs and other products that are different from NFTs as they do not necessarily include sole ownership designations, but they also exist in purely virtual space and have proven value.
As our personal expression and social interactions continue to move from physical to virtual spaces, products that allow us to express ourselves, augment our online experiences, or even gain an edge in virtual games and environments will only see an increase in demand. The "reality" of their existence and their monetary value is a result of consumers' willingness to invest their belief and their dollars in those purchases. The purchase of virtual products that correspond to physical products will make this distinction even less impactful.
The Case for the Metaverse
While a pioneer in metaverse presence, Nike isn't the only brand stepping into the virtual retail space. Recently filed trademarks suggest that Walmart is exploring virtual product offerings, and luxury brands including Gucci and Ralph Lauren have launched their own virtual customer experiences as well. Patrice Louvet, CEO of Ralph Lauren, articulated their interest in the metaverse as a way to attract younger consumers, expand the brand's reach, and drive revenue. "We are not a fashion company," Louvet said. "We are in the dreams business."
The metaverse provides a platform for turning dreams into reality, whether for those who find adventure or connection in virtual worlds or for brands looking to explore the next frontier of customer engagement. Its applications could include avatar-driven customer service interactions, augmented reality shopping, 3D commerce experiences, and more. Nikeland's early success doesn't definitively answer every question about the future of shopping in the metaverse, but it does provide a fascinating case study for brands, analysts, and marketers to watch for continued proof of the metaverse's possibilities.
Nike and other innovative brands are turning their attention to the metaverse because of its proven potential to reach a new generation of consumers. Nike's metaverse store feels like a glimpse into an exciting future full of opportunity. Much like my recent shopping experience at a Nike Lab store in NYC, it's interesting to see the evolution of commerce and what brands like Nike are doing to drive change and make shopping both a destination as well as an experience. And Nike's metaverse store is one I'll be watching for signs of the metaverse's growing impact on brand-building, marketing, sales, and beyond.
Disclosure: Futurum Research is a research and advisory firm that engages or has engaged in research, analysis, and advisory services with many technology companies, including those mentioned in this article. The author does not hold any equity positions with any company mentioned in this article.
Analysis and opinions expressed herein are specific to the analyst individually and data and other information that might have been provided for validation, not those of Futurum Research as a whole.
Other insights from Futurum Research:
Google Cloud's Retail Search Tool Geared Toward Helping Eliminate Cart Abandonment
Lego and Epic Games Are Taking the Metaverse to Children by Co-Building Immersive Digital Play Space for Kids – Is This a Move to Entice Grown-ups to Follow?
Amazon Announced the Opening of Amazon Style, its First Physical Retail Store
Image Credit: The Drum
The original version of this article was first published on Futurum Reseach.
Shelly Kramer is a Principal Analyst and Founding Partner at Futurum Research. A serial entrepreneur with a technology centric focus, she has worked alongside some of the world's largest brands to embrace disruption and spur innovation, understand and address the realities of the connected customer, and help navigate the process of digital transformation. She brings 20 years' experience as a brand strategist to her work at Futurum, and has deep experience helping global companies with marketing challenges, GTM strategies, messaging development, and driving strategy and digital transformation for B2B brands across multiple verticals. Shelly's coverage areas include Collaboration/CX/SaaS, platforms, ESG, and Cybersecurity, as well as topics and trends related to the Future of Work, the transformation of the workplace and how people and technology are driving that transformation. A transplanted New Yorker, she has learned to love life in the Midwest, and has firsthand experience that some of the most innovative minds and most successful companies in the world also happen to live in "flyover country."