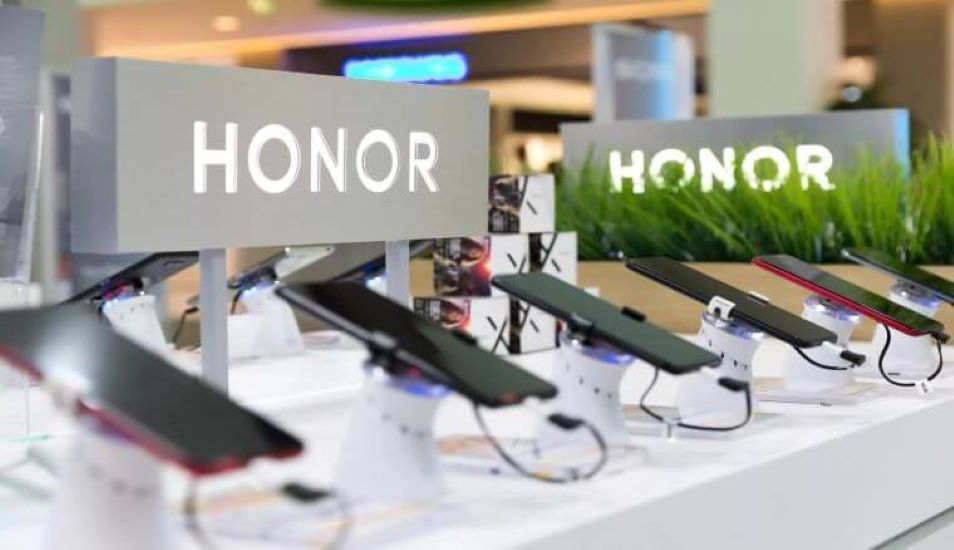 The News: Chinese Budget-smartphone Honor, which became independent from Huawei last year to work around U.S. sanctions against Huawei, confirms that it has secured partnership agreements with key global chipmakers — among them AMD, Intel, NVIDIA, Microsoft, Samsung, SK Hynix, Sony, and Qualcomm. Read more at Lightreading.
Moving on from Huawei, Honor May Find the Perfect 5G Mobile Platform Partner in Huawei
Analyst Take: The news of Honor moving on from Huawei and securing partnerships with key global chipmakers, including Qualcomm, was of obvious interest based on my coverage of this sector. Note that chipmakers and other technology suppliers around the world remain subject to U.S. restrictions on the sale of U.S. technology to Huawei. Also note that the Honor brand was sold to Shenzhen Zhixin New Information Technology in November 2020, likely in a move to divest it from Huawei ownership.
Honor has also just released its first post-Huawei smartphone, dubbed the V40 5G, which should retail for $550-$650. As mentioned, Honor is no longer attached to Huawei, but the V40 5G was mostly developed while Honor was still under Huawei ownership.
The device is powered by MediaTek's Dimensity 1000+ 5G mobile chip platform instead of the newer Dimensity 1200, but uses a more premium curved, flexible 120Hz OLED display (typically a premium feature not found on mid-range phones). Honor also just launched two new versions of its MagicBook 14 and 15, powered by 11th Gen Intel Core i7-1165G7 processor paired with NVIDIA GeForce MX450 GPUs, replacing earlier versions powered by AMD Ryzen processors.
Honor's Partnerships With Chipmakers May Hold Clues to What's Ahead
While Honor's most recent launches appear to be making full use of chip inventories presumably stockpiled by Huawei before being hit by the full weight of U.S. sanctions, Honor's announcement that it has already secured partnership agreements from so many critical chipmakers means that the company could realistically release mid-range and budget smartphones to rival Oppo's and Xiaomi's on-par offerings by this time next year, and perhaps even as early as next fall.
While these partnership agreements with key global chipmakers include AMD, Intel, NVIDIA, Microsoft, Samsung, SK Hynix, Sony, and Qualcomm, the inclusion of Qualcomm in this partnership list stood out based on my recent research and coverage in this area. I am particularly interested in the possibility that Honor might take advantage of Qualcomm's Snapdragon 865+ or Snapdragon 870 chipset for its next flagship smartphone release, rather than simply upgrading to Mediatek's Dimensity 1200. One key reason for this is that neither Mediatek's Dimensity 1000+ nor the 1200 chipsets currently support mmWave bands. Mediatek's very capable 7nm 5G modem, the Helio M70, while being capable of reaching peak throughputs of 4.7 Gbps download speeds in sub-6GHz bands, does not currently support mmWave. Mediatek's inability, at least at present, to deliver a mmWave-capable chipset may prove too serious a marketing hurdle for Honor, whose need to compete against similarly priced smartphones with mmWave support could drive the company to switch to a Qualcomm chipset. Note that it usually takes the better part of a year for handset-makers to implement then test mobile platforms, meaning that, should Mediatek hypothetically release a mmWave-ready modem or SOC later in 2021, it is unlikely that Honor would be ready to release a phone powered by that chipset in the same year.
Why Honor and Qualcomm's Complete Mobile Solution Makes Sense
Honor's decision to make up for its lower-performance SOC by releasing the V40 5G with a premium screen speaks to the company's ambitions in the $500 to $700 price-point range, and I cannot conceive of serious handset maker releasing a $600 smartphone in late 2021 or early 2022 that won't be mmWave compatible. While it is possible to mix and match mobile SOCs and modems, I don't know that it would make sense for Honor, so fresh off its breakup with Huawei, to unnecessarily complicate its product design efforts when it could instead procure a complete mobile solution from a supplier like Qualcomm.
Similarly, Qualcomm's new budget-focused Snapdragon 480 5G platform, which I covered pretty extensively a few weeks ago (linked below), which also supports mmWave, could be the perfect mobile platform for some of Honor's even more affordably-priced phones.
It is also not impossible to envision that Honor may be looking to break free from the budget-friendly image that was more or less imposed upon it by Huawei. If so, Honor would likely want to release a premium device in the next 12 to 18 months, presumably powered by Qualcomm's Snapdragon 888 5G platform.
In other words, Honor could turn out to become a fairly solid new socket for Qualcomm's mid-range and budget mobile SOCs as early as this year. This type of partnership could be a win-win for both companies: On the one hand, Qualcomm may hold the key to helping Honor release mmWave-capable phones in the next 12 months, which it will need in order to remain competitive against rivals like Oppo and Xiaomi. The Snapdragon platform's ability to deliver mmWave-ready modems and complete SOCs across a range of price-points is an advantage that may prove difficult for Mediatek to overcome. On the other hand, because Honor is signaling that it is looking to ship, at minimum, 60 million smartphones this year (a number which could potentially grow to 100 million next year), Qualcomm could be looking at a substantial boost in revenue and market share from such a partnership.
I'm looking forward to watching this play out.
Futurum Research provides industry research and analysis. These columns are for educational purposes only and should not be considered in any way investment advice.
Other insights from the Futurum team:
What Investors are Missing About Qualcomm, an Oft-Misunderstood Chip Company
News from CES: Qualcomm Powers Samsung's Galaxy S21 Lineup, Featuring the Snapdragon 888 5G Platform
Here's What's in Store for Marvell Technology, Qualcomm and Other Semiconductor Companies This Year
Qualcomm's New Snapdragon 480 5G Mobile Platform Expands the Company's Portfolio Into Budget Tier
Image Credit: Techtoptu Editor
The original version of this article was first published on Futurum Research.
Senior Analyst at @Futurumxyz. Digital Transformation + Tech + Disruption. Author, keynote speaker + troublemaker. Opinions are my own. I like croissants.