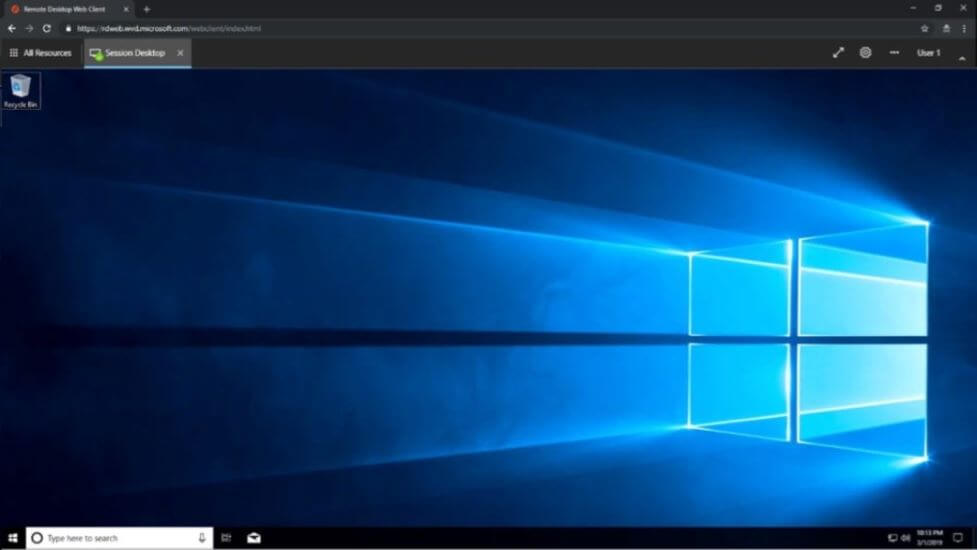 The News: Microsoft has announced the rebranding of its Windows Virtual Desktop to Azure Virtual Desktop:
"When we launched Windows Virtual Desktop nearly two years ago, no one predicted a global pandemic would force millions of workers to leave the office and work from home. Organizations around the world migrated important apps and data to the cloud to gain business resilience and agility. And to support the new remote workforce, many of you turned to Windows Virtual Desktop to give remote users a secure, easy to manage, productive personal computing experience with Windows 10 from the cloud. Going forward, organizations will need to support an evolving set of remote and hybrid work scenarios. To support this broader vision and the changing needs of our customers, today we are announcing new capabilities, new pricing for app streaming, and changing the name of the Windows Virtual Desktop service to Azure Virtual Desktop."
You can read more on Microsoft's blog here.
Microsoft's Rebranded Azure Virtual Desktop: The Future of Work is Hybrid
Analyst Take: The move from Windows Virtual Desktop (WVD) to Azure Virtual Desktop (AVD) is much more than a rebranding — it highlights a shift in focus that moves beyond the traditional virtual desktop toward more of an extended ecosystem of virtual workers, partners, and customers. While it's a low-key announcement, I believe its impact could be significant down the road in enabling new operational processes and new business models for Microsoft's Azure customers. And the reason is simple — we've accelerated the digital transformation of the world.
Microsoft has recognized that the future of work, and business, is one where flexibility is key. Yes, some workers will return to the office, but some may not. And many, if not most, will exist in a hybrid mode, shifting between a fixed office, a home office, or a remote/mobile office (e.g., on the road). This is true not just for a company's own employees but for its partners and, most importantly, for its customers as well (the extended ecosystem).
New Name, Same Tech. Sort Of.
It's worth noting that this isn't a shift in the underlying technology. Windows Virtual Desktop services, introduced in 2019 to deliver virtual Windows desktops and applications (including both Office and third-party apps) to remote users, is itself delivered over the Azure cloud today, so there's no tech disruption risk for existing users.
The real change is in where Microsoft is enhancing its virtual services features to expand functionality and open up a whole new set of use cases that support the post-pandemic workplace. Most of these features are in preview mode as noted in Microsoft's announcement, and here's a look at them:
Enhanced support for Azure Active Directory (upcoming public preview). Microsoft will be allowing Azure Virtual Desktop virtual machines to be joined to Azure Active Directory services. Why is this important? Active Directory services are used by administrators to verify and control which users are allowed access to specific applications and networked resources in real time (a key element of enterprise cybersecurity). This move simplifies, secures, and expands the process of users connecting to virtual resources, eventually leading to support for "single sign-on, additional credential types like FIDO2, and Azure Files for cloud users."
Microsoft Endpoint Manager support for Windows 10 Enterprise multi-session virtual machines (available now in preview). One of issues with managing virtual desktops has been the lack of common management tools with physical desktops, forcing enterprise administrators to not just manage virtual/physical devices differently but to think of them in different ways. This new feature extends the functionality of Microsoft Endpoint Manager to the virtual world, simplifying the process and allowing administrators to have a single window into all resources, virtual and physical.
QuickStart Deployment of Azure Virtual Desktops (upcoming preview). The QuickStart tools offer a "streamlined onboarding experience" for administrators setting up Azure Virtual Desktops in the Azure portal. Think of this as an assisted configuration tool helping admins validate requirements, follow/implement best practices, and automate deployments. No, this isn't groundbreaking, but it is a requirement for enterprises to easily scale Azure Virtual Desktop deployments across the increasingly-remote worker ecosystem.
Remote App Streaming with Monthly Per-user Pricing (available July 14, 2021). I believe this is the most exciting part of Microsoft's Azure Virtual Desktop rebranding, one that allows Microsoft's customers to stream third-party applications to their own customers and external business partners (that extended ecosystem we mentioned above).
Microsoft already allows organizations to stream third-party apps to employees using Azure Virtual Desktop, a must-have feature of any virtual desktop offering today in line with traditional "enterprises provide applications to their employees" model. But with more enterprises implementing shared single source of truth systems for supply chain and distribution partners, it makes sense to extend application streaming (through virtual desktop access) to suppliers and distributors. In fact, this could simplify the process.
But by extending this to an organization's customers, Azure Virtual Desktop services can be used by organizations to offer their own SaaS-based applications as-a-Service to the global market, independently of any need to support internal employees.
Microsoft is offering this service free of charge (beginning July 12, 2021) through the end of the year. Effective January 1, 2022 there will be a charge of US$5.50 per user/month for apps only and US$10 per user/month for apps + Windows desktop. This is on top of Microsoft's consumption-based pricing for Azure infrastructure services.
Where is Microsoft is Heading with Azure Virtual Desktop?
Over the past year, we've seen a significant push by enterprises to rework and accelerate digital transformation initiatives and the migration of applications to the cloud to support newly remote workers. But the emerging requirement in a post-pandemic world moves beyond just extending resources to remote workers, it requires equal support for in-person, remote, and hybrid working models where equal access anywhere is the name of the game.
In a sense, the model has shifted from deploying virtual desktops and applications over the cloud to integrating all applications, resources, and administration into the cloud.
It's no longer a Windows-first model, it's an Azure-first model.
Microsoft's rebranding approach appears to reflect and extend this reality, offering a path for enterprises to not just accelerate this process but integrate the remote, digital ecosystem more effectively into Azure's cloud-based storage and compute offerings. It also offers an interesting path for SaaS companies to leverage Azure Virtual Desktop services to create a new set of innovative offerings tailored to the new digital/physical hybrid ecosystem.
Futurum Research provides industry research and analysis. These columns are for educational purposes only and should not be considered in any way investment advice.
Other insights from Futurum Research:
Microsoft Provides Developers New Tools for a Better Teams Experience
Microsoft Build Updates: Power Platform, Power FX, and Azure Synapse Link
Microsoft Q3 Results Outpace Expectations Across the Board
Image Credit: Thurrott
The original version of this article was first published on Futurum Research.
Fred is an experienced analyst and advisor, bringing over 30 years of experience in the digital and technology markets. Most recently, Fred launched the equity research team at Samadhi Partners and provides marketing strategy through the Wasabi Rabbit digital agency. He previously served as an EVP and Research Vice President at HfS Research, launching its Digital Trust practice and coverage of emerging "trust-enabling" technologies. Fred previously founded analyst firms Current Analysis, a global tech-sector competitive intelligence and market advisory (acquired by PDM), Decisys, an analytical consultancy (acquired by the Burton Group/Gartner), and the Aurelian Group. Fred's analyst and consulting experience also includes Gartner and E&Y, with technology experience at Newbridge Networks' Advanced Technology Group (now Alcatel) and DTECH LABS (now part of Cubic Corporation).
Fred studied engineering and music at Syracuse University. A frequent author and speaker, Fred has served as a guest lecturer at the George Mason University School of Business (Porter: Information Systems and Operations Management), keynoted the Colombian Associación Nacional De Empressarios Sourcing Summit, served as an executive committee member of the Intellifest International Conference on Reasoning (AI) Technologies, and has spoken at #SxSW on trust in the digital economy. His analysis and commentary has appeared through venues such as Cheddar TV, Adotas, CNN, Social Media Today, Seeking Alpha, Talk Markets, and Network World (IDG).