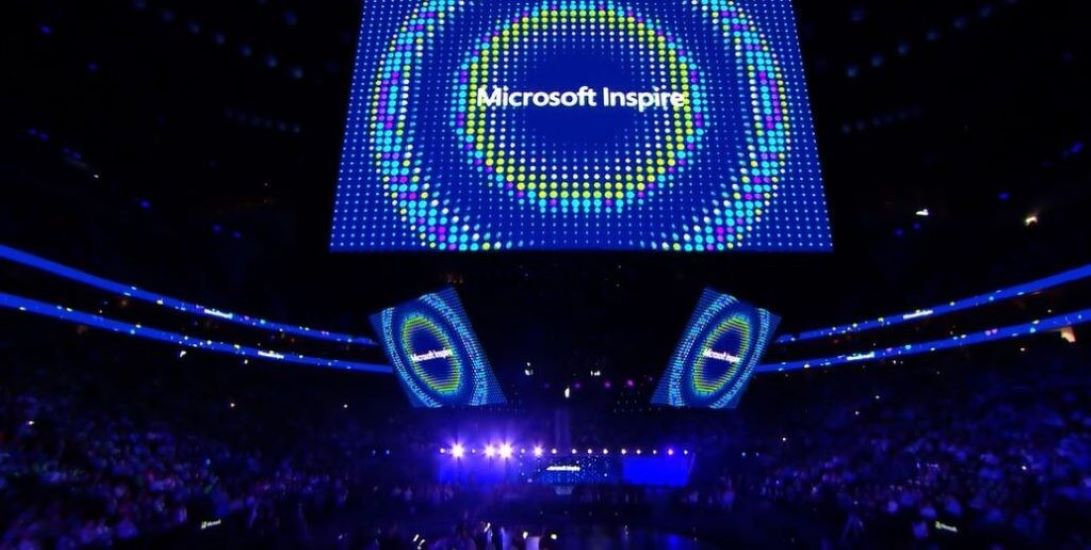 The News: At Tuesday's Microsoft Inspire event, Microsoft's Alysa Taylor, Corporate VP of Business Applications & Industry, highlighted investments intended to help partners enable resilient organizations around the world. As the global pandemic has required the rapid shift to a digital first mindset, encompassing digital selling, always-on service, and well-optimized supply chains and distribution, the partner ecosystem as it relates to technology vendors has never been more crucial to business resiliency efforts. Read the full update from Alysa Taylor on the Microsoft Dynamics 365 Blog here.
Microsoft Makes New Investments to Drive Organizational Resiliency for Partners
Analyst Take: At Microsoft's Inspire event, the company announced capabilities intended to help partner organizations continue their digital transformation journeys, morphing as rapidly as possible into digital-first organizations with the capability to both respond to the current business climate, as well as plan for what's ahead.
The company's focus with its investments in new capabilities was undertaken with three key areas of business continuity in mind:
Helping organizations return to the workplace with confidence
Launching new capabilities designed to assist organizations with digital selling and commerce efforts
Providing deeper integration between Microsoft Teams and Microsoft's Power Platform, allowing for easier, more rapid deployment of business apps and processes along with an easier to use integrated data platform.
Here's a deeper look at each of those three key areas.
Microsoft's Return to Workplace Solution
Microsoft recognized that returning to work safely is a top concern of organizations the world over. Business and It challenges that we've all collectively wrestled with over the last number of months include closed offices, remote work, time and resource constraints, trying to rapidly adopt and learn new business models, limited agility as a result of lack WFH isolation, and security and compliance concerns. Organizations have needed to put emergency procedures into operation pretty much overnight, navigate development delays and supply chain issues, worry about their ability to recover economically, and also consider and adapt to employee needs in ways rarely considered before. That's a lot of stress.
The introduction at Inspire of the pre-built Power Platform return to work solution was intended to facilitate a return to the workplace with confidence. The Power Platform features business intelligence, automation capabilities, and an all in one platform that is not only incredibly easy to use, it also brings everything together in a powerful way — Office 365, Dynamics 365, Azure, a vast app ecosystem, which can be connected to build end-to-end business solutions.
As it relates to the Return to Workplace solution, the pre-built Power Platform affords a secure, compliant solution that is aimed at helping facilities managers with both safety tools and location management, provides infection and self-screening capabilities for employers, safety tool, and easy-to-use self-service health offerings for employees.
A safe return to work cannot happen without a focus on employee health and wellness, along with the tools that everyone within the organization needs to feel comfortable that all possible and necessary safety precautions are being taken. This is not the first offering that we've seen from Big Tech with "return to work" solutions in mind, and I'm glad to see Microsoft turn its focus here. They seem to have covered it all: Facilities managers and safety teams, employers' needs as it relates to employee remote work check in and monitoring health and well-being, employees' needs as it relates to health and wellbeing, as well as providing employees with the confidence they need in order to be able to return to the workplace.
Facilitating a Required Shift to Digital Selling
Sales used to happen face-to-face, and that's quickly become a thing of the past — for now, anyway. New solutions introduced by Microsoft at Inspire include Dynamics 365 Connected Store, which allows retailers to take advantage of analytics that help them calculate in-store traffic and also allows them to conveniently offer curbside pickup options, both intended to afford customers a safer experience.
Microsoft reported its customer data platform (CDP) has been seeing high adoption rates throughout the partner ecosystem and beyond and that Dynamics 365 is playing an outsized role in providing personalized, real-time insights that lead to better customer experiences and engagements. In addition, Microsoft announced a partnership with Accenture, pairing their CDP with Accenture's Customer Experience Engine (CXE). This is an exciting move, as it allows everyone within an organization access to real-time, AI-powered, data-driven insights that will allow them to better understand their customers, their needs, and to serve them in relevant ways. Isn't that what we all need right now? Both on the sales side and on the consumer side?
Microsoft Teams and Power Platform Make Beautiful Music
I love seeing the collaboration platforms blossom as a result of COVID-19 driven times, and what's happening with Microsoft Teams is no exception. Instead of being simply a place for teams to work, Microsoft is transitioning it to the place all work gets done. Microsoft took this opportunity to introduce Microsoft Dataflex, the Common Data Service for Power Platform, affording easy connection of the apps built in Power Platform to all the data.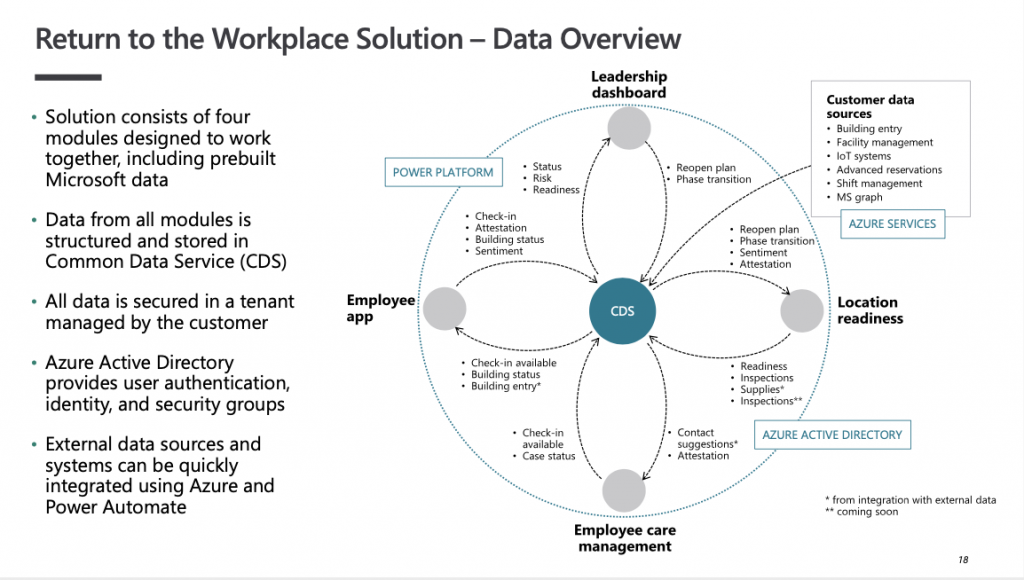 This allows the quick and easy connection of data to the various apps and intelligent chatbots that have been developed throughout the organization in Teams, facilitating collaboration and interoperability, all in a "work hub." This move empowers cadres of citizen developers throughout the organization, all focused on efficiency, productivity, customer experience and beyond, who are creating no-code, low code apps, and make interoperability easy for everyone to have access to business data, streamlined workflows and apps, and to share insights and ultimately work more efficiently.
We use a number of different collaboration platforms here at Futurum, including Microsoft Teams. I'm looking forward to experimenting with using the platform in more robust manner and seeing how it works. More importantly, this is a smart move for Microsoft. There is not a company out there that's not focused on using automation effectively to streamline operations, increase productivity, efficiencies, reduce manual tasks and lessen the load on the workforce as it relates to repeatable tasks that can more easily be handled by automation, but connecting powerful data insights to the process is the most important part of the equation. This facilitates and empowers greater collaboration and helps employees to continue on their learning and reskilling journeys and helps make the organization stronger and more resilient as a result. This is really exciting to me, and most definitely personifies the future of the workplace.
Expansion of Business Apps ISV Connect Program
Last year, Microsoft launched ISV Connect, which was created to allow Microsoft partners to build their own app ecosystem using Dynamics 365 and Power Platform. Today, Microsoft reports over 1,200 certified apps on the platform, representing a 30% YoY growth, and about 500 ISVs using ISV Connect. When ecosystems like this help partners connect with, educate, support, sell, service, and maintain relationships with customers, it's good for everyone. I'm glad to see Microsoft continuing to support this program and it will be interesting to continue to watch it grow.
All in all, great updates from Microsoft at this Inspire event, and virtual or no, featured lots of great, well-presented content, customer-centric offerings with a view toward helping organizations become more resilient at a time when they need it most.
The beauty of the Microsoft platform, across the enterprise, is that the technology stack for many has become increasingly complex, and in some instances, doesn't work well together to serve the various needs of the organization. Microsoft is already a significant player in the enterprise workforce, and the continued strengthening of its various offerings, all designed to seamlessly work together, serve the myriad needs across the enterprise, as well as in the partner ecosystem, means that you don't have to look outside the Microsoft solution set to do what it is you need to do. I would guess this makes other SaaS providers nervous, and rightfully so.
My partner, Daniel Newman, covered the Inspire event as well, and you'll find some of his updates diving in a little deeper to Microsoft Dynamics 365 and Power Platform here: Microsoft Updates Dynamics 365 and Power Platform at Inspire.
Futurum Research provides industry research and analysis. These columns are for educational purposes only and should not be considered in any way investment advice.
Other insights from the Futurum team:
Allscripts And Microsoft Extend Cloud-Based Health IT Partnership
Microsoft Announces Launch Of Global Digital Skills Initiative Serving 25 Million By Year End
IBM, Microsoft And Amazon Suspend Police Access To Facial Recognition Tech, Prompt US Lawmakers To Act
Image Credit: Microsoft
The original version of this article was first published on Futurum Research.
Shelly Kramer is a Principal Analyst and Founding Partner at Futurum Research. A serial entrepreneur with a technology centric focus, she has worked alongside some of the world's largest brands to embrace disruption and spur innovation, understand and address the realities of the connected customer, and help navigate the process of digital transformation. She brings 20 years' experience as a brand strategist to her work at Futurum, and has deep experience helping global companies with marketing challenges, GTM strategies, messaging development, and driving strategy and digital transformation for B2B brands across multiple verticals. Shelly's coverage areas include Collaboration/CX/SaaS, platforms, ESG, and Cybersecurity, as well as topics and trends related to the Future of Work, the transformation of the workplace and how people and technology are driving that transformation. A transplanted New Yorker, she has learned to love life in the Midwest, and has firsthand experience that some of the most innovative minds and most successful companies in the world also happen to live in "flyover country."