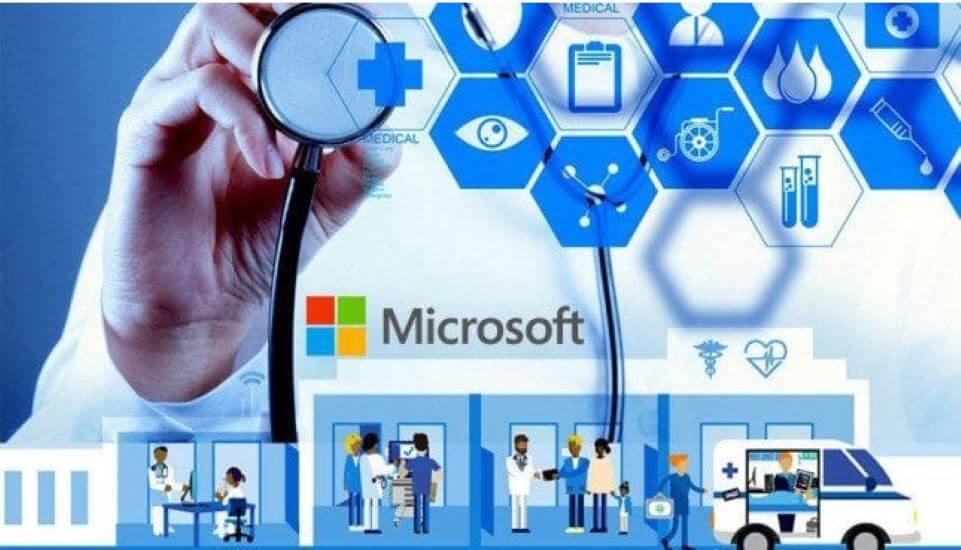 The News: Microsoft Cloud for Healthcare expanded its portfolio of interoperability data services for the health and life sciences industry. In October 2019, Microsoft debuted what the company asserts is the first cloud to support a fully managed, first-party service to ingest, persist, and manage structured healthcare data in the native FHIR (Fast Healthcare Interoperability Resources) format with Azure API for FHIR. Microsoft in now expanding its health data services to enable the exchange of multiple data types in the FHIR format. As such, Microsoft is renaming its services to the Azure Healthcare APIs. Read the Microsoft Blog here.
Microsoft Boosts Competitive Health of Microsoft Cloud for Healthcare with Azure Healthcare APIs
Analyst Take: Microsoft improves the competitive health of its Microsoft Cloud for Healthcare offering through the debut of its Azure Healthcare APIs. Azure Healthcare APIs is purpose-developed for the unique requirements of PHI (Protected Health Information), enabling customers to ingest, administer, and persist data in the Microsoft Cloud for Healthcare. Anyone working with health data can use the Healthcare APIs to bring disparate sets of PHI together and connect it with tools for machine learning (MI), analytics, and AI.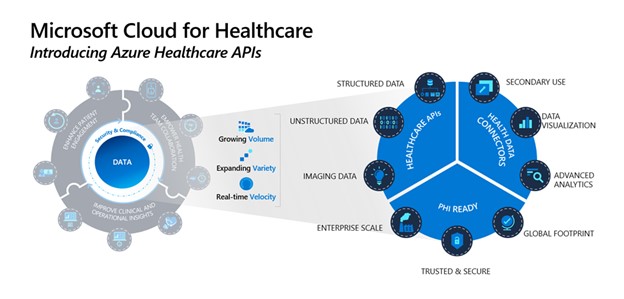 Specifically, Azure Healthcare APIs now enable search and customizable queries to be filled in minutes. When healthcare personnel ingest and transform data from the systems of record through Azure Healthcare APIs, data is unified to create a longitudinal patient record with real-time data, collected and persisted in a consistent way according to common health data standards across multiple types of health data including:
Structured inputs like clinical records in HL7 (Health Level Seven) or C-CDA (Consolidated Clinical Document Architecture), data from medical devices, services such as HealthKit and Google Fit, or genomics databases, can be ingested, transformed, and mapped to FHIR.
Unstructured data can be mapped to natural language processing algorithms like Text Analytics for Health to annotate data from clinical notes or text documents and structure it in FHIR so it can be viewed alongside structured clinical data.
Imaging data in DICOM (Digital Imaging and Communications in Medicine) formats can be ingested through an API gateway, and DICOMCast technology will extract relevant metadata from images and map it to patient records in FHIR.
Biometric data from devices can be ingested through our Azure IoT Connector for FHIR and can provide important information on health trends to care teams to allow for timely interventions and remote care.
I anticipate that delivering searchability across any medical organization's systems of record is essential for healthcare data users. Now Azure Healthcare APIs augment data ingestion and management to accelerate how medical data users can administer and curate data in the cloud. Clinical inputs can be assimilated with other vital patient-based data sets like social determinants of health. Actionable data is assuming an increasing role in health care decisions and Azure Healthcare APIs is developed to empower medical data to support authenticated, real-life evidence pipelines such as support for coverage decisions, clinical trials pipelines, and observational studies.
Azure Healthcare APIs give medical data organizations and users control over where the data goes and determine accessibility through role-based access control. Streamlined connectors can allow medical data users to swiftly export data for deep learning and AI frameworks in Azure Data Science VMs or Azure Synapse. If preparation of data for secondary use is needed, Tools for Anonymization enable uses to rapidly de-identify blended data sets and quickly spin up workspaces for research. Data Science workloads are streamlined with automated methods to encrypt, substitute, crypto-hash, perturb, date-shift, and generalize, and templates are available to apply expert determination.
Key Takeaways on Azure Healthcare APIs Debut
Microsoft needed to unveil Azure Healthcare APIs to counter the December 2020 launch of FHIR Works on AWS, a recent AWS Solutions Implementation. The AWS offering uses an open-source software toolkit that can be used to create a FHIR interface over existing healthcare applications and data. Moreover, it uses a serverless implementation to provide FHIR APIs that support the majority of FHIR resource types and operations.
FHIR Works on AWS includes architecture patterns for designing and building integrations to existing systems. Independent software vendors, system integrators, and healthcare providers can use the solution to improve access from mobile devices and web portals with standard FHIR APIs. Finally, the solution includes guidance on how to customize the default FHIR Works on AWS API to an organization's specific needs.
Google Cloud just rolled out its healthcare data engine tool in July 2021, now in private preview, designed to aid healthcare and life sciences organizations harmonize data from multiple sources, including medical records, claims, clinical trials, and research data. The technology builds on the core capabilities Google started offering in 2020 with its Cloud Healthcare API, a technology tool that aims to make it easier for health systems and providers to connect data across different sources and share those data with patients. Google Cloud avows the healthcare data engine can map more than 90% of HL7 v.2 messages to FHIR standards—such as medication orders or patient updates—across leading electronic health records out of the box.
With Azure Healthcare APIs, I see Microsoft maintaining the time to market advantage of its October 2019 Azure API for FHIR launch over both the AWS and Google Cloud offerings. As a result, I anticipate that Microsoft can further differentiate its health data services and platform by enabling the exchange of multiple data types in the FHIR format. The time to market and competitive advantages will become increasingly important across the healthcare and life sciences market segments as healthcare and life sciences data users must have real-world data to optimize their decision making especially in dealing with the uncertainties of COVID-19 variants and driving improved medical outcomes in the post-pandemic environment of 2021 and beyond.
Disclosure: Futurum Research is a research and advisory firm that engages or has engaged in research, analysis, and advisory services with many technology companies, including those mentioned in this article. The author does not hold any equity positions with any company mentioned in this article.
Other insights from Futurum Research:
Microsoft Sees Overall Revenue Growth Pass 20% in Q4
Microsoft's Expanded NEC Relationship Showcases Azure's Global Appeal
Microsoft and Google End Their Six Year Truce as Regulation Heats Up
Image Credit: Research Snipers
The original version of this article was first published on Futurum Research.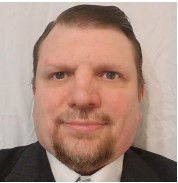 Ron is an experienced research expert and analyst, with over 20 years of experience in the digital and IT transformation markets. He is a recognized authority at tracking the evolution of and identifying the key disruptive trends within the service enablement ecosystem, including software and services, infrastructure, 5G/IoT, AI/analytics, security, cloud computing, revenue management, and regulatory issues.