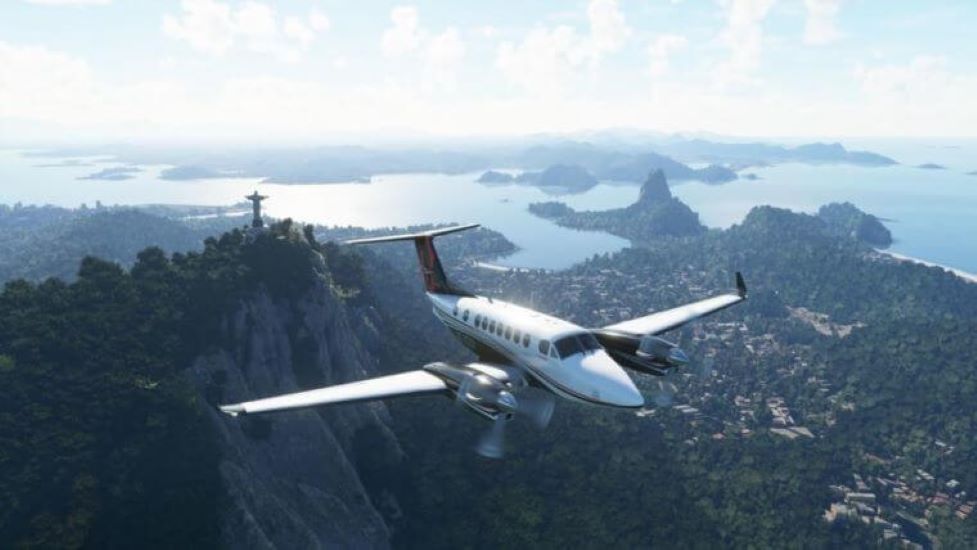 The News: The recently rebooted Microsoft Flight Simulator has been the blockbuster video game of 2020. With realistic scenery and fun features like simulating famous flights from movies like "Top Gun," what's really driving these capabilities is cloud computing from Microsoft Azure. Read more at TechRadar.
Microsoft Azure Boosts Popular Microsoft Flight Simulator Game
Analyst Take: The Microsoft Flight Simulator game that has been around since the 80s, but the 2020 reboot has such realistic features that even pilots are saying the look and feel is like real-life flying. What's powering these realistic features is the robust cloud computing of Microsoft Azure.
With the help of Microsoft Azure's cloud computing capabilities, Microsoft Flight Simulator uses data from Bing Maps to generate 3D models (including terrain, roads, vegetation, buildings, etc.), and uses an internet connection to stream the data in real time.
This game has perfect timing in terms of escapism. In addition to the photorealism Bing Maps' satellite imaging, Azure also enables the game to use real-world weather and cloud data basically allowing gamers to play in real-time weather conditions. I'm sure one of the reasons Microsoft Flight Simulator has been one of the top-rated and most popular games of the year is that you can fly your aircraft literally anywhere in the world. You can fly a 16-hour flight from L.A. to Dubai, or even fly through real hurricanes. During the time of the COVID-19 pandemic when there is limited travel and most have been stuck at home, the notion of seeing the world in real-time is appealing to both gamers and anyone that misses seeing the world beyond their home.
The popularity of this game is a great example of peripheral gaming revenue. Though Microsoft hasn't officially released user data or sales figures, market estimates report that Microsoft Flight Simulator could produce $2.6 Billion in hardware sales due to accessories. Hardware for the game can include components like video cards and CPU, flight sticks, rudder pedals, VR headsets, authentic-style pilot chairs, and displays. Validation of this estimate is that there's currently a shortage of flight simulator sticks that are game compatible.
Microsoft Flight Simulator 2020 is currently released for Windows for PCs. The PC gaming market has experienced a boon the last few years with special gaming computers by Dell and HP. These computers are also being marketed to schools to use gaming for learning purposes. The Microsoft Flight Simulator version for the Xbox gaming console is highly anticipated, though a release date had not yet been announced. The technological advancements of Microsoft Flight Simulator set a precedent that may make the bar even higher for console gaming. I wouldn't be surprised if the game was simultaneously released with the next generation model of the Xbox to show off both of their robust capabilities. Overall, the timing of this game is perfect in that it strikes a chord with users who are stuck at home, while showing off the cloud computing capabilities of Microsoft Azure.
Futurum Research provides industry research and analysis. These columns are for educational purposes only and should not be considered in any way investment advice.
Other Insights from the Futurum Team:
How Qualcomm Snapdragon Enhances The Android Gaming Experience
NVIDIA's GeForce NOW Launches — Streaming Cloud Gaming Taking On Google and Others
NVIDIA Furthers PC Gaming Lead As Ray Tracing Takes Over At Gamescom
Image Credit: PCMag
The original version of this article was first published on Futurum Research.
Sarah brings 24 years of experience as an industry analyst to the Futurum team. She most recently served as the head of industry research for Oracle. Her experience working as a research director and analyst extends across multiple focus areas including AI, big data and analytics, cloud infrastructure and operations, OSS/BSS, customer experience, IoT, SDN/NFV, mobile enterprise, cable/MSO issues, and managed services. Sarah has also conducted primary research of the retail, banking, financial services, healthcare, higher ed, manufacturing, and insurance industries and her research has been cited by media such as Forbes, U.S. News & World Report, VentureBeat, ReCode, and various trade publications, such as eMarketer and The Financial Brand.