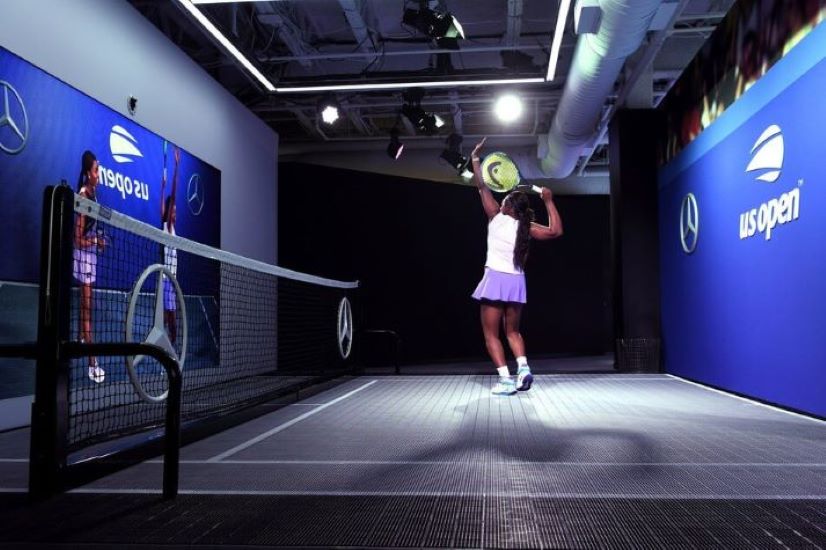 The News: Mercedes-Benz USA launched an interactive experience powered by Augmented Reality and voice technology at the U.S. Open. The Augmented Reality (AR) experience features 2017 U.S. Open champion and Mercedes-Benz Ambassador Sloane Stephens. The interactive exhibition launched at this year's U.S. Open on August 21 and will run through September 8. Read the full announcement here.
Mercedes-Benz Launches AR & Voice Tech Immersive Game at US Open
Analyst Take: Mercedes-Benz's use of AR and voice technology at the 2019 U.S. Open is very cool. Even better, it's smart. It's pretty safe to say that U.S. Open fans are prospective customers, so immersing them in interesting, brand-sponsored technology experiences is a great way to start, or continue, a relationship with them.
How this AR and Voice Tech Experience Works
How this AR and voice tech experience works is simple: Visitors trigger a lesson with Sloane Stephens using a voice command; then users are immersed into a virtual court.
To activate the game, guests approach the tennis court backdrop and ask, "Hey Mercedes, teach me to play like Sloane," and Stephens will appear in the game.
Virtual tennis players will be immersed in a lesson, "with an untethered racquet in hand to experience a highly personalized one-on-one tennis lesson, from the tennis superstar Sloan Stephens.
What This is Really About: The Connected Car Experience and Marketing That to Consumers
The in-car experience is really what this is all about, and how Mercedes-Benz is integrating technology into the driving experience. I almost leased a 2020 Mercedes this last spring, when my existing car lease was soon to expire, and I was trying to figure out what to drive next. The wow factor afforded in driving a 2020 model was, for a technology geek like me, almost irresistible. Resist it I did (I ended up with a Jeep Rubicon), but I'm still thinking about that car. That is without question largely due to both the technology inside, and, of course, to the amazing driving experience. I might not have bought the Mercedes then, but having been a long time BMW driver, and walking away from a Lexus lease, it put Mercedes on my radar screen in a way the brand had not been before. And that? Exactly what the brand is aiming for with marketing partnerships like this with the U.S. Open. Haven't driven a Mercedes in a while? Trust me, go demo a 2020 model, of whatever model it is you might fancy.
The Digital Transformation of the Automotive Industry
As with all industries, digital transformation is a reality for the automotive industry. Technology is transforming the industry in exciting ways, and AR is one of the most exciting. AR is making it possible for consumers to see and experience how the car feels and drives without even stepping into a showroom (yay!), and it also affords protections that enhance driver safety. I'm less excited about voice technology well, because it feels like it's everywhere already. Not that it's not an important part of the experience, connected car or otherwise, but it shows how easy it is to become accustomed to using voice commands and having that be our collective "new normal."
Bottom line, the automotive industry, as personified by Mercedes-Benz and other car makers, is evolving at a rapid clip. That's good for everyone.
Futurum Research provides industry research and analysis. These columns are for educational purposes only and should not be considered in any way investment advice.
More analysis from Futurum Research:
Digital Transformation Trends in Automotive
NVIDIA Adds Volvo to its Roster of Partners on AI for Self-Driving Trucks
4 Growing Enterprise AI Trends: Where Are We Now and Where Are We Going?
The original version of this article was first published on Futurum Research.
Shelly Kramer is a Principal Analyst and Founding Partner at Futurum Research. A serial entrepreneur with a technology centric focus, she has worked alongside some of the world's largest brands to embrace disruption and spur innovation, understand and address the realities of the connected customer, and help navigate the process of digital transformation. She brings 20 years' experience as a brand strategist to her work at Futurum, and has deep experience helping global companies with marketing challenges, GTM strategies, messaging development, and driving strategy and digital transformation for B2B brands across multiple verticals. Shelly's coverage areas include Collaboration/CX/SaaS, platforms, ESG, and Cybersecurity, as well as topics and trends related to the Future of Work, the transformation of the workplace and how people and technology are driving that transformation. A transplanted New Yorker, she has learned to love life in the Midwest, and has firsthand experience that some of the most innovative minds and most successful companies in the world also happen to live in "flyover country."