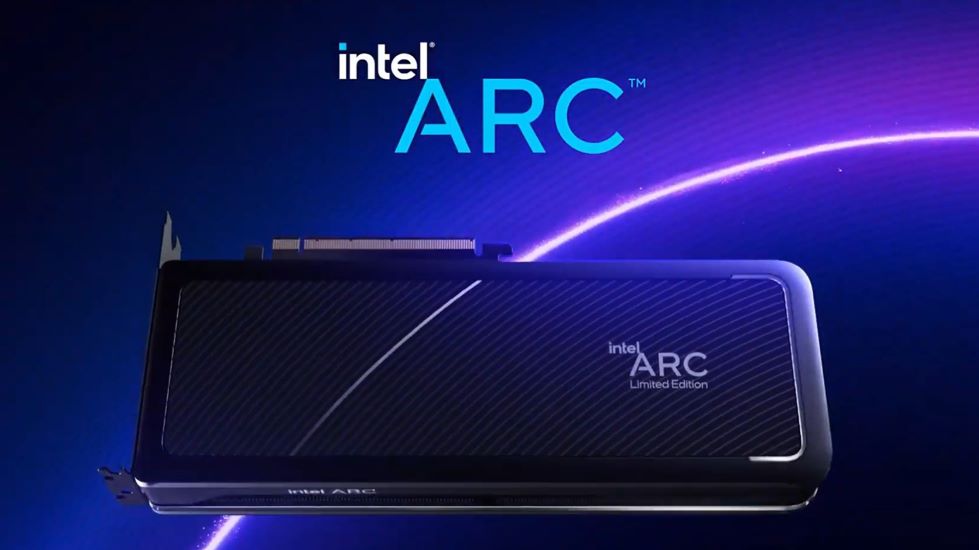 The News: Yesterday Intel launched its Arc A-Series Discrete Graphics product family for laptops. These are the first discrete GPUs to arrive from the Intel Arc A-Series graphics portfolio that will span laptops first coupled with desktops and workstations later this year. Many of the first laptops with Intel Arc graphics will be Evo designs with the latest 12th Generation Intel Core processors that will enable users to get the most out of thin-and light machines with Wi-Fi 6, remarkable responsiveness and battery life. Read the full Press Release from Intel here.
Intel Arc A-Series Includes:
A350M:

Targets: Ultra-thin designs
6 Xe cores
6 Ray Tracing Units
1150 Graphics Clock (MHz)
4GB Memory (GDDR6)
64-bit Memory BUS Width
25-35W Graphics Power

A370M:

Targets: Performance and thin-and-light designs
8 Xe Cores
8 Ray Tracing Units
1550 Graphics Clock (MHz)
4GB Memory (GDDR6)
64-bit Memory Bus Width
35-50W Graphics Power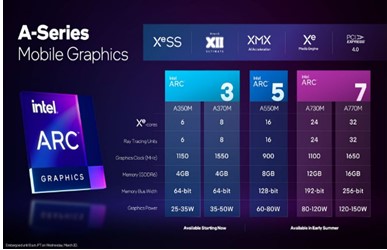 Intel Launches its Arc A-Series GPUs for Notebooks
Analyst Take: There is absolutely no shortage of vendors moving into near and far product adjacencies for margin accretion strategies or seeking to widen their addressable markets (e.g., HP & Poly).
In my opinion, Intel's move into the consolidated discrete GPU market against rivals Nvidia and AMD is a solid move for them for myriad reasons. First, the gaming market is exploding and key trends such as virtual and augmented reality should only help propel it in the future.
Second, more organizations continue to form business intelligence units for their big data strategies and their teams need more robust systems for their data scientists or statisticians. For example, mathematicians and statisticians are expected to grow much faster than other job occupations in the U.S. from 2020 to 2030. Third, the growth of 3D sensing technologies such as LiDAR is growing in segments such as autonomous vehicles and occupations such as CAD/CAM engineers, cartographers and more that are key for GPUs. All of these markets represent strong use cases for growth for the discrete GPU market that are expected to exhibit strong growth of the next several years.
A Glimpse of What's Under the Hood for Intel's Arc 3 Discrete GPUs
Initially, Intel will launch its Arc 3 discrete GPUs (A350M and A370M) that are positioned for the thin-and-light and ultra-thin notebook segment and co-developed with Samsung, Acer, Dell, and Lenovo to name a few. The more robust Arc 5 (A550M) and Arc 7 (A730M and A770M) laptops will be available in the summer of 2022.
The Intel Arc 3 graphics will include 8 ray tracing units, 8 Xe cores, 4GB of GDDR6 memory, 25-35w power (A370M has 35-50w) and a 64-bit memory bus. One of the key features that is expected to resonate is Intel's XeSS (or Xe super sampling) image upscaling which is expected to launch in the next few months. In a nutshell, this will offer much higher frame rates using artificial intelligence.
Wrapping it up, Intel's foray in the discrete GPU market is a solid move for the company since it expands Intel's addressable market in segments that are high growth and premium in nature (e.g., higher-end PC markets). In February, Intel said it aims to ship more than four million discrete GPUs in calendar year 2022 implying the Company believes it has a solid chance a disrupting the highly consolidated discrete GPU market that is dominated by few rivals.
Disclosure: Futurum Research is a research and advisory firm that engages or has engaged in research, analysis, and advisory services with many technology companies, including those mentioned in this article. The author does not hold any equity positions with any company mentioned in this article.
Other insights from Futurum Research:
Privacy and Security on the Edge to Cloud Journey with Intel SGX – Futurum Tech Webcast Interview Series
Intel Details Massive Investment Plans for R&D in the European Union
Making Markets EP27: Intel CEO Pat Gelsinger Unleashes the Company's Vision and Plans to Innovate at a Torrid Pace
Image Credit: Rock Paper Shotgun
The original version of this article was first published on Futurum Research.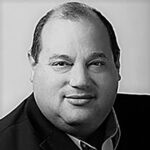 Michael Diamond is an industry analyst and foresight professional with 25 years of experience in the IT channel and market research industry. He is a route-to-market expert covering desktop and mobile devices, collaboration, contact center, ProAV, data center infrastructure, and cybersecurity. Prior to joining Futurum Research, Michael worked for The NPD Group as the sole industry analyst covering indirect channels, cybersecurity, SMB and vertical market trends, data center infrastructure (e.g., enterprise storage, servers, networking), ProAV and PCs. He has been quoted by media outlets such as Bloomberg, Kiplinger, TWICE, OPI (Office Products International), Apple World today, Dark Reading, Enterprise Storage Forum, Credit-Suisse, Footwear News, CRN (Computer Reseller News), Channel Futures and Into Tomorrow.  Michael has presented at myriad events including The Channel Company's Xchange, The Global Technology Distribution Council's summit, SMB TechFest and more.