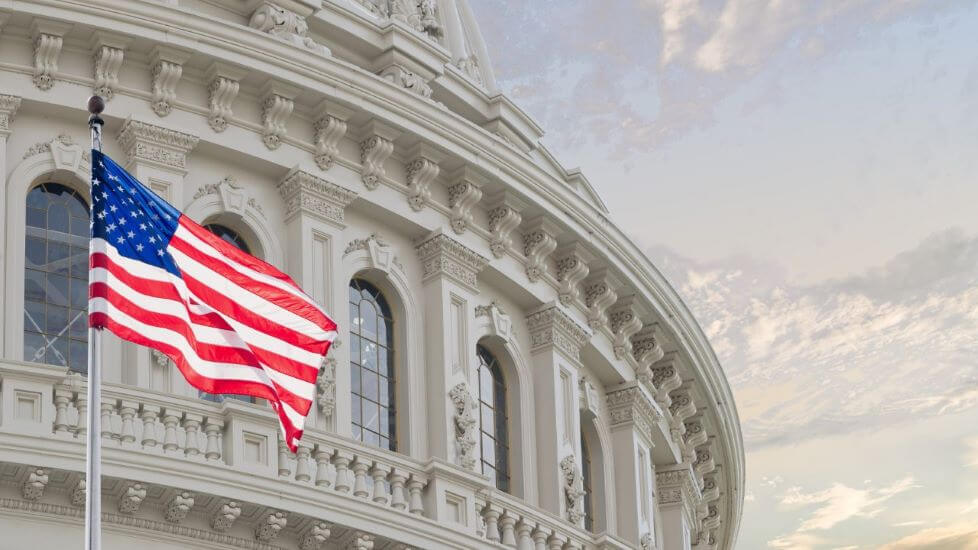 The News: Recently, the House passed a bill aimed at boosting U.S. semiconductor competition with China. The America Competes Act, passed largely along party lines, includes a number of provisions to boost competition such as $52 billion to make chips in the U.S., $45 billion to improve supply chain resiliency, and $160 billion for scientific research and innovation. Read the more about the bill from The Hill.
House Passes The America Competes Act Aimed at Boosting U.S. Semiconductor Competition with China
Analyst Take: The U.S. has been in competition with China for years if not decades when it comes to technology innovation and development. Looking specifically at the semiconductor industry, China's device sales and percent of market share has steadily been increasing, while U.S. market share has been on the decline, according to data from the Semiconductor Industry Association. What's more concerning? According to Boston Consulting Group, an overwhelming number of semiconductors are manufactured and assembled in China.
Why does this all matter? The pandemic impacted most industries, but none more severely than semiconductors. Throughout the last year we've been dealing with a chip shortage, impacting everything from the production of devices to automobiles. Onshoring chip manufacturing and assembling has been a key priority for many semiconductor companies like Intel. But, moving production from China or from another part of the world can be an expensive proposition. Which is why this bill, and the provisions within, is such a promising step forward for the U.S. semiconductor industry and the U.S. as a whole.
What's in the Bill?
The $350 billion America Competes Act contains a number of provisions and measures that would impact our relationship with China while giving our semiconductor companies a much needed boost. Here are a few items that are worth noting:
$52 billion for onshore chip manufacturing
$45 billion for shoring up supply chain vulnerabilities
$160 billion for scientific research and innovation
Federal oversight of U.S. of cross-border investments in China
Trade policy changes to counter overseas threat to protect American workers
Other policy changes related to climate change, human rights and domestic social inequality
Next Steps from Here
The bill has been championed by some semiconductor companies. Al Thompson. Intel's VP of U.S. Government Relations said, "Funding the [semiconductor incentives] is critical to level the playing field with global competitors," and I wholeheartedly agree.
However, the battle is not over yet. The Senate passed a similar bill in June. Now the two chambers will work together to combine the two bills and work out the differences before the legislation is sent to President Biden to sign. It might be another few months before we see this come to fruition, but this is a promising look into the future.
Disclosure: Futurum Research is a research and advisory firm that engages or has engaged in research, analysis, and advisory services with many technology companies, including those mentioned in this article. The author does not hold any equity positions with any company mentioned in this article.
Other insights from Futurum Research:
Gupshup Acquires AI-powered Voice Leader Knowlarity 
Honeywell Delivers Q4 Results, Full Year Operating Cash Flow and Free Cash Flow Above Initial Guidance
Pluribus Takes Network Visibility for Cloud Native Apps to the Next Level and Commits to 400 GbE
Image Credit: Bitcoin News
The original version of this article was first published on Futurum Research.
Shelly Kramer is a Principal Analyst and Founding Partner at Futurum Research. A serial entrepreneur with a technology centric focus, she has worked alongside some of the world's largest brands to embrace disruption and spur innovation, understand and address the realities of the connected customer, and help navigate the process of digital transformation. She brings 20 years' experience as a brand strategist to her work at Futurum, and has deep experience helping global companies with marketing challenges, GTM strategies, messaging development, and driving strategy and digital transformation for B2B brands across multiple verticals. Shelly's coverage areas include Collaboration/CX/SaaS, platforms, ESG, and Cybersecurity, as well as topics and trends related to the Future of Work, the transformation of the workplace and how people and technology are driving that transformation. A transplanted New Yorker, she has learned to love life in the Midwest, and has firsthand experience that some of the most innovative minds and most successful companies in the world also happen to live in "flyover country."