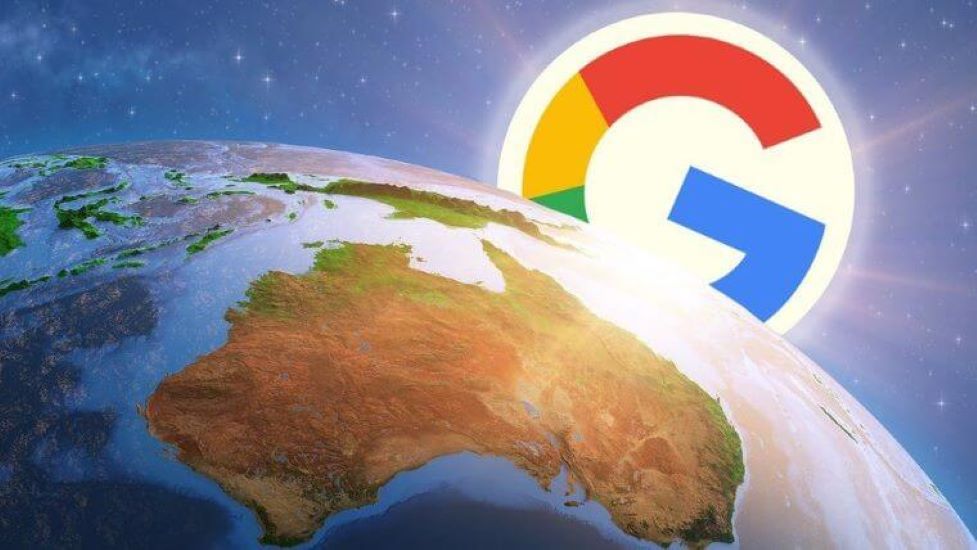 The News: Google has threatened to pull out of the Australian market if a new law governing its relationship with news publishers goes ahead. Australia's government is introducing a law to address a long-bubbling row over whether tech giants should pay for news that appears in search or is shared on their platforms.
The proposed law would mandate that Google (and Facebook) have commercial agreements with every news organization — or enter forced arbitration, something Google says is "unworkable." "If this version of the code were to become law, it would give us no real choice but to stop making Google Search available in Australia," said regional director, Mel Silva. Australian Prime Minister Scott Morrison told Google: "We don't respond to threats".  Read the BBC news article.
Google Down Under: Market Dominance Provides a Strong Hand — For Now
Analyst Take: The Australian government is showing no signs of backing down from Google's threats. A key Australian Senator bluntly warned Google that similar versions of its law are gaining momentum in other countries, which would logically compel the search engine giant to potentially pull up stakes across a wide swath of major markets. I anticipate EU countries will start enacting similar copyright and commercial mandates following the EU's own formulation and following France's lead in providing a template for how such a law can work in practice. I also expect India to follow suit.
The production and cultivation of news content requires investment in extensive workforce resources and intellectual capital, as well as return on investment gained primarily through ad revenues. It is no secret that Google and Facebook dominate online ad revenues, leaving news producers far behind in the digital dust. The Australian government seeks to inject a more equitable balancing of ad revenues enabling fair payments to news organizations, which have seen print advertising revenue fall by three-quarters over the past 15 years in the country.
While the substantial downturn in print revenues are not entirely due to Google and Facebook business practices, the brewing showdown in Australia shines a spotlight on national sovereignty priorities and the reality that we are seeing nations beginning to be focused on better defending homegrown businesses against the economic might of the online titans.
Google is U.S. headquartered and has had the backing of the U.S. government in this dispute. The Trump administration urged Australia to at least slow walk the new law, since there is concern it could have far-reaching impact on Google's business model. For now, it's too early to say with certainty if the Biden administration will maintain the same stance. Of note, in a somewhat paradoxical twist, Google is facing its own ongoing antitrust clashes with the U.S. Department of Justice (DOJ) and 40+ state attorneys general.
Google has already experienced its fair share of clashes with regulatory entities, especially with the EU. The EU has already fined Google $9.7 billion (8.2 billon EUR) across three antitrust cases. The new EU rule on copyright somewhat parallels Australia's proposed law, by stipulating that search engines and news aggregators should pay news sites for links. In France, major newspaper publishers have recently signed breakthrough copyright implementation deals with Google. In contrast, Australia's proposed law is more far-reaching and exacting.
GlobalStats Statcounter confirms Google's market pre-eminence in the search engine space (Worldwide December 2020 market share):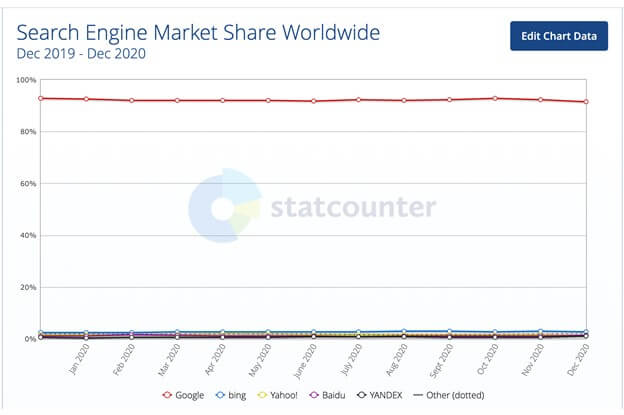 Google: 91.38%
Bing: 2.69%
Yahoo: 1.46%
Baidu: 1.36%
YANDEX: 1.0%
DuckDuckGo: 0.6%
While Google is not a monopoly, I foresee the company's undeniable market hegemony will increasingly draw scrutiny as well as ire from regulatory bodies across the world.
Google Down Under: Beware the Regulatory Boomerang Unleashing Savvier Competition
I see the showdown in Australia as providing new competitive opportunities for Google's search engine rivals. The situation appears somewhat akin to the restrictions and bans that governments around the world have placed on China-originated equipment in networks, especially emerging 5G networks, due to primarily national security and geopolitical considerations.
These government-mandated strictures curtailed the addressable market of China telco equipment manufacturers, especially Huawei and ZTE, across communication service provider (CSP) networks in major markets, such as the U.S., UK, Australia, India, Japan, Sweden, and so on. In particular, Huawei's mobile/5G infrastructure and solution rivals, such as Ericsson, Nokia, and Samsung, as well as an array of Open RAN specialists, like Mavenir, Altiostar, and Parallel Wireless, have swooped in to fill the competitive void left by government sanctioned pullback of Huawei and ZTE technology.
Key Google rivals, such as Bing, Yahoo, and DuckDuckGo, need to sharpen their strategic marketing and go-to-market messages to take advantage of Google's threat to abandon Australia's search engine market. I believe these rivals need to stress targeting the countries and regions where Google's clashes with regulators are becoming more intense with assurances that their search engine solutions are more closely aligned to fulfilling national sovereignty priorities as well as directly addressing local economic concerns.
Such players should target government agencies and verticals such as the defense industry, where national sovereignty and national security considerations are top priority selection criteria to expand their mind share and market influence in key counties, providing a peace-of-mind alternative to Google's ability to use its titanic market might to threaten withdrawal from entire countries.
Google Down Under: Key Takeaways
Google is the colossus in the worldwide search engine market segment and, as a result, possesses the market influence to stare down regulators in places like Australia. I believe rivals, such as Bing, DuckDuckGo, and Yahoo, have the distinct opportunity to take advantage of Google's ongoing tilt Down Under to elevate market awareness, including especially among government decision makers, that they are compelling competitive alternatives to Google.
Even if Google and Australia's government eventually come to an agreement on a compensation model for the country's publishing industry, rivals need to remind the market and government authorities Google's threats could arise again in their initiatives to defend other industry verticals and so forth. Now is a good time to rev up the marketing engines in the search engine competitive landscape.
Futurum Research provides industry research and analysis. These columns are for educational purposes only and should not be considered in any way investment advice.
Other insights from Futurum Research:
What Google's Acquisition of Fitbit Means for Google's Expanding Experience Ecosystem, the Future of Wear OS, and User Privacy
US Antitrust Action against Google Could Come Sooner than Expected
Google $2.1 Billion Fitbit Acquisition Hits EU Snag
Image Credit: BBC
The original version of this article was first published on Futurum Research.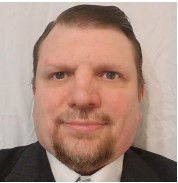 Ron is an experienced research expert and analyst, with over 20 years of experience in the digital and IT transformation markets. He is a recognized authority at tracking the evolution of and identifying the key disruptive trends within the service enablement ecosystem, including software and services, infrastructure, 5G/IoT, AI/analytics, security, cloud computing, revenue management, and regulatory issues.