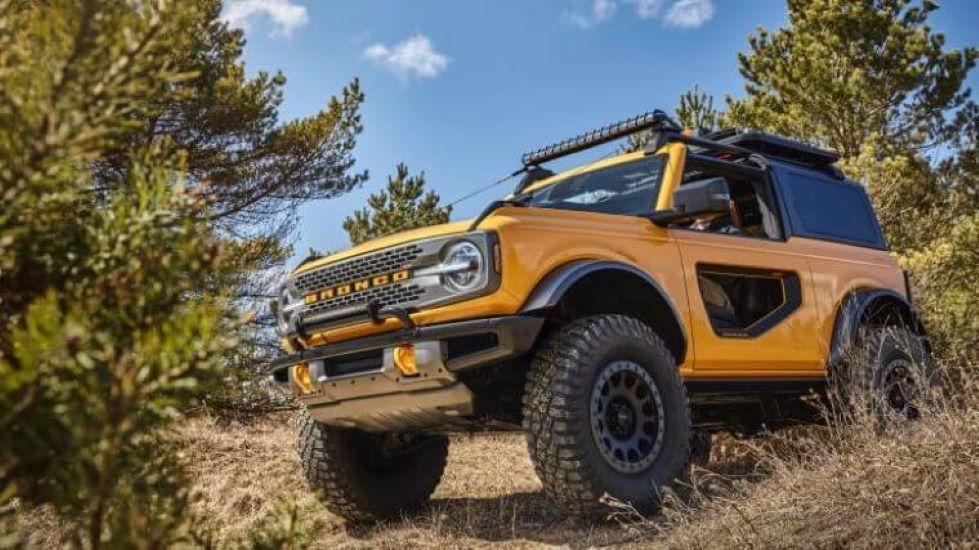 The News: More than 150,000 customers have paid $100 to reserve a spot to order the new 2021 Ford Bronco, which has surpassed the company's expectations. This nostalgic vehicle also comes loaded with new tech that includes next generation infotainment and sophisticated digital mapping systems. Read more about the Bronco reservations here.
Ford Bronco Surpasses Expectations: Comes With Advanced Tech
Analyst Take: At a time when most of us are experiencing crisis fatigue, Ford announced its new Bronco line July 13th to an overwhelmingly positive reception by enthusiasts. As the new line has tiers ranging in price from $30,000 to $60,000, the Bronco comes loaded with sophisticated new connected tech, a trend we are seeing with newly released cars on the market today with the goal of winning over consumers.
The Ford Bronco coming out this summer is perfect timing. Not only is it appealing for sentimental reasons, but its connected tech meets the needs of those who want to social distance and explore the wilderness by going off road. With that in mind, I'm really impressed by the technology that enables this vehicle's off-the-grid navigation. According to an article by CNET, the new Bronco comes with navigation maps that work anywhere. The navigation system is part of Ford's latest Sync 4 infotainment suite, which uses a combination of downloaded maps, wheel sensors and dead reckoning (calculating a position based on a previous known position combined with speed and time estimates) to determine a its location long after cell phone reception has dropped. This tethered smartphone-based approach to navigation is especially appealing to those who want to explore without worrying about cellular connection enabling their navigation.
With this new vehicle line, Ford has smartly taken advantage of connected abilities. The Bronco's Sync 4 will also include downloadable trail and towing maps, and the Trail Maps app feature allows drivers to document and share off-road adventures with friends through the cloud.
Additionally, the Bronco's on board navigation will include features like real-time traffic, voice activation, Yelp! ratings, specialized route suggestions for towing and off-roading. The navigation will plot turn-by-turn routes designed to avoid things like very sharp turns, narrow bridges and low-hanging overpasses.
When it comes to competition in the automotive IoT market, a huge driver is the level of sophistication of connected updates. The Sync 4 software will power the Bronco's 8.0- or 12.0-inch dashboard touchscreen that allows over-the-air updates and can connect to the cloud and user's smartphone wirelessly. The infotainment system also supports features that include Apple CarPlay, Android Auto, and a subscription-based Wi-Fi hotspot.
Safety is another major factor in autonomous vehicles, and the Bronco will be available with a suite of driver-assistance technology including automatic high-beams and parking sensors, forward-collision warning, automated emergency braking, lane-departure warning, lane-keeping assist, available blind-spot monitoring and rear cross-traffic alert.
In a time of global pandemic, it's definitely SUVs and trucks that are trending as we have also seen the release of the Tesla Cybertruck. The Ford Bronco's nostalgic appeal, and potential to safely take drivers to an off road escape, is what makes the vehicle line incredibly appropriate for a summer 2020 launch and hype around the 2021 model.
Futurum Research provides industry research and analysis. These columns are for educational purposes only and should not be considered in any way investment advice.
Other insights from the Futurum team:
BMW Car Subscription Updates Spark Customer Experience Questions
Mercedes-Benz partners with NVIDIA to Deliver the Next Generation of Automotive Innovation
Baidu Shifts Autonomous Gears with BMW and Apollo
Image Credit: CNBC
The original version of this article was first published on Futurum Research.
Sarah brings 24 years of experience as an industry analyst to the Futurum team. She most recently served as the head of industry research for Oracle. Her experience working as a research director and analyst extends across multiple focus areas including AI, big data and analytics, cloud infrastructure and operations, OSS/BSS, customer experience, IoT, SDN/NFV, mobile enterprise, cable/MSO issues, and managed services. Sarah has also conducted primary research of the retail, banking, financial services, healthcare, higher ed, manufacturing, and insurance industries and her research has been cited by media such as Forbes, U.S. News & World Report, VentureBeat, ReCode, and various trade publications, such as eMarketer and The Financial Brand.