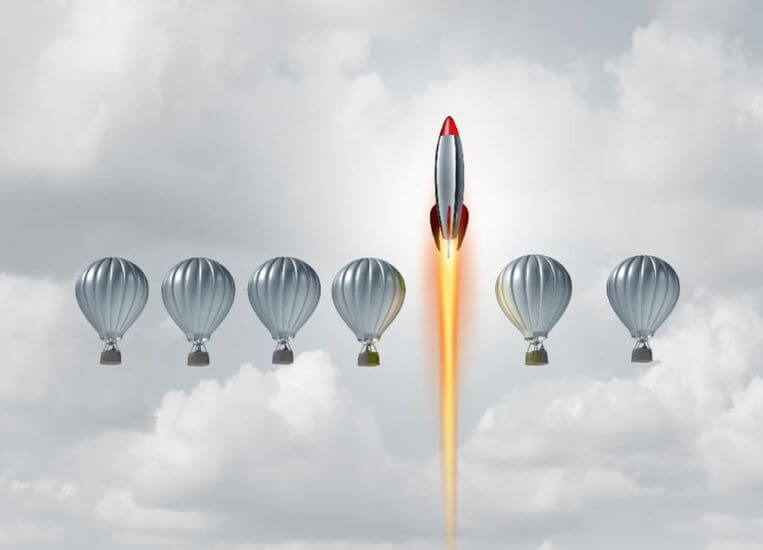 What's your biggest motivation for digital transformation? Your company—or your customer? Depending on your answer, you may not even be pursuing digital transformation at all. Indeed, if you're pursuing new tech adoption for your company's benefit—to save time, improve processes, or avoid day-to-day time sucks like returning emails and sorting through sales leads—it's likely you're merely digitally optimizing your business, rather than transforming it. Why does it matter? For two reasons. First, digital optimization is like grabbing the lowest-hanging fruit on the technological tree. It keeps you even with your competition, but it will never advance you past them. Second, it means you're focusing more on your company than you are on your customer, and that will never cut it in today's marketplace.
Think About Successful Companies
When you think about digital transformation it's likely that your first thought is about the companies that have disrupted industries. Uber killed taxis. Netflix pushed the movie rental business in an entirely new direction. AirBnB has challenged the hotel industry. While these are great examples of companies that have transformed industries, I always like to look at the companies that have transformed themselves. Who used technology to pivot? Who use technology to improve the bottomline? Who used technology to reach more customers?
Technology is one of the core pillars of digital transformation. There's nothing wrong with digitally optimizing your business. In fact, studies show that 85 percent of CIOs are doing just that. It makes sense. After all, you need to modernize simply to function in the world today with things like robotic process automation, etc. The only issue: it's not enough. To succeed in the marketplace today, you'll need to move further into high-tech solutions that work with the other pillars of digital transformation to help you meet your goals and solve your problems. You need solutions that bring you closer to your customer and allow you to serve them better, faster, and stronger. That's what digital transformation is about.
If you're not sure how to move from digitally optimizing your business to digital transformation, the following are a few key pieces of technology that can help get you started.
Check Yourself Before You Wreck Yourself
Before you start hunting down new tech that will move you toward digital transformation, have an honest conversation with your employees and leadership about where you are currently using technology—and how. How far have you come on the digital transformation journey? How much legacy hardware and software are you still working with? How onboard are your employees with the new technologies you're adopting? How far have you delved into customer journey mapping, and what do you do with those maps once you create them? If you don't have the answer to these questions you're likely just purchasing tech for tech's sake. No amount of new technology will move your company forward until you take time to answer those questions.
Artificial Intelligence
Most companies today are using at least some form of artificial intelligence. Whether they're personalizing marketing efforts or using AI to streamline recruitment or other repetitive HR functions, most companies are finding at least some easy spots to incorporate AI into their company's workflows to digitally optimizing. But what if you moved past those "obvious" solutions to using AI for higher-value things? What does that look like? Using AI for real-time analytics. Using AI for a united omnichannel presence and experience. Using AI to process unstructured data from social media to gain a clearer understanding of where your customers are struggling. Using AI to improve your customer service and scheduling via chatbots. Wherever you are, there is further to go with AI. No one has maxed it out yet, so begin by researching possibilities that could impact your customers' lives for the better.
Internet of Things
Yes, the IoT has been overhyped in some ways, such as creating smart cities that haven't really taken off. But there is still a tremendous amount you can do with IoT even at the basest level, from tracking customers' movements through your stores to see where they get tripped up, or tracking their use of your product to see how and why it ends. Going beyond digitally optimizing your business to digital transformation means thinking far beyond the obvious B:C relationship and finding new ways to reach them at every turn.
Augmented Reality
There are lots of things you can do with augmented reality beyond just video games, and it's time that companies started to brainstorm how to make it happen. On one hand, yes, AR can digitally optimize your business by taking over or enhancing training programs, for instance. But it can also be used to enhance your customer's experience with your product—for instance, allowing them to experience your product without ever leaving the comfort of home, or showing them new ways to use your product without having to visit a brick and mortar location or schedule an appointment with a company specialist. Digital transformation is about making life easier, faster, and better for your customer. That's what AR is capable of doing.
There is nothing wrong with digitally optimizing your business—even though it's company focused, rather than customer-centric. In fact, it's Ground Zero for digital transformation and helps us all get our companies to a point where we can start making customers the center of our mission and business. The thing we all need to remember is that today's digital marketplace doesn't stop at Ground Zero. It's got tens, if not hundreds, of stories left to be explored. And it's our responsibility as CIOs and company leadership to start climbing.
Check out some of my recent articles:
NVIDIA Unveils the World's 22nd Fastest Supercomputer — DGX SuperPOD 
HPE Solves Storage Complexity By Launching Primera
5 Roadblocks Holding Back Your Data-Driven Goals?
The original version of this article was first published on Forbes.
Daniel Newman is the Principal Analyst of Futurum Research and the CEO of Broadsuite Media Group. Living his life at the intersection of people and technology, Daniel works with the world's largest technology brands exploring Digital Transformation and how it is influencing the enterprise. From Big Data to IoT to Cloud Computing, Newman makes the connections between business, people and tech that are required for companies to benefit most from their technology projects, which leads to his ideas regularly being cited in CIO.Com, CIO Review and hundreds of other sites across the world. A 5x Best Selling Author including his most recent "Building Dragons: Digital Transformation in the Experience Economy," Daniel is also a Forbes, Entrepreneur and Huffington Post Contributor. MBA and Graduate Adjunct Professor, Daniel Newman is a Chicago Native and his speaking takes him around the world each year as he shares his vision of the role technology will play in our future.