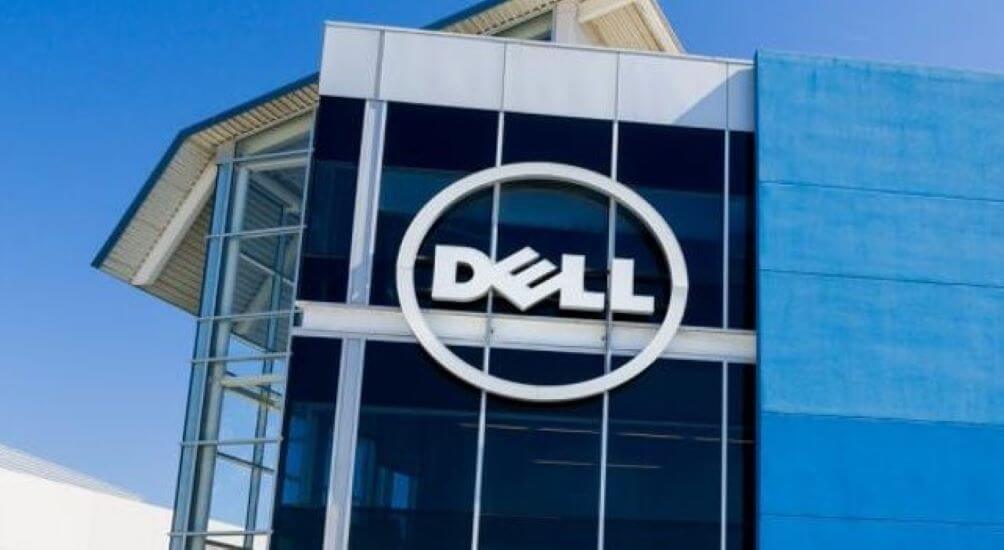 The News: Dell Technologies reported 2nd quarter results for fiscal 2022 after the market closed on August 26, 2021, delivering both record revenue and profitability.
Here's a quick breakdown of the headline numbers:
Second quarter revenue record of $26.1B, up 15%
First half FY22 revenue of $50.6B, up 13%
Operating income was also a second quarter record of $1.4B, up 21%
Earnings per share was $2.24, up 17%
This strong financial performance comes at a time when the technology sector is still facing significant challenges due to continued semiconductor supply shortages and dynamic demand driven by the trend of Do-Anything-from-Anywhere. Read the full release on Dell's Investor Relations Page.
Dell Technologies Posts Record Q2 and Strong First Half Revenue and Profitability
Analyst Take: Dell delivered a record Q2 performance through a powerful combination of solid execution in the face of supply chain disruptions and a laser focus on growth across core offerings driven by market share gains. On almost all fronts, the company did exceptionally well, with a tiny area of concern being the high-end storage space that dragged down storage performance as a whole, with the numbers down 1%.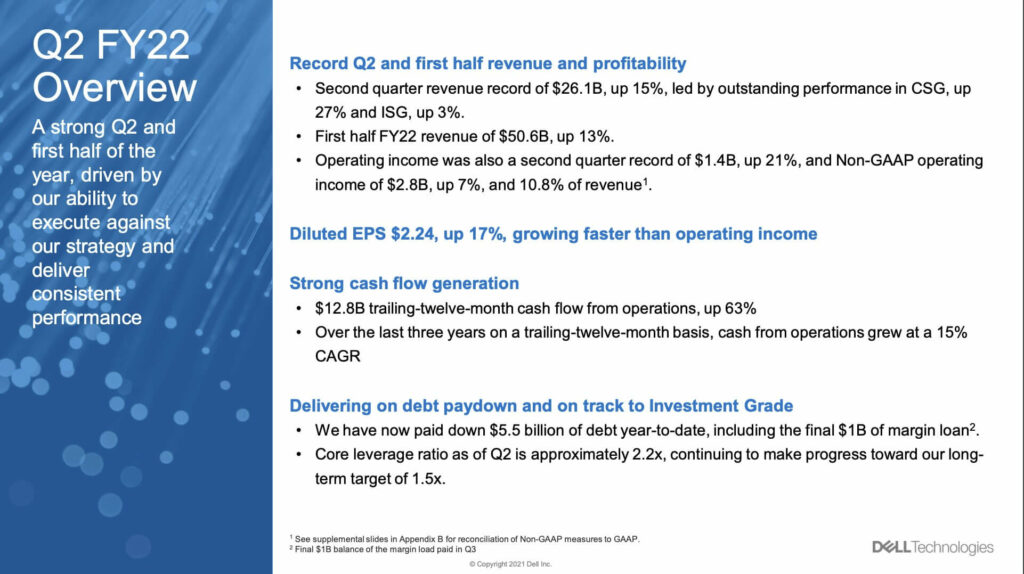 Overall Growth
Overall quarterly revenues were up 15% YoY to $26.1 billion. Diluted Earning per share rose to $2.24, up 17%.
Revenues were up across all three business units: CSG, ISG, and VMware. The only blip amongst a stellar set of results being the above-mentioned storage business which was down 1% primarily due to the cyclical nature of the high-end storage market, where Dell has a #1 market share position.
Business Unit Growth
Dell's VMware business saw strong performance delivering $3.1B of revenue, up 8% YoY. We will cover more about VMware later as the topic of the divestiture loomed large in the after-hours Investor call.
Dell's Infrastructure Solutions Group (ISG) provides technology and services designed to help business customers digitally transform their organizations.
ISG revenue was up 7% YoY to $8.4 billion. At the end of the First half of FY22, ISG Revenue grew 4% Y/Y with Operating Income up 3%. The company also reported three questers of server growth driven by a strong customer momentum and a return to making infrastructure investment decisions in the data center again after hitting the pause button early and throughout portions of the pandemic. These numbers are encouraging and reflect a return to enterprise data center spend.
The company was hit hard with repeated questions about the storage results during the Investor call, with several seeking comparison to niche high-growth competitors. The company was keen to stress that they have the broadest portfolio in the marketplace at all price points and across all technologies with a #1 market share position at ~32%, larger than the next four competitors combined. 60% of Storage revenue is in the mid-range, where VxRail orders were up 34%, and PowerStore continues to take share. The company repeatedly mentioned that PowerStore is the fastest-growing storage product in the company's history. In essence, all is going well in the mid-tier, and when you have the market share that Dell has, sometimes a number that is much larger than your competitors is still not going to be enough for the street. We see this a lot with cloud numbers as some of the most prominent vendors hit massive scale.
High-End Storage Drags Down Numbers
Niche vendors with rapidly growing businesses can look good (and they have recently) when they post double-digit growth for the overall business. However, Dell technologies competes across all price segments of the storage market and sometimes suffers from usually uninformed comparisons to vendors that only play in rapidly growing smaller TAM segments or are growing against disproportionately small revenue. 42% of the company's storage market share is in the high end, and the decline in the overall high-end market dragged down the overall storage performance for the company.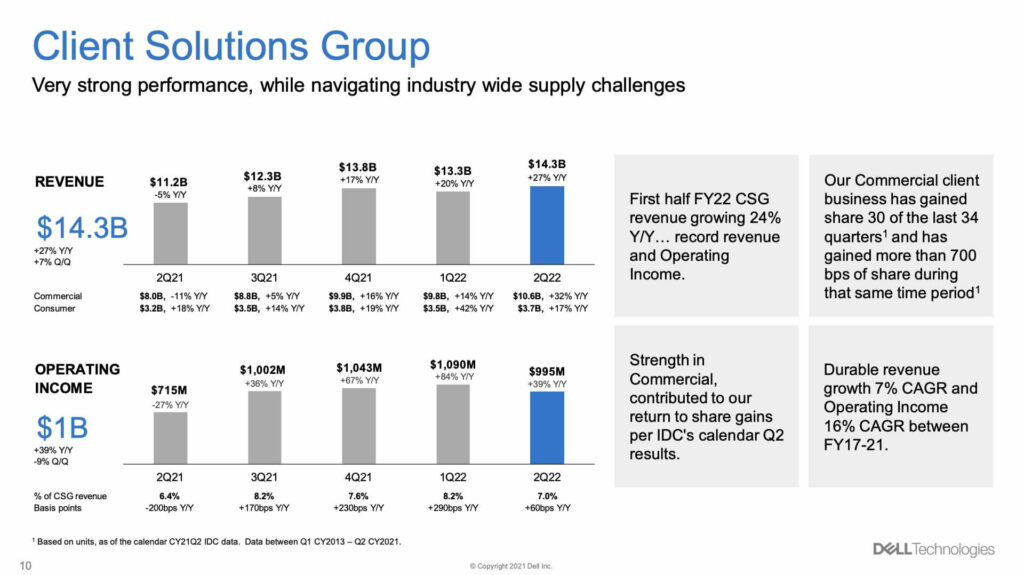 Client Solution Group
CSG, the company's personal systems business, was up 27% on demand for personal connectivity. The overall mix of the growth was interesting, with commercial PCs posting 32% YoY growth. Roughly 70% of revenue comes from commercial PC's which is an increase in the commercial/consumer mix, and the company leaned into this trend.
Dell was bullish on the demand signals that the market was delivering. The company continued to take market share with record shipments for PCs and displays. Rebound in premium commercial products also contributed to the substantial numbers driven by commercial customers investing heavily due to return to work. The co-COO's identified issues were ongoing semiconductor supply shortages and the overall trend towards price increases. Dell sees backlogs increase, and price increases will need to be managed carefully as this backlog flows through the business.
Despite being pressed many times on the Investor call, Dell executives were reluctant to unpack the backlog further. Dell continued to stress that the company is very bullish on the demand side of the equation; however, they stressed the need for increased semiconductor capacity across all configurations. This problem isn't unique to Dell, but to the entire industry.
It's likely Windows 11 cycling in will jolt some PCs sales forward, but this comes on the back of strong demand and unit turnover driven by remote and hybrid work and learning arrangements. Windows 11 is also viewed as yet another tailwind as operating system upgrades typically drive refresh cycles and upgrades to higher spec systems. We will be watching the consumer/commercial mix over time to see whether this trend continues and the impact of Windows 11 when this moves to more mass adoption.
VMware
VMWare revenues were up 8% ahead of the divestiture – this is a decent number, but slightly less than I would have expected given strong performances in the ~20% range by the likes of Red Hat and SUSE, which are direct competitors in the high growth Kubernetes space. VMware has been floating at around 10% YoY growth for the past several quarters, so the 8% number with significant leadership changes should probably be considered sufficient.
The company plans to give more guidance on September 23rd in an analyst meeting to detail the VMware divestiture. The current plan is to close on the divestiture in November, however, the company is still waiting on the IRS for a private letter ruling which is a crucial step in the divestiture.
Overall Impression of Dell Technologies Q2 Results
Dell is well-positioned to take advantage of the current IT landscape. Tailwinds coming from the demand-driven by; work-from-anywhere, the returning importance of the PC, and a need to manage supply chains effectively has led to these record results. Dell has long been among the best at addressing supply chain issues and has used its prowess as a competitive weapon against other vendors. In a market where demand is unprecedented and supply is constrained, Dell's ability to deliver record revenues, profit, and shipments is impressive.
The company is executing well on paying down long-term debt, targeting a $16B+ paydown in FY22 with $5.5B having been paid year to date. With the divestiture of VMware on the near-term horizon, the company remains well-positioned to return to investment-grade status upon completion of the VMware split. The company will also have a war chest to allocate capital to strategic growth segments and M&A activity in the future.
Dell Technologies – Good Companies Prosper in Uncertain Times
While supply chain issues may concern many vendors, Dell sees the landscape as an opportunity to shine. Tight management of a vast and diverse supply chain is in the company's corporate DNA, and this muscle memory has served it well in the first half of the year. The numbers posted are blowout numbers in a challenging macroclimate.
The sheer breadth and depth of the Dell technologies portfolio means the company is exposed to a considerable surface of opportunity, which presents a great potential for synergy. Dell is front and center on the desktop with solid brand visibility. This brand power helps the company when it comes to selling in the data center as the overall spend customers have with the company allows for commercial flexibility against more niche competitors.
The ISG numbers and, in particular, commercial shipments are an encouraging trend for the company. The movement in the mix towards commercial is good as commercial clients spend more and more frequently refresh. The PC trend is likely to fade a bit at some point, but if the pandemic has taught us anything, it would be not to be against the power of being connected–mobile devices are great, and PCs are, in fact, mobile devices.
VMware Divestiture Rapidly Approaches
I'm closely watching the trajectory of the VMware divestiture and the ability of the company to pay down debt in the interim. Dell's plans to divest its VMware business should receive government/regulatory approval in November. We will be interested in finding out more when the company gives more guidance in late September. The post-VMware Dell will be more focused and capitalized, with a balance sheet primed for strategic M&A in adjacent high-growth markets.
While on paper divesting of the VMware business, the strategic bonds will remain. With the company describing the future Dell/VMware relationship as a 'First and best' alliance. Executing these platitudes will be critical as the hybrid cloud landscape becomes more competitive with hyperscalers looking to move into Dell's on-premises heartland.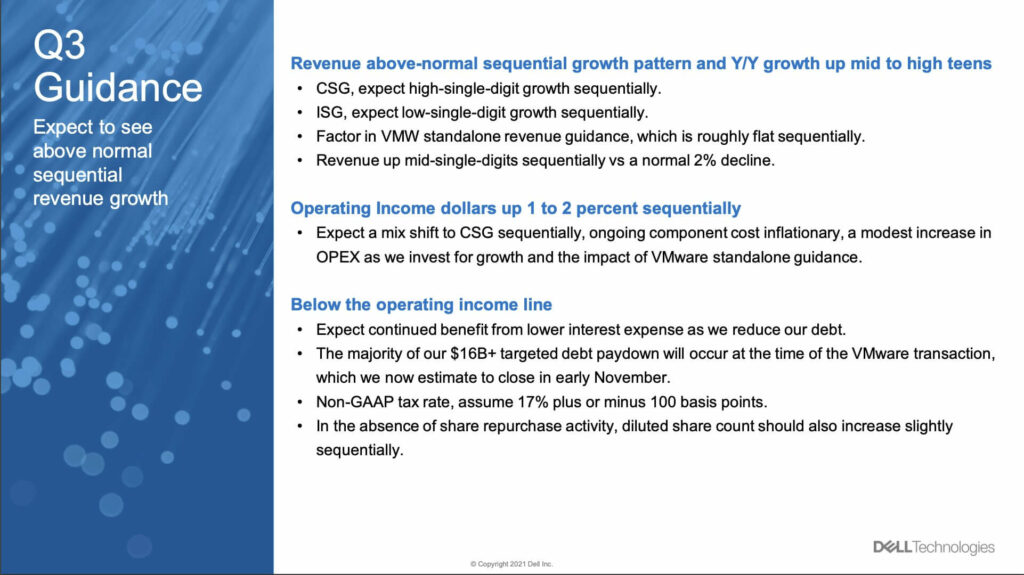 Looking Ahead for Dell
Dell Technologies is a bellwether for the industry. The company operates across a broad gamut of sectors, geographies, and product segments. Dell's results this quarter were robust and the guidance indicates that growth should be sustained at modest levels into Q3 including operating income. The leadership deserves praise for the strides it has made. We will watch its evolution closely as the company continues to transition and execute in a way that has become so familiar from Michael Dell and the businesses that he leads.
Disclosure: Futurum Research is a research and advisory firm that engages or has engaged in research, analysis, and advisory services with many technology companies, including those mentioned in this article. The author does not hold any equity positions with any company mentioned in this article.
Other insights from Futurum Research:
Dell Technologies' Making Real Progress On ESG And People-Focused Initiatives
Dell Delivers Record Revenue For FY 2022
Dell Technologies Unveils Its Apex As-A-Service Portfolio
Image Credit: Entrepreneur
The original version of this article was first published on Futurum Research.