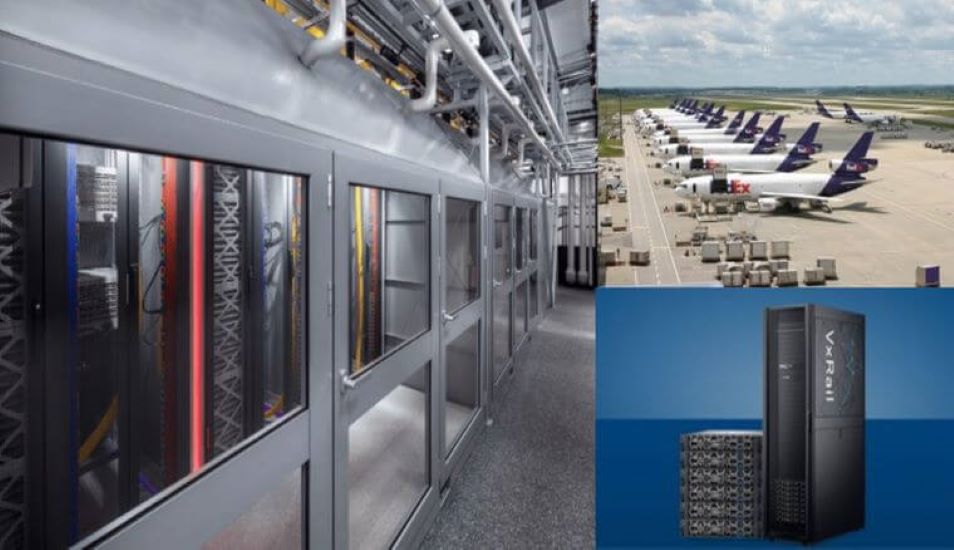 The News: In a venture that brings together data and logistics, Dell Technologies, FedEx, and Switch are working together to create an edge computing network for enterprise customers. The first deployment will be in Memphis, and feature Switch Edge modular data centers deployed on FedEx real estate, with Dell providing server hardware and managed services. Read the full Dell Press Release here.
Dell, Switch and FedEx Build Edge Data Centers
Analyst Take: In a time where data center real estate is more valuable than ever, the plan of Dell, Switch and FedEx to build technology hubs across the United States that will be capable of supporting multiple cloud environments with Switch's edge data centers and Dell Technologies' cloud infrastructure, in strategic, secure FedEx locations is smart. The edge deployments will provide low-latency access to high-density compute from FedEx locations, helping to power digital innovations in the company's global supply chain.
As FedEx will also serve as the first consumer of these services, they are a prime example of a customer to use this type of technology hub, as the company has many global locations and serves millions of customers. Rob Carter, Executive Vice President and Chief Information Officer, FedEx Corporation and President and Co-CEO, of FedEx Services, reports that as the size and scale of the company's network continue to increase, it sees more data processing moving to the edge to support the automation and technology required to move more than 16 million packages a day. Carter shared that the access to multi-cloud edge compute provided by this collaboration with Dell and Switch will allow the shipping company to continue reimagining what is possible from its unique position at the intersection of physical and digital worlds.
In an acknowledgement of the growing interest in near real-time connectivity to data that resides on the edge, John Roese, Global Chief Technology Officer of Dell Technologies notes that in working with FedEx and Switch, a more local cloud-based environment can offer customers faster access to their workloads and data for greater flexibility and speed.
In addition to serving as an anchor enterprise tenant, FedEx has global real estate holdings that can enable Switch to extend its colocation operations wherever it finds demand. This deal highlights the growing category of logistics and digital infrastructure, which are both important, more than ever when it comes to supporting global business during the COVID-19 pandemic.
This is a smart collaboration for all three parties involved. FedEx has a large global presence serving 220 countries worldwide and, because the company is responsible for such large shipping volumes in an expedited manner, it's the perfect model to test edge networks for agility, speed and scale. Also, in a time where Data Center Alley in Northern Virginia is getting overcrowded with new builds, it is smart to build technology hubs on existing real estate. I predict these technology hubs will be successful and lay the foundation for similar hubs in the future.
Futurum Research provides industry research and analysis. These columns are for educational purposes only and should not be considered in any way investment advice.
Other insights from the Futurum team:
Dell Outpaces Expectations on Revenue and Earnings in Q2
Dell Tech Files Schedule 13D Indicating VMware Move Could Happen
The Importance of Keeping IT Infrastructure in a Healthy State – Six Five Insiders with Dell Technologies' Jen Felch
Image Credit: ZDNet
The original version of this article was first published on Futurum Research.
Sarah brings 24 years of experience as an industry analyst to the Futurum team. She most recently served as the head of industry research for Oracle. Her experience working as a research director and analyst extends across multiple focus areas including AI, big data and analytics, cloud infrastructure and operations, OSS/BSS, customer experience, IoT, SDN/NFV, mobile enterprise, cable/MSO issues, and managed services. Sarah has also conducted primary research of the retail, banking, financial services, healthcare, higher ed, manufacturing, and insurance industries and her research has been cited by media such as Forbes, U.S. News & World Report, VentureBeat, ReCode, and various trade publications, such as eMarketer and The Financial Brand.