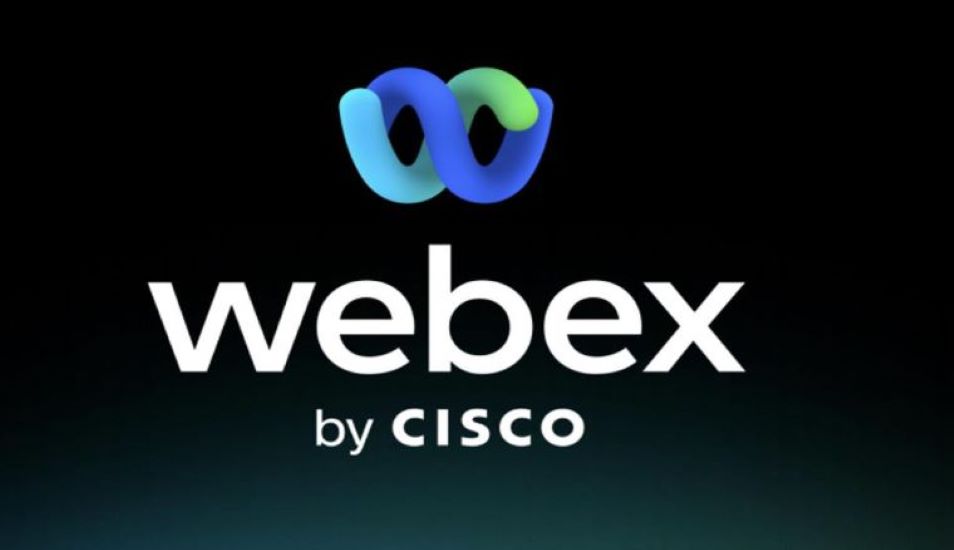 The News: Cisco Webex Suite rebrand and offerings, launched this past Tuesday, is all about facilitating hybrid work, repricing products, adding capabilities to spur collaboration, and continuing to innovate. Read the specifics from Cisco on the rebrand here.
Cisco Webex Suite Rebrand and Product/Pricing Focus is Timely, Strategic, and Necessary
Analyst Take: Cisco's rebrand of Webex, moving to Webex by Cisco is only part of the exciting changes afoot by the collaboration giant. As we collectively continue our solid pace toward hybrid work environments, Cisco's focus on innovation, pricing, user experiences, security, and continually improving product innovations is both timely and strategic, and it's also a necessary one. There is much competition in the collaboration space, but there are really only a couple of key competitors, namely Microsoft Teams and Zoom. I believe the biggest challenge for Cisco is awareness, and that's what this Cisco Webex Suite rebrand and product/pricing focus is designed to address.
Collaboration Platforms: What the Research Says
In research that we conducted in 2020 in partnership with Cisco, we found that the demand for enterprise-grade Unified Communications and Collaboration (UC&C) tools and services has never been greater. Not surprisingly, since this research was done in the mid-2020 as we were collectively navigating a global pandemic, a whopping 76% of respondents reported they expected to increase their use of collaboration tools through the end of 2020, with 74% indicating they expected their UC&C spend to increase in 2021, in an effort to keep their employees, partners, and customers connected and collaborating.
In that same research study, we found that portfolio depth and breadth will play an increasingly critical role in determining UC&C platform competitive success and the value enterprises can bring to their users. Not surprisingly, we found that key features enterprises were looking to improve upon included mobile video, advanced controls for mute/unmute, video call recording, intelligent pairing and sharing, screen sharing, digital whiteboarding, chat integration with meeting room, intelligent live transcription services, user insights, and facial recognition. You can see the importance our respondents attached to these features in the chart below:
Cisco Webex Suite Focus is on Improving the User Experience and Delivering Enticing Pricing, Both on the Software and Hardware Fronts
It has been imperative that UC&C vendors targeting the enterprise improve the quality of systems and user experiences — and quickly. Our collective reliance on collaboration platforms is not likely to wane any time soon, if ever, especially as the hybrid workplace becomes a norm. The reality, however, is that Cisco has some major competition in the market from the likes of Microsoft Teams and Zoom, especially Microsoft, who has easily established a significant presence in the enterprise as a result of its broad ecosystem.
That's what makes this newest version of Cisco Webex Suite, with more than 800 innovations added since just this past September, attractive. These innovations address speech enhancement, custom layouts, immersive share, gesture recognition, noise removal, open APIs and more. In addition to those innovations, the acquisitions of Babbellabs to support live transcripts and translations, Slideo to facilitate audience engagement, imimobile for intelligent customer interaction and the impending acquisition of Socio to boost its digital event experience is timely, strategic, and necessary on Cisco's part.
Equally as important as a focus on improved user experience is pricing, billed as "More accessible, more affordable." Cisco touts the fact that its Webex Suite subscription pricing is 40% lower than both competitive offerings and a là carte offerings. In addition, and a significant change for Cisco, rather than focusing on one feature, Cisco is linking features like calling, meeting, events, polling, and messaging together.
From a hardware standpoint, Cisco is utilizing an aggressive pricing structure in what looks like a major move to entice enterprises into the Webex ecosystem, offering its Webex Desk Camera, Webex Desk Hub+ Camera, Webex Desk and Desk Pro, Room Kit Mini, and Room Kit at substantially reduced prices, which you can see below.
Rebrand Moves Away from Confusing Identity
One note on the Cisco Webex Suite rebrand is that I believe it clears up some confusion around the brand identity as a whole. When Cisco's platform first came out, it was called Cisco Teams. Our team was one of the early users of the platform as we engaged in some beta testing for and with the team at Cisco, so for us, the platform was forever "Teams." Then along came Microsoft Teams and, well, the two can obviously be easily confused. It makes absolutely zero sense to have two of the biggest players in the collaboration space both referred to as "Teams," whether with intention or by habit. Cisco Webex Suite makes the whole Webex offering/experience easily fall under one, simple umbrella, and for consumers, that's important.
Let's Not Forget the Role Security Plays in this Equation
Delivering an innovative user experience, meeting both the needs of the user and the enterprise, is important — as is offering competitive pricing. But when it comes to selecting UC&C solutions, our research shows that security drives the decision. In fact, enterprises we've surveyed say that security is the top factor for vendor selection. You can see what our research showed as deal-breaking decision factors in enterprise UC&C vendor selection below, and security tops the list: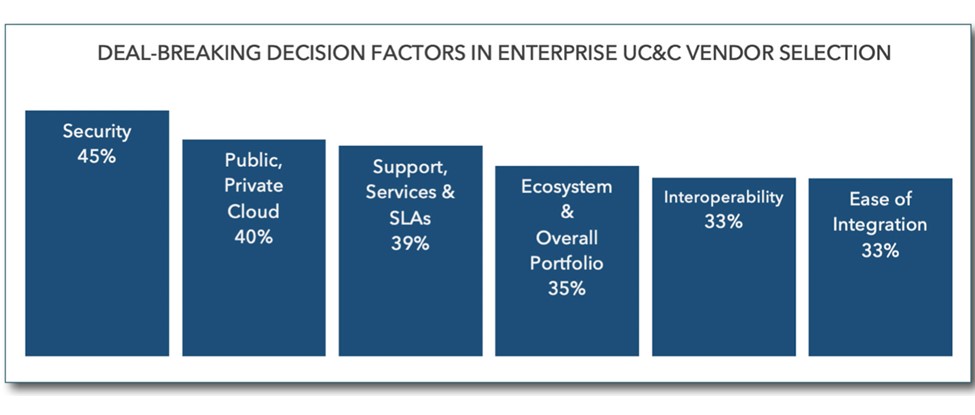 The ability to offer secure, trusted, encrypted communications (protecting both user and enterprise security), validating E2E security portfolio credentials and meeting enterprise top-priority data security and unified messaging and collaboration needs is critically important and vendors must align both their security portfolios and their marketing messaging to meeting the needs of its enterprise customers. While no technology is 100% secure, trust in a vendor is paramount. In fact, over 90% of our enterprise survey respondents shared that not only is it important that they trust their UC&C providers they also expect them to be transparent and proactive about security issues or threats to user data.
That's where I think that Cisco Webex Suite has an advantage. Cisco has a long-established reputation of trust in the marketplace, and I believe that doubling down on that reputation will go a long way toward winning more recognition in the marketplace and grabbing greater market share. While the company has deep roots in the collaboration market, it still needs to come out swinging against the likes of Microsoft Teams and Zoom. This rebranding is a good step forward, with innovation, pricing, and a user-centric approach leading the way — all good things. I'm also encouraged by the company's numerous acquisitions all intended to make its offerings more robust every step of the way. I'm sure we'll see more of them moving forward and I will be watching the evolution of the "new and improved" Cisco Webex Suite with great interest.
Interested in our full research on this topic? You can grab it here: Unified Communications & Collaboration: The Essential Differentiators For 2020 and Beyond and Unified Communications & Collaboration: The Primacy of Security, Privacy and Trust.
Disclosure: Futurum Research is a research and advisory firm that engages or has engaged in research, analysis, and advisory services with many technology companies, including those mentioned in this article. The author does not hold any equity positions with any company mentioned in this article.
The original version of this article was first published on Futurum Research.
Shelly Kramer is a Principal Analyst and Founding Partner at Futurum Research. A serial entrepreneur with a technology centric focus, she has worked alongside some of the world's largest brands to embrace disruption and spur innovation, understand and address the realities of the connected customer, and help navigate the process of digital transformation. She brings 20 years' experience as a brand strategist to her work at Futurum, and has deep experience helping global companies with marketing challenges, GTM strategies, messaging development, and driving strategy and digital transformation for B2B brands across multiple verticals. Shelly's coverage areas include Collaboration/CX/SaaS, platforms, ESG, and Cybersecurity, as well as topics and trends related to the Future of Work, the transformation of the workplace and how people and technology are driving that transformation. A transplanted New Yorker, she has learned to love life in the Midwest, and has firsthand experience that some of the most innovative minds and most successful companies in the world also happen to live in "flyover country."