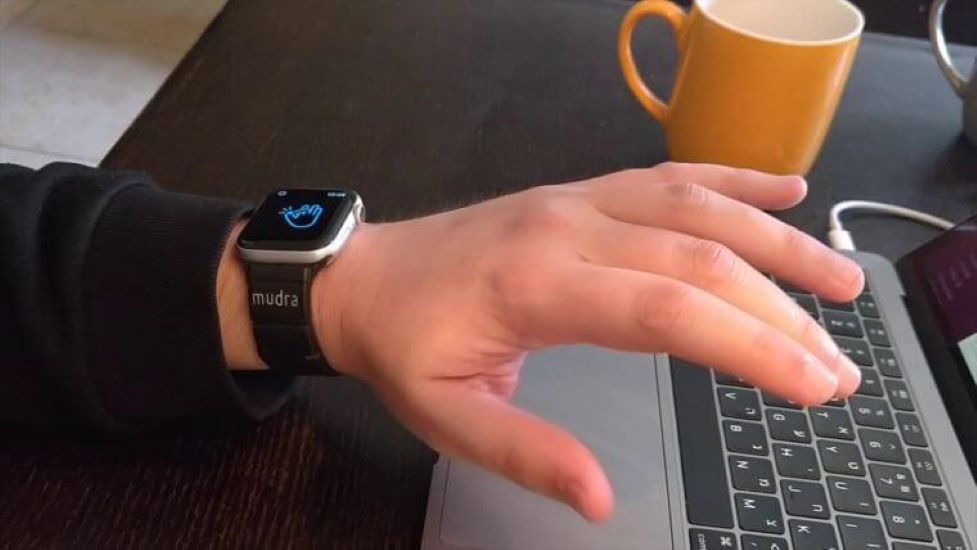 The News: In news highlights from CES 2021, the Mudra Band from Wearable Devices, Ltd. was awarded the CES 2021 "Best of CES Innovation Award" in the Best Wearable Category. The "gesture control" band, which attaches like any other Apple Watch strap and connects to the watch via Bluetooth, has a sensor inside that detects electrical signals sent by the brain to the fingers. It then uses deep-learning algorithms to analyze those signals and map them to finger motions. Each gesture is used on the watch to manage calls, control music, take photos, and more. The Mudra band for Apple Watch could make the Apple Watch more accessible as it controls the watch using touchless finger gestures of the same hand that wears the watch and keeps the display visible. Read more from CES 2021 here.
CES 2021: Wearable Devices Defining the Future of Immersive Customer Experiences
Analyst Take: This year's CES was a virtual event, so it's fitting that this innovative watch band is, well, virtually amazing. The Mudra Band is a slick piece of immersive accessibility technology disguised as a watch band. The Mudra band replaces the existing band and connects to the Apple Watch via a Bluetooth connection. Inside the band are a series of Neural Input sensors that measure what Wearable Devices calls biopotentials: "electric potentials (typically on a scale of micro-volts) produced by the electrochemical activity of excitable cells in the nervous system of the body".
When a wearer makes a gesture with their fingers, the Neural input sensors capture the brain-to-hand activity and, based on the type, speed, and pressure of the finger or hand movement, sends commands directly to the Apple Watch (the Mudra Band is calibrated to each individual wearer).
This is definitely cool science here. But what's even cooler is the potential of this device to bring a whole new level of accessibility and immersive experiences to the wearer. But before we get into that, some quick background.
Wearable Devices Ltd, founded in 2014 in Israel, launched the Mudra Band (an extension of its Mudra Inspire product) as an Indiegogo campaign in mid-2020 and is currently in the production phase. It's priced under $200 and developer kits available. But the device itself is just the beginning of what appears to be a series of products leveraging this core technology (the company highlights use cases such as Augmented and Virtual Reality controllers, gaming, activity/sports monitoring and analytics, and human-computer interactions, but we also see a huge opportunity in healthcare/wellness and industrial/business applications).
Reading between the lines here, it's not hard to see the future of this technology moving quickly beyond the Apple Watch to controlling any number of wearable devices or external sensors (provided they're within Bluetooth or near-field range). And this is what we find really compelling about this product and this company — wearable devices are key to the future of immersive customer experiences and this product just upped the game across the board by not requiring the tech to be baked into the controlled device but rather allowing an add-on approach to interface with existing commands.
The Wearable Market is Going to be Hot — Very Hot
During 2019 and 2020, we conducted a series of global studies (surveying over 4,000 consumers and brand professionals) diving into the future of customer experience (CX) done in partnership with SAS (you can download the report here — Experience 2030, the Future of Customer Experience is NOW). I mention this report because one of the key themes arising from this research was the desire and expectation of consumers to use smart technology (including AI-based assistants and wearables) as part of their daily lives.
Consider this: by 2022, 68 percent of global consumers expect to own and use wearable tech to engage with and control other smart devices, mobile phones, and apps. And this isn't limited to the expected mobile or gaming tech — where systems that use body movements already exist — as some 63 percent shared that they expect to use smart technologies to actually manage connected (automated) systems within their homes as well.
Brands recognize this and are moving quickly to meet this need. In mid-2020, 74 percent of brands surveyed agreed that personal technology (including wearables, smart phones, and embedded smart assistants), will become the primary mechanism they use to engage with consumers (both pre- and post-sale).
To be fair, both consumers and brands are heavily focused on voice-based "smart" technology as that human-computer interface today, and we expect that market to grow significantly over the coming years. But the arrival of wearables that unobtrusively capture physical movement and can serve to augment these systems is significant and allows the consumer (user) to engage with digital systems in a deeper, perhaps more fluid and intuitive way (such as activating a smart home system via voice, but then controlling or adjusting the system with hand commands without having to be physically in front of the device).
From consumer CX to industrial applications, from creating more immersive experiences to bringing accessibility to people with disabilities, the Mudra Band was one of the highlights of this year's virtual CES show for me. I think this tech has tremendous potential and expect it to play a significant role in our daily lives, perhaps sooner than many might have anticipated.
Futurum Research provides industry research and analysis. These columns are for educational purposes only and should not be considered in any way investment advice.
Read more analysis from Futurum Research:
6 Key Themes Driving Headlines At CES 2021 
Mobile News From CES: Qualcomm Powers Samsung's Galaxy S21 Lineup, Featuring The Snapdragon 888 5G Platform
CES 2021 News: Verizon Partners With Microsoft And AWS To Roll Out Mobile Edge Compute In Its 5G Network Fueling Smart City Development
Image Credit: Indiegogo
The original version of this article was first published on Futurum Research.
Fred is an experienced analyst and advisor, bringing over 30 years of experience in the digital and technology markets. Most recently, Fred launched the equity research team at Samadhi Partners and provides marketing strategy through the Wasabi Rabbit digital agency. He previously served as an EVP and Research Vice President at HfS Research, launching its Digital Trust practice and coverage of emerging "trust-enabling" technologies. Fred previously founded analyst firms Current Analysis, a global tech-sector competitive intelligence and market advisory (acquired by PDM), Decisys, an analytical consultancy (acquired by the Burton Group/Gartner), and the Aurelian Group. Fred's analyst and consulting experience also includes Gartner and E&Y, with technology experience at Newbridge Networks' Advanced Technology Group (now Alcatel) and DTECH LABS (now part of Cubic Corporation).
Fred studied engineering and music at Syracuse University. A frequent author and speaker, Fred has served as a guest lecturer at the George Mason University School of Business (Porter: Information Systems and Operations Management), keynoted the Colombian Associación Nacional De Empressarios Sourcing Summit, served as an executive committee member of the Intellifest International Conference on Reasoning (AI) Technologies, and has spoken at #SxSW on trust in the digital economy. His analysis and commentary has appeared through venues such as Cheddar TV, Adotas, CNN, Social Media Today, Seeking Alpha, Talk Markets, and Network World (IDG).