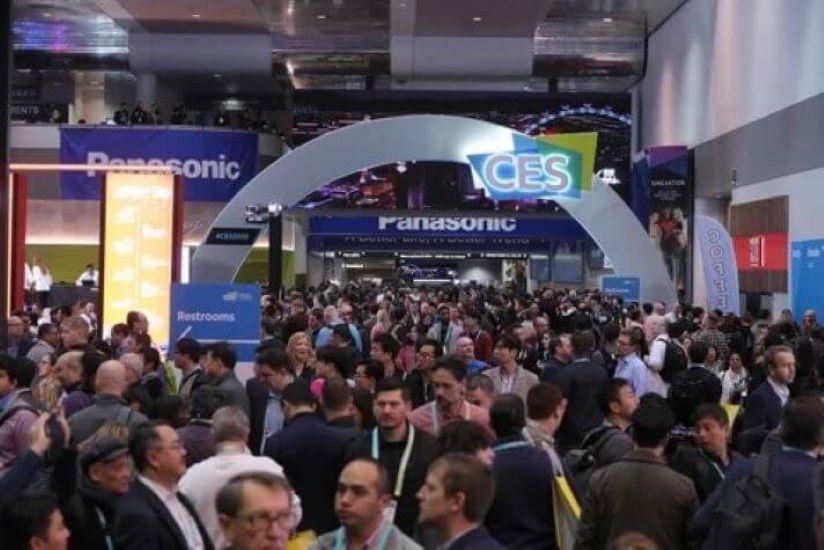 Thank heavens for footwear that is both sturdy and comfortable. I attempted to experience the enormity of CES 2020 this week in person. I covered a lot of ground and, fortunately, avoided leg cramps and dehydration.
Interestingly, this was my very first CES. I've been a tech industry analyst for many years but have traditionally focused on enterprise topics. A lot of my peer analysts in the enterprise community weren't at CES, and, in fact, several of them disparaged it on social media while I was busying myself in Las Vegas.
Snarking about the glitz and frivolity of many CES announcements is too easy to do. Comedic professionals such as Stephen Colbert can do it better than you or me. The reason I opted to attend this year's CES is because it is starting to feel a bit like an enterprise show, at least in terms of the robust, distributed-computing infrastructure that have been incorporated into many new solutions on display.
As I said earlier in the week in this article, CES 2020: It Might As Well Stand for Connected Ecosystems Showcase, this event is focusing more on connected ecosystems, which puts it roughly into a coverage wheelhouse with which I'm comfortable. Hot consumer electronics markets such as streaming media, smart homes, and autonomous vehicles depend on robust cloud-to-edge infrastructure to realize their full value.
Many enterprise technologies that I've been covering for years—especially, artificial intelligence (AI), Internet of Things (IoT), and cloud computing—are now the backbone of innovations on display all over CES this week. For more on that, check out my article, CES 2020: Consumer-Facing Opportunities Acceleration Evolution of the AI DevOps Toolchain, where I discuss the many AI-related tooling and infrastructure announcements at CES 2020 that were not specifically constrained to a gadget-specific angle.
For me, the true story of this massive, sprawling event is in how many innovative products now have at least a smidgen of AI in them. And it's clear that the footprint of AI in many product segments will continue to grow for the foreseeable future.
So, in terms of industry themes on display, AI was clearly a big "winner" at CES 2020. Many product vendors positioned their integration of machine learning as a chief competitive differentiator. In addition, more consumer-product vendors now go beyond traditional machine learning (built on supervised learning and training from "ground truth" data) to incorporate the new frontier of reinforcement learning and simulated synthetic data into the AI that makes their gaming, robotics, drones, and edge offerings to adaptively intelligent.
But the flip side is that AI was also a big "loser" at CES 2020. Tech marketing professionals everywhere latched onto those two letters with a vengeance. What's troublesome about this trend are the following considerations:
Many marketers are obscuring the fact that the AI-enabled features—such as conversational user interfaces, digital assistants, and sensor-driven contextualization—have been present in some product segments for several years and don't stack up to anything radically new here at the beginning of the '20s.
Jamming AI into every product pitch threatens to stoke consumer apathy and cynicism, especially when users build up unrealistic expectations for the supposedly miraculous intelligence that neural networks supposedly imbue in their personal techno-doodads.
Hyping the promise of embedding AI into products distracts from the very real risks of the technology, such as privacy encroachment, baked-in demographic biases, and obfuscation of algorithmic accountability. If the consumer markets continue to wear rose-colored glasses regarding AI's presence in their products, they're creating the conditions for a future backlash against the technology if the downsides start to become salient in the popular mind.
My prediction is that AI, though it will remain a core solution capability in coming years, will be a less salient feature in next year's vendor messaging surrounding CES. Instead, 5G mania will build in the consumer sphere, just as 5G already is already starting to loom large in many enterprises' long-range planning of their edge infrastructures.
CES is nothing if not an edge computing show, and 5G is the future of the edge. Though not yet widely implemented, 5G was present in many vendors' product roadmaps and informal discussions at CES 2020.
Though it's still several years away from widespread deployment, 5G is a key component in the evolution of cloud-computing ecosystems toward more distributed environments. Between now and 2025, the networking industry will invest about $1 trillion worldwide on 5G, supporting rapid global adoption of mobile, edge, and embedded devices in practically every sphere of our lives. When implemented in cross-technology network interfaces, 5G will enable every edge device to seamlessly roam between indoor and wide-area environments. 5G will also be a prime catalyst for the trend under which more workloads are executed and data resides on edge devices.
Furthermore, 5G will be a proving ground for next-generation AI, offering an environment within which data-driven algorithms will guide every cloud-centric process, device, and experience. Already, we see prominent AI platform vendors—such as NVIDIA—making significant investments in 5G-based services for mobility, IoT and other edge environments.
At future CES events, 5G's evolution will drive vendor announcements in several respects, with AI playing a prominent role in each:
Most prominently, semiconductor vendors will introduce systems on chip that converge 5G interfaces with neural network processing circuitry to support ultra-fast streaming AI in low-power, low-cost edge devices.
In addition, some platform vendors will show how their AI-based IT management tools help make 5G networks—and the connected edge ecosystems that run on them—continuously self-healing, self-securing, and self-optimizing.
And there will probably be a lot of oddball gadgets on display at these future events that rely on heretofore unimagined blends of 5G, AI, IoT, streaming, robotics, gaming, and so on.
After all, it wouldn't be CES without a little techno-goofiness to keep the fun uppermost.
Futurum Research provides industry research and analysis. These columns are for educational purposes only and should not be considered in any way investment advice.
Related content:
Dell Launches New Latitude at CES, Which Should Be a Commercial Hit 
CES 2020: Consumer-Facing Opportunities Accelerate Evolution of the AI DevOps Toolchain
CES 2020: It Might As Well Stand for Connected Ecosystems Showcase
The original version of this article was first published on Futurum Research.
James has held analyst and consulting positions at SiliconANGLE/Wikibon, Forrester Research, Current Analysis and the Burton Group. He is an industry veteran, having held marketing and product management positions at IBM, Exostar, and LCC. He is a widely published business technology author, has published several books on enterprise technology, and contributes regularly to InformationWeek, InfoWorld, Datanami, Dataversity, and other publications.