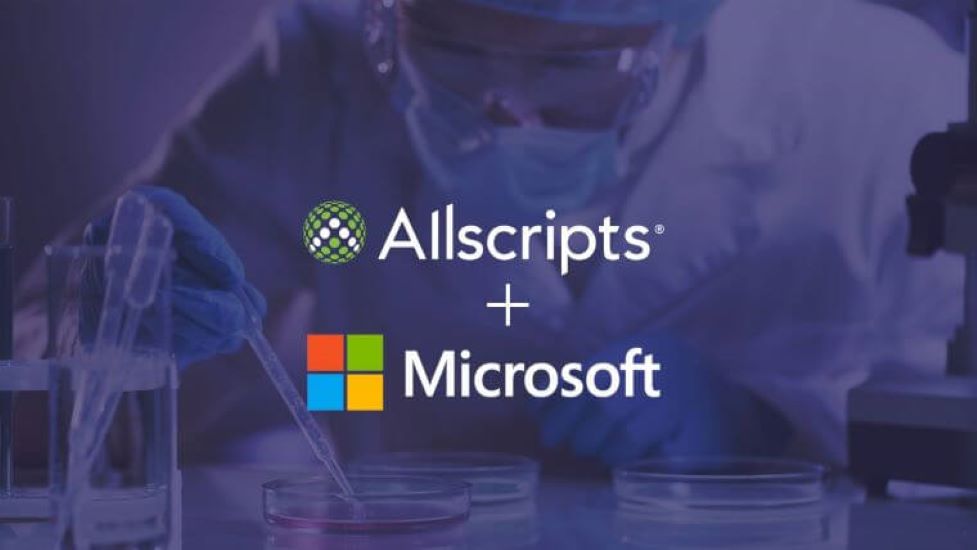 The News: Allscripts and Microsoft Corp. recently announced a five-year extension to their partnership to enable the expanded development and delivery of cloud-based health IT solutions. The extension will support Allscripts' cloud-based Sunrise electronic health record, making Microsoft the cloud provider for the solution and opening up co-innovation opportunities. Read the Microsoft announcement here.
Analyst Take: This alliance enables Allscripts to use Microsoft Azure, Microsoft Teams and Power BI to create a more seamless and productive user experience for its Sunrise integrated electronic healthcare record (EHR). Sunrise connects all aspects of care including acute, ambulatory, surgical, pharmacy, radiology, and laboratory services and includes an integrated revenue cycle and patient administration system. Sunrise also has integrated analytics that predict health outcomes for hospitals.
This is a smart move on the part of Allscripts. Partnering with Microsoft, one of the largest cloud-providers, and putting Sunrise in the cloud versus on-premise will deliver a variety of benefits for Allscripts. These include the ability to improve operational efficiencies, enhance the ease of use for clinicians, improve the patient experience, and increase solution interoperability. Allscripts reports its goals for Sunrise customers is to deliver a cloud-based subscription model that will have faster implementation, lower upgrade costs, expanded analytics that can quickly engage with the Internet of Things, and provide a marketplace that will enable healthcare apps and third parties to easily integrate with hospitals' EHR. Allscripts notes that customers will begin to see all these updates by the end of this year.
With the onset of the COVID-19 pandemic, our team at Futurum Research have been discussing the important role cloud is playing in helping the healthcare industry be more prepared for future scenarios where flexibility and scalability will be crucial in handling a local, state, or nationwide flux of patients. In addition to preparedness, tracking patient health is also important, as it helps with equipment, staff, and capacity planning. Social distancing policies and medical office restrictions have proven that healthcare is a much bigger thing than simply where a practice is located — telehealth is rapidly becoming a part of our everyday lives.
As telehealth experiences a boon, it puts the spotlight on how cloud providers are working with healthcare vendors and the healthcare community itself in order to efficiently handle patients' needs. In the case of Allscripts, it's a wise decision to partner with Microsoft's well-established Azure cloud platform and its recent Microsoft Cloud for Healthcare announcement. The Microsoft Azure team has also been working closely with the State of Washington, as well as local and national hospital systems, to collect data to predict disease incidents and monitor hospital resources in real-time.
And I'll close my mentioning that Microsoft isn't the only cloud provider doing good in COVID-19 times. Amazon's AWS has voluntarily built a chatbot for nonprofit insurer MetroPlus and Google Cloud has been beefing up its healthcare leadership as well as shifting its focus to COVID-19 response. More than ever, cloud providers' ability to work with the healthcare industry is vital for all of us.
Futurum Research provides industry research and analysis. These columns are for educational purposes only and should not be considered in any way investment advice.
Other insights from the Futurum team:
Cloud Providers Look to Further Serve the Healthcare Vertical – Futurum Tech Webcast
Telehealth and IoT Free Up Hospital Beds, Providing Value in Big Ways
Amazon's AWS MetroPlus Chatbot Delivered a Significant Assist to NYC Non-Profit Insurer
Image Credit: Veradigm
The original version of this article was first published on Futurum Research.
Sarah brings 24 years of experience as an industry analyst to the Futurum team. She most recently served as the head of industry research for Oracle. Her experience working as a research director and analyst extends across multiple focus areas including AI, big data and analytics, cloud infrastructure and operations, OSS/BSS, customer experience, IoT, SDN/NFV, mobile enterprise, cable/MSO issues, and managed services. Sarah has also conducted primary research of the retail, banking, financial services, healthcare, higher ed, manufacturing, and insurance industries and her research has been cited by media such as Forbes, U.S. News & World Report, VentureBeat, ReCode, and various trade publications, such as eMarketer and The Financial Brand.