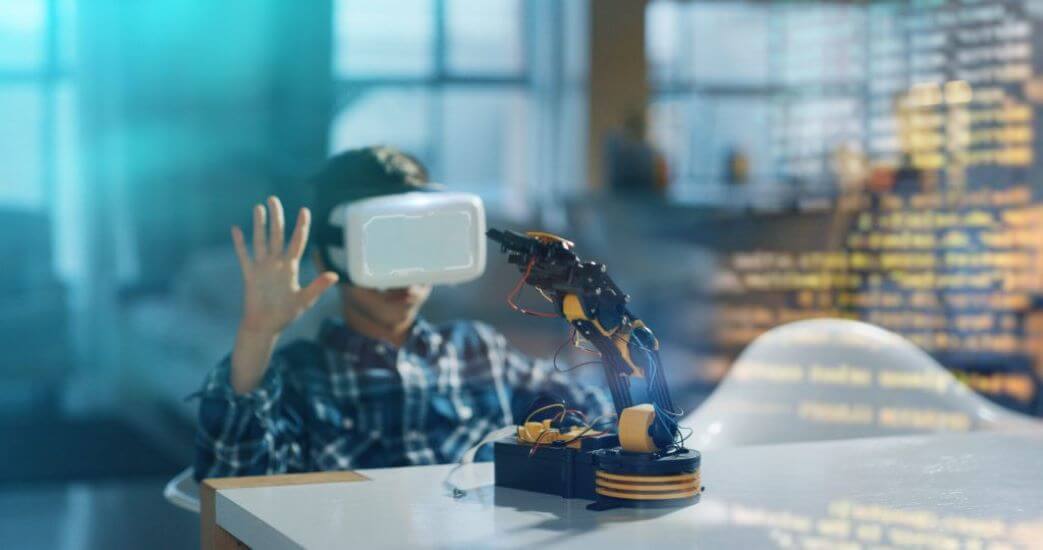 An end to the coronavirus pandemic unfortunately remains out of sight. Restrictions are changing daily in different states and countries, making it difficult for many businesses to plan for the future. But one thing is certain — remote work isn't going anywhere any time soon.
Many businesses including Google and Cisco have announced that their employees will remain remote for the foreseeable future. A majority of small businesses expect to maintain increased remote work options for employees as well.
Businesses will not only require solutions to support daily operations but also the achievement of organizational goals in a remote environment. Some companies might consider looking beyond the typical collaboration software and cloud apps to other options like immersive technologies.
Pre-pandemic, immersive technologies were already used successfully by major companies like Walmart for employee training. For companies willing to invest in the technology, we could potentially see success in other areas of business as well. Let's take a look at the areas that could see the biggest impact from immersive technologies.
Streamline Recruitment Processes
Immersive technologies may sharpen businesses' competitive edges in the candidate market to increase the efficacy of recruitment.
Businesses that implement virtual reality (VR) or augmented reality (AR) into their recruitment processes differentiate themselves from their competitors. The technologies add an element of entertainment into recruitment, which may better attract the most experienced candidates.
By using immersive technologies, businesses may gamify the recruitment process to engage immersive technologies to gamify the recruitment process. This may not only engage a broader pool of talent but also help recruiters and candidates alike to make more informed decisions.
The technologies enable recruiters and candidates to make more informed decisions. For example, businesses may design simulated office tours or interviews. This provides distant candidates with the ability to picture themselves as part of the company without
Businesses have already designed recruitment games to assess candidates' skills. For example, Jaguar augmented their search for engineers with a mixed reality application that teaches users about electric vehicles and challenges them to code puzzles. Users who perform exceptionally well get fast-tracked through the process. Using a mixed reality game instead of an interview to determine skill level is a unique way to improve the candidate experience while finding the right person for the job.
Enhance Remote Collaboration
Businesses may design VR solutions that enable employees to remotely share spaces. Headsets and headphones transform employees' physical spaces into a shared virtual environment with colleagues from across geographic locations, facilitating collaboration. Imagine being in a "room" with your colleagues for a meeting instead of using a typical video conference call.
Sensors translate users' movements and body languages, which may be lost through traditional remote communication methods. Immersive technologies' also have the ability to translate in real time to further improve collaboration across distant teams.
For example, Microsoft's HoloLens integrates with Skype and enables users to share screens and virtually implement annotations. The headsets feature mixed reality applications that enable users to share their views in real-time. The product also allows users to create simulated locations by combining video, screenshots, and annotations. This may help to lessen the distance between teammates.
Augmented reality solutions enable users to interact with virtual objects. Through the use of an application, employees project an object into their individual spaces and interact with it collectively.
Improve Remote Onboarding
While a majority of companies implemented recruitment freezes, the pandemic's persistence may leave businesses with prolonged resource gaps. Rather than incur significant costs, businesses may choose to take on the challenge of onboarding a new employee remotely.
Businesses that create interactive experiences for new employees may encourage their success by not only encouraging engagement but also improved learning outcomes.
For example, KFC implemented a VR training experience to great success. Using Oculus Rift headsets, new employees learn to fry chicken.
By using the simulation, KFC reduced the amount of time it takes to train employees on the process from 25 minutes to 10 minutes.
Beyond functional training, businesses can gamify other areas of the onboarding process to improve engagement. For example, you could design an interactive trivia game about company policies to replace time-consuming presentations.
These experiential opportunities help employees to better recall information. Moreover, access to high quality training opportunities helps businesses to retain talent. More than half of employees indicate skill development as very important to them.
The benefits of immersive technologies in training include cost-savings. A more efficient training program means businesses activate employees potential faster, reducing the amount of time you experience a resource gap. Greater employee retention mitigates the cost of replacing an employee, which ranges from 10%–30% of their annual salary.
Take Advantage of Immersive Technologies
Businesses should integrate virtual, augmented, and mixed reality technologies into their operations to support their successes in remote environments.
Through the integration of immersive technology, businesses may improve their recruitment initiatives to more easily secure top talent while also keeping current employees engaged and productive — something all businesses should strive to do regardless of the pandemic.
Image Credit: Future Visual
The original version of this article was first published on Future of Work.
Kate Russell is an Editorial Associate for Clutch — an Inc. 1000 private company that helps decision-makers determine the best B2B service providers to solve business challenges. She is also an HR research and content lead.