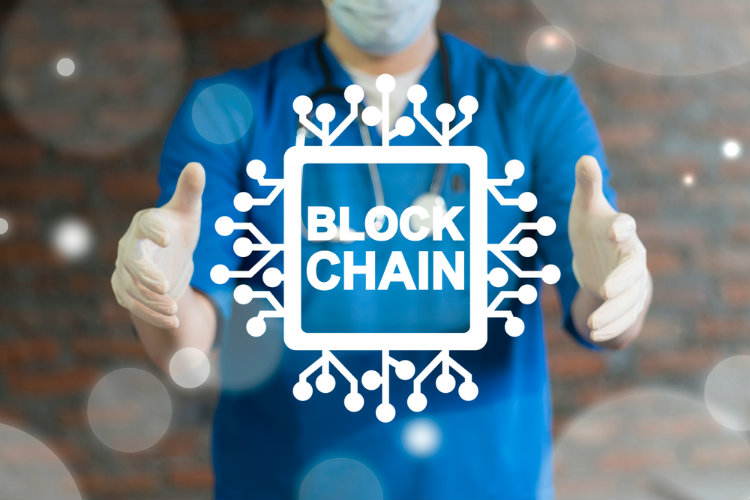 Experts in health IT view blockchain technology as a means to securely share medical records, protect sensitive data from cyberattacks, and give patients more control over their personal information. Like other IT advancements, standards, frameworks, and implementation models need to mature before the blockchain technology solves healthcare' long-standing problems. Let's uncover the challenges and opportunities for your business.
What is Blockchain and How Does It Work?
You've probably heard the term "blockchain" in the news as a form of cryptocurrency, such as Bitcoin. Despite blockchain's association with digital payment methods used by criminals, it is simply an electronic network system. Researchers, government organizations, and private companies are discovering blockchain's practical uses for business.
Blockchain technology stores data across a distributed network of participants in linked blocks. As information changes, a record of the transaction is created in a shared ledger. Every block contains a copy of the shared ledger and each block is linked, in chronological order, to the previous block with a cryptographic hash. Distributing, replicating, and encrypting data are keys to blockchain's high security.
What are the Uses and Benefits of Blockchain for Healthcare?
Source: HealthIT.gov
Better data sharing among healthcare providers, pharmacies, and patients means accurate diagnoses, improved treatments, and cost-effective care. Blockchain facilitates shared access across the chain without compromising data security and integrity.
Data Security
The shared blockchain ledger is public, but because the data is replicated across all the blocks in the network, it's more secure than traditional information storage—a model that keeps all the data in a single location (centralized). Blockchain delivers access control via a shared public chain and a private chain; so for instance, only the patient would have access to their medical data using the private chain piece. If malicious parties wanted to gain access, the hackers would need to simultaneously breach every participant in the network, not just one.
Source: Distributed Communications Networks
Data Privacy
Blockchain also supports data privacy when data updates are applied and during data transfer. For example, when a doctor prescribes a new medication for a patient, his or her records are updated, and the public ledger notes when the transaction or change was made. An encrypted link to the patient's record is created for doctor and patient access only. This approach strengthens the privacy of electronic health records (EHR) and electronic protected health information (ePHI) covered by the Health Insurance Portability and Accountability Act of 1996 (HIPAA).
Other Blockchain Use Cases
Billing Management: Industry Analysts from Frost & Sullivan Health Practice estimate that 5-10% of healthcare bills are fraudulent, resulting from excessive billing or billing for services that never occurred. Blockchain can improve the logistical tracking of reliability-centered maintenance (RCM) functions. 
Pharmaceuticals and Drug Tracking: Blockchain's supply chain management can track drug sourcing to reduce the counterfeit drug business. 
Health Research: Some health studies and clinical trials are unreported and therefore unregulated, creating a safety issue for participants. Using time-stamped records and results, blockchain advancements can address selective reporting and the manipulation of results.
Healthcare IoT: Blockchain-enabled solutions can close the gap on security through preventative measures, down to the device level. Also, if any attempted breaches should occur, the source becomes more traceable; because blockchain transactional logs cannot be changed or deleted, hackers and malicious inside attacks can more easily be identified.
Challenges for Today and Tomorrow: Health Data Exchange and Interoperability
Federal law mandates the use of EHRs for many healthcare organizations and HIPAA requires they be secure. The Office of the National Coordinator for Health Information Technology's (ONC) issued a Shared Nationwide Interoperability Roadmap increasing the urgency to further innovate EHR technology. However, the systems used to create and guard EHRs differ from organization to organization. Hospitals and other providers cannot easily share information while doctors are spending more of their time updating EHRs.
Blockchain technology and the applications built upon it can use open source software, commodity hardware, and open APIs. With the standardization of these components, blockchain has the potential to offer a single patient record for individuals that can be accessed across healthcare organizations. The key players for blockchain adoption and standardization will be regulators, industry groups and market influencers.
Additional Resources on This Topic:
Security and Privacy Concerns for Healthcare Data [Study]
Blockchain's Brilliant Approach to Cybersecurity
Does Blockchain Have a Place in Healthcare?
This article was first published on OnRamp.
With over a decade of experience in data center services, Bobby Boughton oversees the strategy, implementation and execution of OnRamp's sales and business development for OnRamp's growing, high security hosting, cloud computing and colocation services. Connect with Bobby Boughton on LinkedIn.