Numbers and data are no longer a daunting task — they've now become an integral part of a company's operations. The issue is most companies are only given the basic facts of their data without the what's, how's, and why's that are driving the data analytics.
Jaywing, a British data-based digital agency, found that brands across the board are failing to take advantage of marketing technology innovations, including how data can lead to larger explanations of how their audiences consume. Further, the agency's 2017 Data-Driven Marketing Report found that 23 percent of marketers rate data science and analytics as the least important marketing skill.
By contrast, the Data & Marketing Association found that 33 percent of marketers said having the right technology for data collection and analysis as the most important tool for understanding audiences. Given these disparities (and the fact that marketers are expected to spend 11 percent of their budget on analytics), it's important to understand why data is an essential part of your client's business and how you should present it to garner the best results.
How companies are using marketing analytics: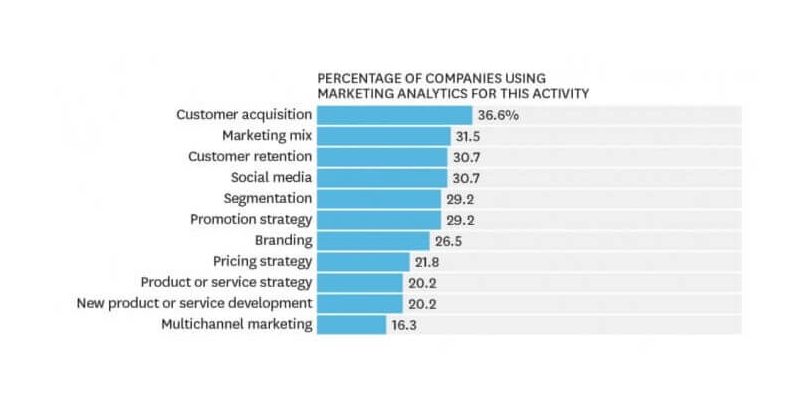 1. Clients Now Expect More From Analytics.
As clients get more familiar with data jargon, they begin to understand more about what is being collected. Further, they're hearing buzzwords like "big data," so naturally they want more than just numbers thrown at them — they want an explanation.
Clients now want to know what data does, its fluctuations, and how it will affect their business. Agencies are currently searching for the right direction to send their clients in as well as condensing data into points of value. Data is coming from all directions, and having the right people on staff who can analyze it well — whether it be from Google Analytics or other sources — is critical.
2. Make Your Data Analytics Actionable.
Once you find your data, be ready to compile it all together and prescribe the next actionable steps for your client. Rather than presenting a problem and three different solutions for it, explain what's causing the problem in the first place.
For example, if your client's email marketing campaign is struggling, don't provide ideas of what more he can do, like sending emails more than once a day or sending him with a different graphic. Instead, incorporate that data you found into your advice. By asking, "Why don't we take this data point and that data point to rethink our strategy?" you'll provide fresh ideas for your client and fresh content for his consumer.
3. Add an Analytics Expert to Your Team.
Being knowledgeable about current events is a good thing in any industry, particularly when that knowledge can seriously deliver for your clients. By identifying someone on your team who has a hankering for numbers, you can then encourage him or her specifically in the data analytics realm.
This type of training will not only boost productivity, but it will also create a more well-rounded team, which will provide your clients with diverse expertise from both creative and data-driven angles.
4. Alternatively, Outsource an Analytics Expert.
Given the fact that customers want data to drive their future decisions, the idea of actionable analytics isn't going anywhere. Therefore, outsourcing will save the time and money needed for educating a team member on data analysis, should you find that it's not imperative to have that talent in-house.
Partnering with an expert in data analysis is your best bet for accuracy with a quick turnaround. Design groups, on the other hand, are often bold, creative, and artistic. Their wheelhouse lies within the arts, so asking them to assess metrics would be like asking them to pick up a foreign language — it takes patience, understanding, and most importantly, time: a commodity that can't be wasted in the marketing world.
But by outsourcing, the work is done for you by someone with authority in his or her field. That leaves more time for all of your team members to focus on what they know best and to deliver in a timely manner.
5. Find the Balance of Analytics Customer Service.
Making your data analytics transparent and educational has a strong effect on customer trust; however, striking a balance between too much and just enough consumer knowledge is key.
A study by MIT Sloan Management Review found that initial steps taken to enhance customers' service knowledge were received positively. However, customer education can be a costly venture; while it's important, it shouldn't be the center of your agency's attention. It sometimes turns on you by making your consumers choose a competitor or a different option for their needs.
All in all, the addition of data analysts to agency teams is a budding trend within the marketing world. In other industries, analysts are in high demand, with IBM reporting that 2015 saw 2.35 million openings for data analytics jobs in the United States. By 2020, it estimates that the number will increase to 2.72 million. Given these staggering numbers, this is one movement that can't be ignored by marketers.
The original version of this article was first published on Smart Insights.
Drew McLellan owns Agency Management Institute and McLellan Marketing Group, is an author, host of Build a Better Agency podcast, and a noted keynote speaker.