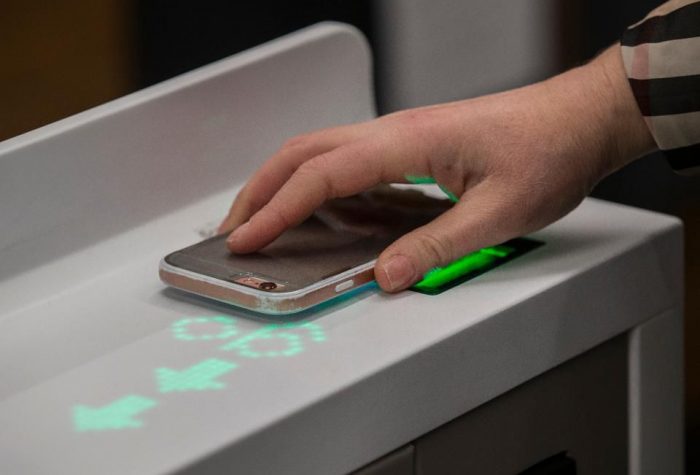 Last month, Amazon launched its long-awaited Amazon Go store in Seattle—a brick-and-mortar shopping experience that merges technology and physical reality in a whole new way. By scanning their Amazon Go app, shoppers can choose what they want and leave the store without ever stopping to pay for their items. A dream for introverts—and busy people—everywhere, Amazon Go allows shoppers to complete their shopping experience without ever having to interact with another human. But its impact is also much bigger: it's symbolic of the fluid nature of today's retail environment, one where online, mobile, and physical environments roll together to create an omnichannel experience for shoppers.
One technology that promises to help retailers take advantage of this shift is the Internet of Things (IoT).
Can you imagine walking into your favorite store and getting a personalized notification on your phone with a coupon for something you regularly buy? Or pulling up an app on your phone that will tell you the exact location of a product you want to buy and how many there are on the shelf? More retailers are using the IoT to connect with consumers like this, which will ultimately revolutionize the way we shop—not just in Seattle, but all over the world. In fact, I'd say consumer demand has been heading in this direction for quite a while, and the IoT is giving retailers a way to catch up with their increasing omnichannel expectations.
Nearly 80 percent of retailers say it's "business critical" that they integrate omnichannel experiences into their stores. The following are just a few reasons why:
It Merges the Physical and Digital Realms
Using sensors and smart beacon technologies in-store, retailers can connect with shoppers in a more personal way as they shop, tailoring their experience with coupons for items they typically use. They might even proactively alert a customer when their favored location is out of a certain product they regularly purchase—offering info on the next closest location to find it—or creating a "click to purchase" to instantly order the item and have it shipped directly to the user's home. If you've ever used the painfully clunky, and now defunct, Target Cartwheel app, this might seem farfetched to you. But technology promises to create a more seamless experience for customers that will save customers time, while also building brand loyalty.
It Helps Retailers Understand—and Meet—Customer Expectations
With so many different avenues for consumers to shop, retailers need to find better ways to make sure the products consumers want are available when and where they want them. For instance, are customers more likely to purchase a new washer and dryer online? Or, do they research the set online and then purchase the item in-store? Is their behavior the same for smaller items like clothing and electronics? That knowledge requires an immense amount of omnichannel analytics about behaviors across a variety of platforms.
By studying consumer shopping patterns, both online and in-store, retailers can determine how to reach a customer and what message they need to hear.
Imagine knowing when a customer is shopping for a competitors product and being able to send them an incentive to buy yours. What about knowing when a consumer is walking buy your store and being able to send them a coupon for something they recently shopped for online? As a consumer, I'd would be surprised—and more likely to buy—if I received something like this.
For retailers, analytics can also help you plan out your inventory. Knowing when certain types of products are more likely to sell can help eliminate frustration on both sides of the transaction.
Imagine, as a consumer, spending a day researching a new dishwasher before heading to your local appliance store to realize they don't have it in stock or don't sell it. It's so irritating! The IoT seeks to eliminate that customer disappointment. Armed with information, retailers can better plan how much physical space they need for carrying stock in-store—and how much they can keep in a warehouse, which might be more affordable.
It Puts the Goods where They Need to Go
By connecting with customers while they shop in brick-and-mortar locations, retailers can determine their typical shopping paths and better determine how and where items should be placed, and which stores should carry more or less of them. Do customers stay in the clothing area longer when the products are displayed in a more spacious manner? Do they buy more items when the milk is toward the back of the store, or the front? Do they leave the store when an item they typically buy is unavailable, or are they open to trying different variations?
In addition to in-store inventory, the transformation process with IoT can start at the supply chain level. Like I've said before, products can be tracked from floor to store improving operational efficiencies and revenue opportunities. With IoT data, businesses can get a look at the micro level. Want to know how long transportation took? Want know the temperature at which an item is stored? Want to know how quickly a product flew off the shelf? All of these questions can be answered with IoT data—and we are just starting to scratch the surface of its potential.
Research shows by 2021, 79 percent of retailers will be able to personalize in-store shopping experiences for customers because they'll be able to know they're in the store. The other 21 percent? I'm guessing they're going to have a rough time keeping their brick-and-mortar stores afloat in the next five years. In a time when customers want things now-now-now, the option to shop 24/7 is merely a bottom-line expectation, not a selling point, as it used to be. It's just a matter of time before omnichannel experiences become the same.
This article was first published on Forbes.
Daniel Newman is the Principal Analyst of Futurum Research and the CEO of Broadsuite Media Group. Living his life at the intersection of people and technology, Daniel works with the world's largest technology brands exploring Digital Transformation and how it is influencing the enterprise. From Big Data to IoT to Cloud Computing, Newman makes the connections between business, people and tech that are required for companies to benefit most from their technology projects, which leads to his ideas regularly being cited in CIO.Com, CIO Review and hundreds of other sites across the world. A 5x Best Selling Author including his most recent "Building Dragons: Digital Transformation in the Experience Economy," Daniel is also a Forbes, Entrepreneur and Huffington Post Contributor. MBA and Graduate Adjunct Professor, Daniel Newman is a Chicago Native and his speaking takes him around the world each year as he shares his vision of the role technology will play in our future.