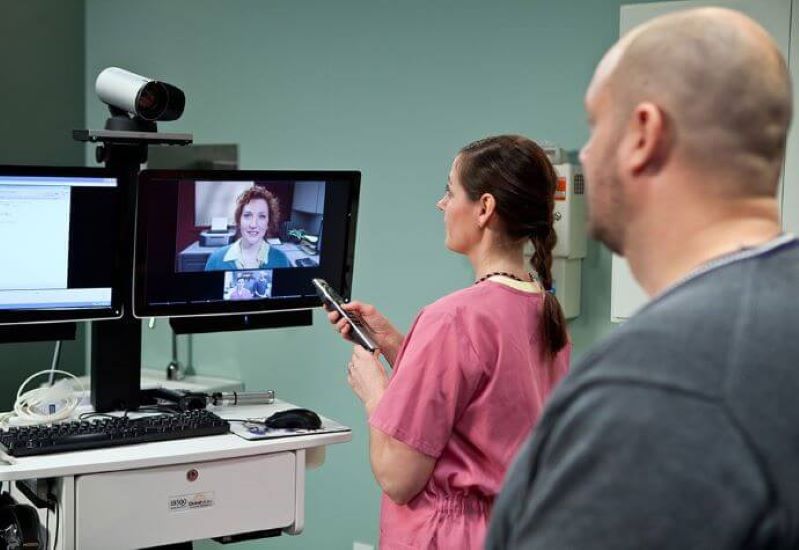 The News: Providence St. Joseph's Health in Seattle, Washington is one of a handful of hospitals across the country using telehealth and IoT technology to free up hospital beds. Providence St. Joseph is currently monitoring 279 COVID-19 positive and presumptive positive patients remotely from their homes, helping to free up hundreds of beds and reducing exposure for healthcare workers. Read more at CNN.
Telehealth and IoT Free Up Hospital Beds, Proving Value in Big Ways
Analyst Take: It appears safe to say that in the face of the coronavirus COVID-19 telehealth and the IoT technology are going providing value in big ways. Telehealth is not a new concept, but during this time of global pandemic, the practice of telehealth (remote preventative, supportive, and curative care delivery) will be key to possibly preventing hospitals from being overwhelmed, which is of prime importance.
At Providence St. Joseph's Health in Seattle, telehealth operations are made by possible IoT connected devices, and it works like this. Patients who test positive and/or who are currently awaiting test results, are sent home with a thermometer and a pulse oximeter, which allows them to check their oxygen levels and heart rate. The patients input their temperature, heart rate, and oxygen level into an app. Vitals are monitored, with an automated system checking in every few hours to make sure their symptoms are not worsening. The good news is that while there's a percentage of people who require high level care and supplemental oxygen, the majority of patients don't require hospital admission and can be monitored and supported at home.
Current Times Means Heightened Awareness of the Benefits of Telehealth
If there's a bright spot in slogging through a global pandemic it's that disruption of the status quo quickly becomes the new normal. That's what's happening in the healthcare industry as it relates to telehealth. Organizations are realizing the tremendous benefits telehealth can offer, especially in the current situation, when we are dealing with hospital and healthcare staffing overloads.
Telehealth offers a convenient and less expensive way to receive medical care. According to American Health Insurance Plans (AHIP), 96 percent of the nation's large employers (500+ employees) offer insurance plans that cover telehealth, though utilization rates have traditionally been low — coming in at under 10 percent — in part due to unfamiliarity with the offering and switching costs. In the midst of the global COVID-19 crisis, healthcare companies are sending notifications to employers and employees reminding them of their telehealth options. Similarly, and in order to promote utilization, CVS's Aetna Health Insurance unit has waived co-pays for telemedicine appointments over the next 90 days, which will hopefully reduce the eventual in-person burden on urgent care clinics and hospitals.
The Telehealth Revolution is Here, and It's Powered by the IoT
The Telehealth revolution is here, and it is powered by the internet of things (IoT). Technology vendors like AWS, Cisco, Cloudera , Dell , Intel Honeywell, HPE , Microsoft, Oracle, SAS, SAP, and Siemens all offer robust IoT health platforms and solutions which use technologies such as analytics, AI, and cloud to improve the connection and monitoring of patients while offering real-time, actionable data. We've worked with many of these vendors for a long time and it's exciting to see the solutions they provide beginning to take center stage as telehealth becomes more widely utilized. This is definitely these vendors' time to shine as well.
In IoT healthcare, interconnected devices such as sensors, actuators, monitors, detectors, camera systems, etc. collect data which is then processed and moved to the cloud. Advanced analytics applied to this data aids in actionable insights for decision-making. IoT has redefined healthcare by ensuring improved treatment outcomes and reduced costs for patients. What healthcare facilities must also keep in mind during this time is the increase in malware that is specifically attacking IoT devices in healthcare. I covered this in greater detail here if you'd like a deeper dive: Failing IoT Security Means Old Malware Makes IoT Comeback.
One other bit of good news: Telehealth companies received a boon in the form of an $8.3 billion U.S. bill signed into law in early March to fund the coronavirus outbreak response that includes $500 million to waive certain restrictions on Medicare telehealth coverage. Aimed at encouraging senior citizens to seek virtual care where possible, it is another important step in the telehealth direction and one that I believe will quickly become a new normal.
As healthcare systems are under great stress at this time, the tech community has a great pool of offerings and they will be put to the test. It's great to see hospitals like Providence St. Joseph's in Seattle use telehealth to help treat and monitor patients at a time when hospitals are filled to capacity and often overflowing. I predict this rapid transition to telehealth in a moment of necessity will show hospitals and healthcare providers that telehealth should be an integral part of their operations and realize it can deliver big benefits in treatment, monitoring, and even aftercare. In fact, I think it's safe to say that this is the beginning of a new normal for healthcare.
Futurum Research provides industry research and analysis. These columns are for educational purposes only and should not be considered in any way investment advice.
Other Insights from Futurum Research:
Zoho, Zoom, Cisco, Intel, Amazon, and More — Tech Brands Doing Good in Tough Times
Cisco Puts Up 225 Million to Combat Spread of COVID-19
How AI Can Potentially Be Used in the Battle Against Pandemics
Image Credit: VA.gov
The original version of this article was first published on Futurum Research.
Sarah brings 24 years of experience as an industry analyst to the Futurum team. She most recently served as the head of industry research for Oracle. Her experience working as a research director and analyst extends across multiple focus areas including AI, big data and analytics, cloud infrastructure and operations, OSS/BSS, customer experience, IoT, SDN/NFV, mobile enterprise, cable/MSO issues, and managed services. Sarah has also conducted primary research of the retail, banking, financial services, healthcare, higher ed, manufacturing, and insurance industries and her research has been cited by media such as Forbes, U.S. News & World Report, VentureBeat, ReCode, and various trade publications, such as eMarketer and The Financial Brand.