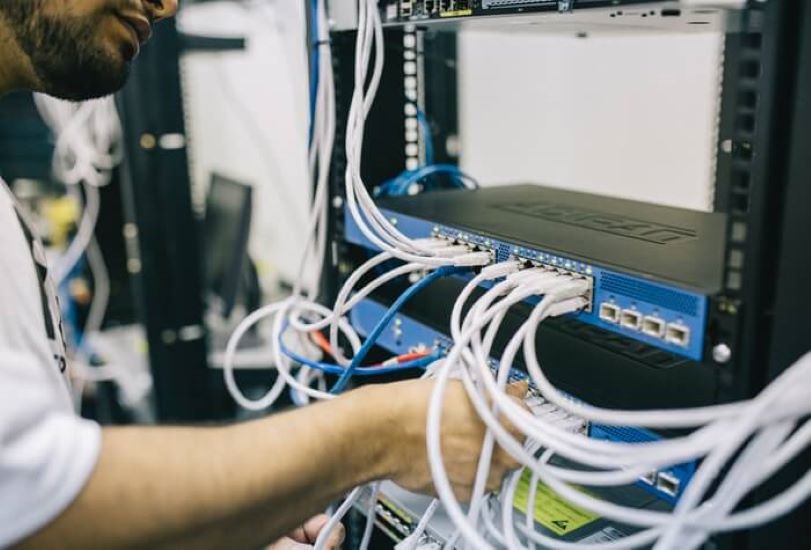 The News: OpenVault, a company that collects and analyzes household broadband usage in the U.S., found that residential broadband usage was soaring this week. The average downstream (data received) usage per customer in urban areas rose 98.3% while upstream (data sent) usage per customer climbed 68.6% on Monday, March 16 compared to a week earlier. Additionally, the average upstream usage per subscriber on March 16 in these areas was 22.1% higher than the peak over the past three weeks. In rural areas, OpenVault found that downstream usage rose 53.3% and upstream usage surged 41.9% on March 16 versus the previous Monday. The company found that peak usage from 6 p.m. to 11 p.m. has risen by 11%, while usage during the workday (9 a.m. to 5 p.m.) has ballooned 34.4%. The company's usage data is not broken down by specific apps, but reports that videoconferencing was expected to pick up this week. OpenVault's statistics are based on "hundreds of thousands" of high-speed internet subscribers' data in the U.S. At the same time, Nielsen projects a 61% increase in U.S. video streaming usage as more people are staying home.
Analyst Take: As students and parents are asked to learn and work from home, internet capability is more crucial than ever. It is not surprising that internet usage is peaking during the day, but what most consumers want to know is — can the internet service providers handle the flux of usage?
Internet Usage
Verizon reports it is adding capacity in pockets where it sees a significant surge in usage. Verizon released statistics on March 17th that indicate (based on peak data hour usage week over week) many people are turning to gaming as a way to pass the time, with a 75% increase over its networks. Meanwhile video streaming increased by more than 12%, and overall web traffic by just under 20%. At the same time, social media remained flat (see table).
| | |
| --- | --- |
| Type of Data | Week's Increase |
| Gaming | 75% |
| VPN | 34% |
| Web Traffic | 20% |
| Video | 12% |
| Social Media | 0% |
*Source Verizon
Internet Service Providers Prepare
As Verizon CTO Kyle Malady, reports that the company "operates its networks every day as though it's a snow day," other carriers like AT&T and Charter say they are also prepared to increase capacity on their networks with more equipment and emergency roll-in cell towers that are used to keep people online during natural disasters.
Charter, Cox, Comcast and AT&T said they were confident they can meet the demands placed on their home internet services, which includes cable broadband like Xfinity, fiber-based broadband like FIOS, mobile LTE services from Verizon and AT&T, and Wi-Fi hot spots.
Broadband Providers Offer Relief
Also, Comcast, Charter and Spectrum are offering promotions such as 60 days of free internet service for low-income households or 60 days of complementary broadband and Wi-Fi access to homes with students. Additionally, Cox Communications says it will automatically upgrade users of its basic broadband internet package.
Almost 200 US broadband service providers have backed FCC Chairman Ajit Pai's in a"Keep Americans Connected Pledge," a 60-day pledge that calls on ISPs to suspend service terminations for customers who can't pay their bills, to waive late fees and to open up Wi-Fi hotspots for those who need connectivity. Several internet providers have also lifted data caps temporarily.
Many of these internet service providers are already prepared for peak internet usage at popular times such as the evening. As much of the U.S. will be at home 24/7 for extended periods of time using gaming and increased video conferencing traffic, this will put the carriers' networks to the test. This places all the more emphasis on the importance of the rollout of 5G and making sure these newer networks are augmented with wi-fi hotspots and small cells.
Futurum Research provides industry research and analysis. These columns are for educational purposes only and should not be considered in any way investment advice.
Read more Analysis from Futurum Research:
IBM Leads High Performance Computing Consortium to Expand Covid-19 Fight 
Making AI's Arcane Neural Networks Accessible
Love and Robots in the Time of Cholera
The original version of this article was first published on Futurum Research.
Sarah brings 24 years of experience as an industry analyst to the Futurum team. She most recently served as the head of industry research for Oracle. Her experience working as a research director and analyst extends across multiple focus areas including AI, big data and analytics, cloud infrastructure and operations, OSS/BSS, customer experience, IoT, SDN/NFV, mobile enterprise, cable/MSO issues, and managed services. Sarah has also conducted primary research of the retail, banking, financial services, healthcare, higher ed, manufacturing, and insurance industries and her research has been cited by media such as Forbes, U.S. News & World Report, VentureBeat, ReCode, and various trade publications, such as eMarketer and The Financial Brand.