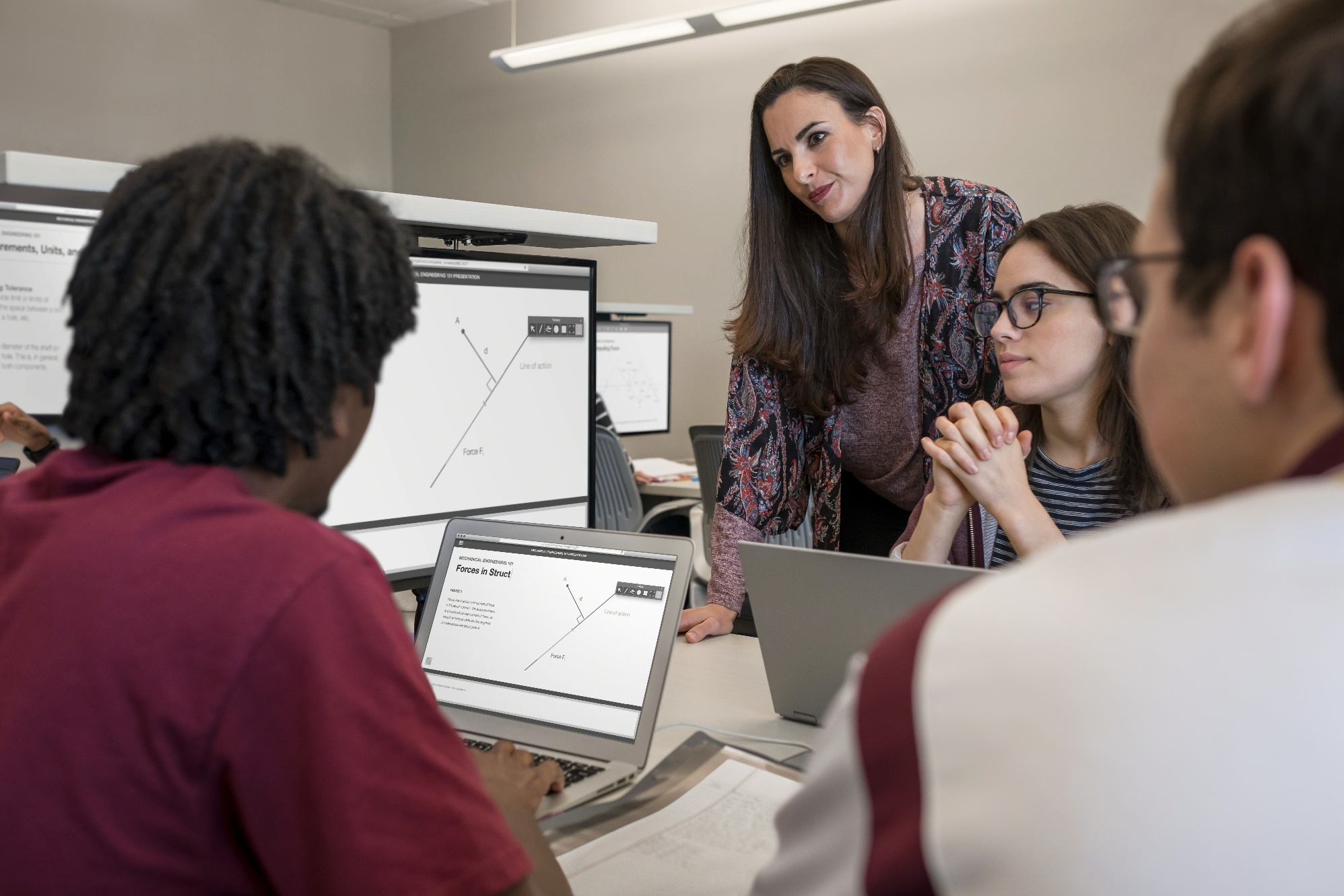 Interactive collaboration began as a set of powerful tools for doing business, and now is becoming just as essential for educational environments. While collaborative learning is nothing new to education, the employment of emerging technologies is creating new avenues for the classroom. Innovations of the business world are helping educators connect  to students, and deepen students' interactions with one another. Using products like T1V's ThinkHub Connect active learning technology, educators are creating the ideal interactive classroom.
Battling For Device Time
Educators have to compete with students' desire for more—if not constant—screen time. From junior high through college, if lessons are not at least as interesting as a game of Subway Surfer or a text from a friend, you've lost them before they even sit down at a desk.
The good news: Interactive classrooms have the most successful students. Device-flexible collaborative technology is a way to both engage students using familiar tools while also ensuring that students are staying focused on the task at hand. It allows more opportunity to solidify learning by allowing students to utilize media that's familiar to them, on a device they feel comfortable using.
Sharing Screens = Sharing Ideas
It's not enough for students just to show up to class to make the information stick. And simply projecting information onto a screen isn't enough either. Technology is enabling interactive learning like having a shareable visual element to help illustrate concepts students may have trouble putting into words or phrasing as a question. Screen sharing allows all manner of media to help seed and facilitate more effective discussion. Solutions like ThinkHub Connect enable unlimited device sharing across all major device operating systems – meaning students can connect and share content with ease.
It's difficult to over-emphasize the importance of an interactive classroom. The web has turned learning into an "open-source" information environment, and being able to open your classroom to a variety of media can help your students connect concepts and ideas through a mosaic of mediated learning.
Engagement Doubling As Accountability
When devices enter the classroom, focus too often leaves with it. But Thinkhub Connect's active learning platform not only encourages group-based activity and collaboration, but gives educators a way to keep students on task. Screen sharing incentivizes engagement and discourages distractions, as any student's screen may be visible at any time. What's more, instructors are able to monitor group activity and provide feedback to students in real time, again serving as a means to keep the classroom focused and on task.
Instead of constantly chasing the distracted minds of students, give them a reason to contribute and engage with the coursework beyond just showing up to class. It also frees your students from an unequal burden of group project work. Students can assemble their portion, and seamlessly switch between segments on one screen. Instructors can more easily break down lesson plans into active learning activities through the use of ThinkHub Connect technology, which enables instructors to broadcast content to all students, while also facilitating small group work and collaboration through wireless screen sharing.
Better Transparency, Less Anxiety
Collaborative technology helps people on either end of the educational experience, but especially for students as their academic load increases. ThinkHub Connect helps teachers and students meet on a more even ground, and has the potential to lower student anxieties about presenting to an entire class, but instead supporting their abilities to participate at the small group level in a more meaningful way.
Consider the power of a classroom full of first year students tackling the basic but daunting task of learning to edit their research papers. Educators can assign tasks to student groups, who can use their student station to collaborate and share ideas and content from their different devices. Instructors are free to the student stations with digital annotations, removing the need to have to squint at projection screens, distribute endless paper handouts, or resort to overhead slides. It's a way to demonstrate concepts in real time, and for students to ask questions in ways that feel comfortable.
Made For Groups Large And Small
Gearing up for interactive learning doesn't have to be just an all-or-nothing upgrade. There are plenty of options for utilizing these tools in smaller groups as well as large lecture-size classes. Between ViewHub wireless presentation software and ThinkHub BYOD collaboration software, students can share information in small groups as well as aggregated on the ThinkHub Canvas. For active learning classrooms, ThinkHub Connect bundles ThinkHub and ViewHub into one totally connected experience that instructors and students can use together.
Group work is strengthened through the ability to share work instantly. Instructors can layer on new features as needed. These solutions can be scaled to fit any room size, and in the process, eliminate much of the need for cords and paper handouts, while allowing greater collaborative flexibility.
Bring More Students Into The Conversation
The whole purpose of active learning technology is to increase student engagement, increase opportunities for learning both remotely and on-demand, and open new avenues of understanding. This technology isn't just a fun toy to keep kids' attention, but a tool that helps educators refocus their teaching. It's a worthwhile upgrade as the education system adapts to a new world of mediated learning that keeps social media on the back burner and attention spans in the classroom.
This article was first published on HB Communications.
Lisa is the marketing manager at HB Communications, among the largest and most innovative Audiovisual System Integrators in North America. HB designs, builds, and supports audiovisual communication environments for organizations around the world.