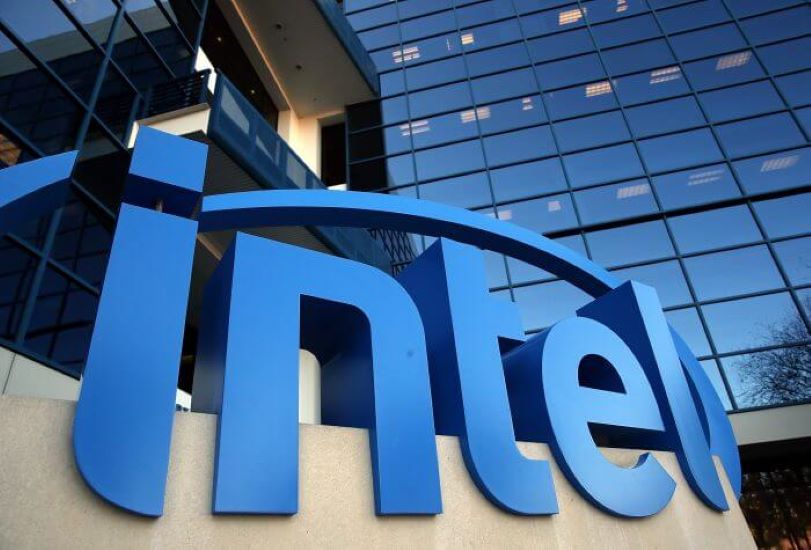 Intel has finally given us a peek under the hood of its 10th gen chipsets – dubbed "Ice Lake," and here are the most important details you probably need to know about them:
Expect 11 new processors, ranging from a dual-core i3 to a quad-core i7.
All are built on Intel's new 10nm "Sunny Cove" architecture.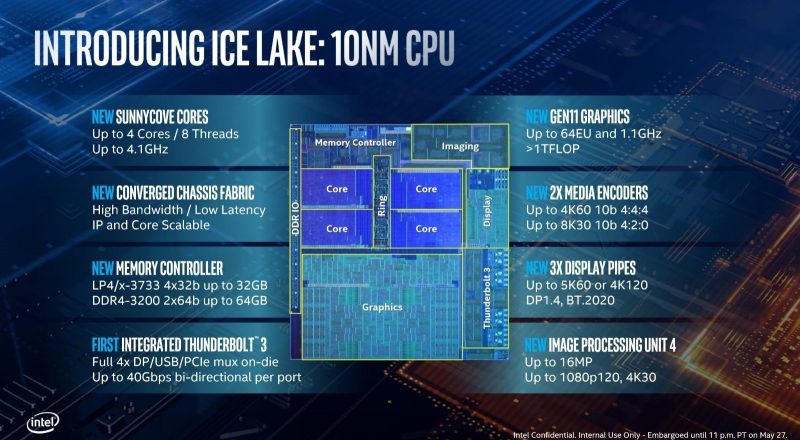 3 different graphic options.

G7 = 64 EU (execution units) – capable of playing games in 1080p
G4 = 48 EU
G1 – Integrated UHD graphics 32 EU
Updated SKU nomenclature to more easily identify different models. (Example: i7-1068G7)

U-series and Y-series options.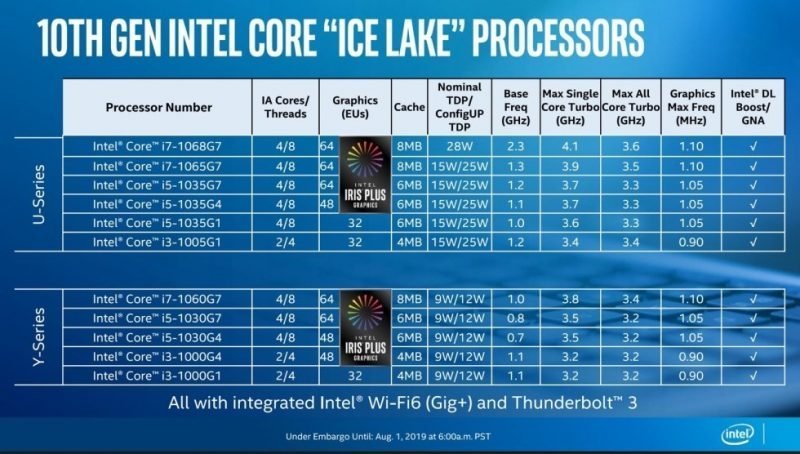 Iris Plus Graphics available in U-series and Y-series G4 chips and above. (Not for G1 chips, sorry.)

Supports VESA adaptive sync standard (smoother movement and less "screen tearing").
Video encoding acceleration for HEVC/EP9 (theoretically: 60 fps @ 4K and 30 fps @ 8K, applicable to Dolby Premiere and Cyberlink PowerDirector).
Supports HDR and Dolby Vision playback.
Gaming benchmarks:

>70 fps in CS:Go in 1080p (up from 45 fps).
Nearly 60 fps in Rocket League in 1080p (up from sub-40 fps).
>30 fps for Fortnite in 1080p (meaning it will now be playable in 1080p).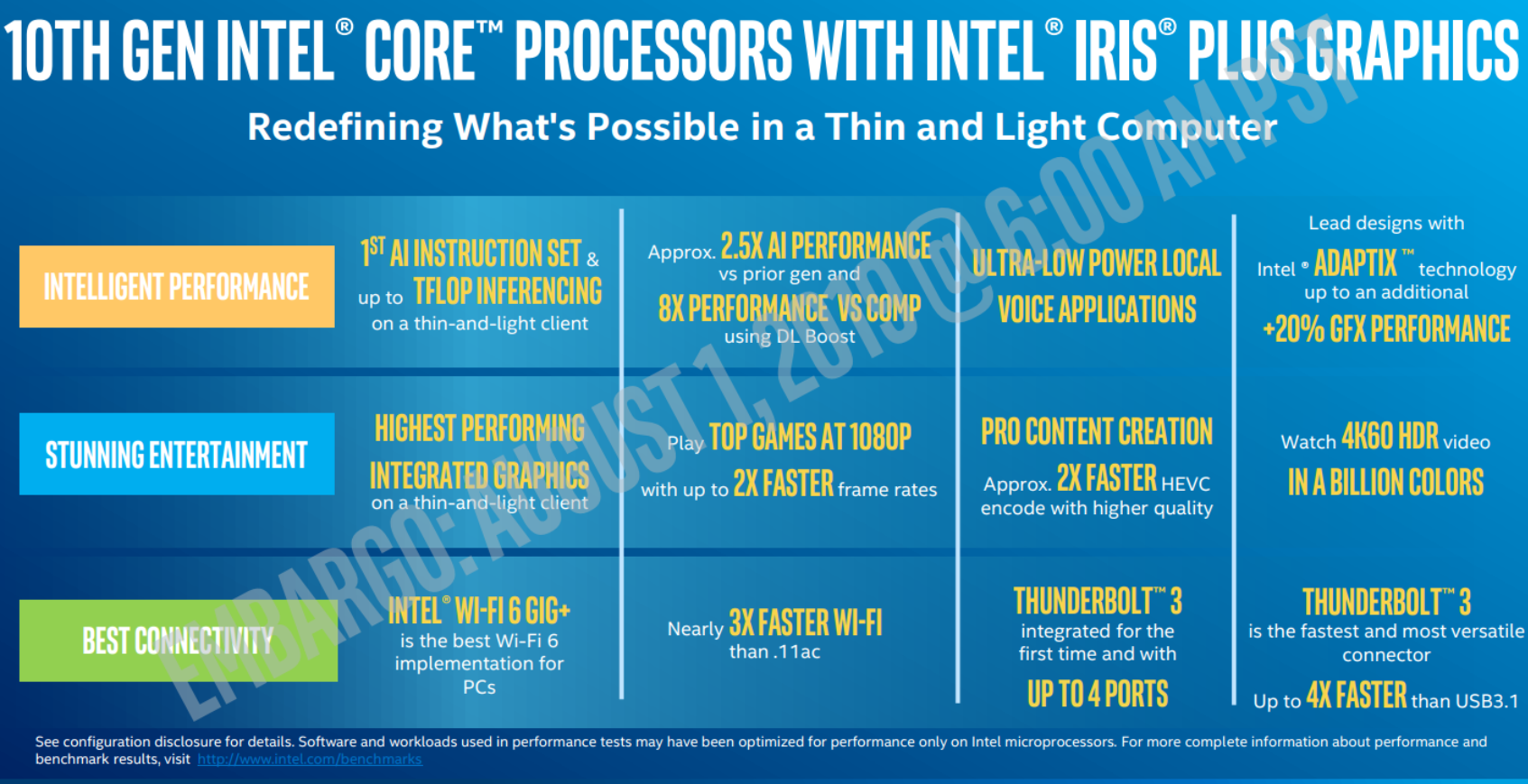 Can handle bigger workloads at equivalent clock speeds (18 percent more instructions per clock than equivalent 8th gen chips).
Bigger L1 and L2 caches.
More execution ports (to handle more simultaneous workloads).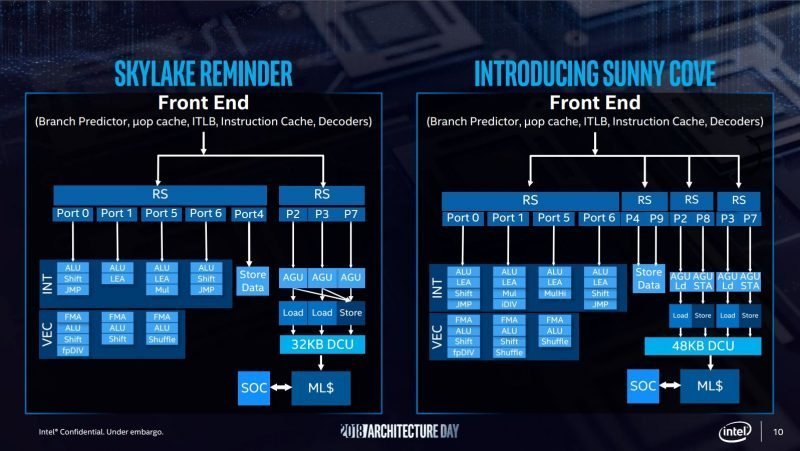 2.5x faster AI (at least in i7 chips) for image and video processing.
Support for dual-channel DDR4-3200 (64GB) or LPDDR4X-3733 (32GB) in four 32-bit channels.
WiFi-6 compatible.
Thunderbolt 3 support.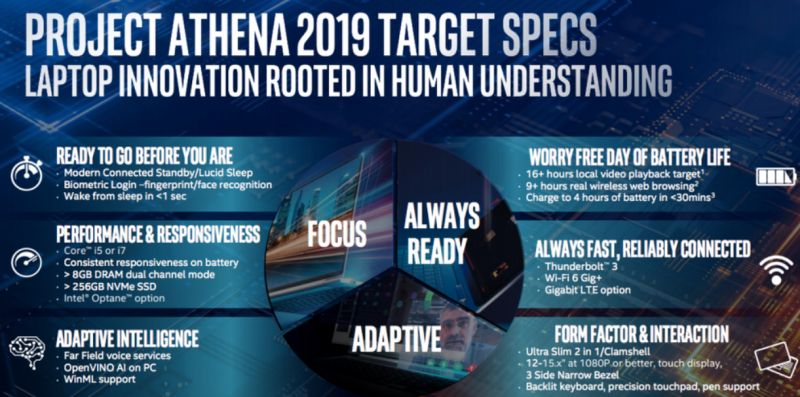 Additionally, this new family of 10nm-based SOCs are likely to power Intel's Project Athena laptops (basically its answer to Qualcomm-powered 7nm-based SOCs powering ACPCs – always-on, always-connected laptops), by hypothetically giving laptops 15-20 hour battery autonomy (video playback), which Intel translates into up to 9 continuous hours of "real" use* (defined as heavy web browsing with multiple applications running simultaneously).  Project Athena currently gives very little details about the other critical component of the rising new generation of ultraportable and work-from-anywhere unplugged laptops: 24/7 connectivity, not just to WiFi but to LTE and 5G networks. If Intel doesn't address this, it may end up with only half an answer to Qualcomm-powered ACPCs.
* Intel will need to clarify its messaging with regard to battery performance, as average consumers will likely not understand the side-by-side difference between 15-20hr battery ratings in ACPCs and 9hr battery ratings on Project Athena laptops. Currently, first impressions to this 9 hour benchmark can easily be mistaken for "more of the same" battery performance already standard among mid-to-high range laptops. The difference will likely become easier to gauge when Intel-powered and Qualcomm-powered ACPCs go head to head in performance comparison tests.
All in, an impressive new wave of innovation from Intel that will improve laptop performance for all users, finally make mid-range laptops gamer and creative-friendly, bring Intel a giant step closer to the world of 7nm chips, and perhaps give Qualcomm's ACPCs some worthy competition as early as 2020.
PS: If this post left you hungry for a much deeper dive into these specs, PC Mag's John Burek has you covered.
The original version of this article was first published on Futurum Research.
Senior Analyst at @Futurumxyz. Digital Transformation + Tech + Disruption. Author, keynote speaker + troublemaker. Opinions are my own. I like croissants.