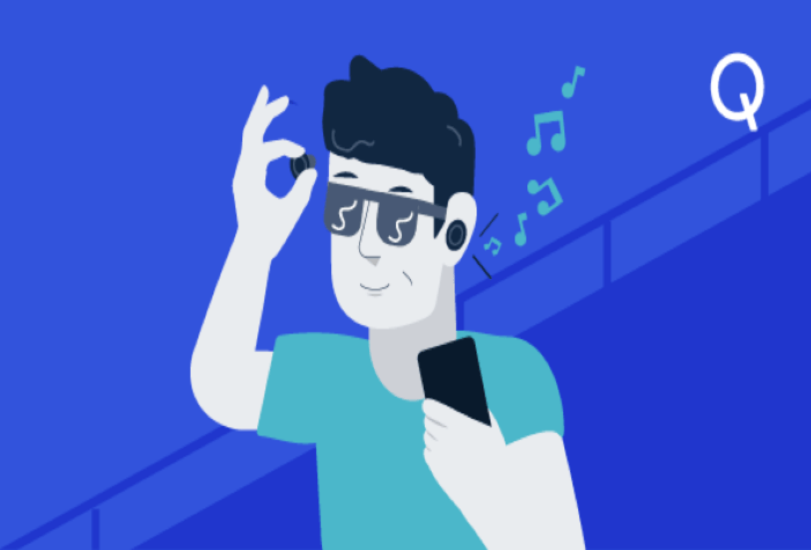 The News: Qualcomm is introducing two new Bluetooth audio SoCs, small enough to fit into earbuds – the entry-level, flash-programmable Qualcomm QCC304x, and the premium-tier Qualcomm QCC514x. Both are designed to elevate what the company calls the "truly wireless" consumer experience (meaning that the earbuds do not require a connection between both earpieces by cable or wire) by providing significant improvements in: connectivity, battery autonomy, integrated active noise cancellation (ANC), voice assistant support, and premium wireless audio quality. Read more at ArsTechnica.
Qualcomm's New Bluetooth Audio SoCs Represent Quiet Evolution on the Part of the Brand
Analyst Take: This news, while admittedly exciting, is not Qualcomm's first foray into earbud-sized Bluetooth audio System-on-Chip (SoCs). The San Diego chipmaker has been semi-quietly partnering with major consumer brands to bring high quality truly wireless audio to consumers for some time now, and this latest generation of Bluetooth audio SoCs is merely the natural evolution of the Qualcomm QCC5100 series and the Qualcomm QCC302x series.
Qualcomm's updated menu of Bluetooth audio SoCs features four product offerings: The QCC5144, the QCC5141, the QCC3046, and the QCC3040. The QCC514x is Qualcomm's flagship premium voice-enabled SoC, while the QCC304x series is the slightly more midmarket version. The main difference between the two is that the QCC514x is the always-on wake word version, which supports a mix of local voice recognition and cloud-based voice assistant functionality, while the QCC304x series is the simpler push-button activation and cloud-based voice assistant version. Additionally, the QCC5144 and QCC3046 are the BGA (Ball Grid Array) options, while the QCC5141 and QCC3040 are the WLCSP (Wafer Level Chip Scale Package) versions.
Qualcomm's New Bluetooth SoCs Bring Full Noise Cancelling and Smart Functionality to Earbuds
Qualcomm's leadership in the overlapping arenas of Bluetooth and premium wireless audio has begun to be a little more conspicuous in recent years, with the proliferation of Qualcomm's impressive AptX Audio platform, Qualcomm cVc noise cancellation technology, Qualcomm TrueWireless Stereo technology, and the promising IoT-friendly Bluetooth Mesh.
The company's focus in this instance appears to be threefold: Providing better battery life (up to 13 hours of playtime from a 65mAh battery, even in an arguably compact form factor), immersive active noise cancellation (which blocks out unwanted noise but allows some sounds to leak through for safety reasons), and voice – which I continue to contend is the next ubiquitous interface for wearables and smart environments.
Qualcomm also emphasizes one of its more impressive engineering breakthroughs its release: TrueWireless Mirroring release, which not only allows either the left or right earbud to be used in mono mode during a call, but automatically and seamlessly switches between earbuds if the user removes the connected earbud, with the purpose of ensuring that the call will not be interrupted. This role-swapping function can also be activated if the RF connectivity for the mirroring earbud is significantly stronger than the connected bud. Previous versions of these new SoCs took a different approach to this problem, with one "primary" earbud communicating with the phone or other device, then passing audio to the secondary earbud. TrueWireless Mirroring brings more symmetry, engineering elegance, and reliability to that pairing functionality.
Although it is too soon to tell which consumer audio brands will build products around Qualcomm's new earbud SoCs, we can look back at where previous iterations ended up. Among the most notable brands highlighting the quality of Qualcomm's Bluetooth audio SoCs: Bang & Olufsen, Louis Vuitton, Vivo, Plantronics, JVC, Jabra, Audio Technica, Cleer, and Anker. Notably missing from that list thus far are Samsung, Apple, and Sony, all of which are large enough to come up with their own SoCs, but you never know.
One of Qualcomm's strengths as an ecosystem partner lies in its ability to provide companies with adaptable and easy-to-integrate platforms around which to build products — whether these products are phones, XR headsets, smart speakers, or wireless earbuds. By providing the technology that powers earbuds, as well as reference designs for those products, Qualcomm essentially allows OEMs to focus on product design (e.g. shape, aesthetic, ergonomics, etc.) while it provides the technology that powers them, thereby reducing product development timelines — and presumably product development costs as well. Shorter product development cycles mean that new features like TrueWireless Mirroring, "all day" battery life, premium wireless audio, active noise cancellation, voice recognition, and voice assistant support will find their way to consumers faster than one might expect.
What's Ahead for Qualcomm in the Bluetooth Earbud Market
What I see ahead, specifically from 2020 to 2021, is that this new release from Qualcomm helps raise the bar for premium audio functionality in the Bluetooth earbud market. This is particularly true in four areas where Qualcomm appears to currently hold an advantage over its competition: Chipset power efficiency, wireless sound quality, smart noise cancellation, and on-device real-time voice processing.
Even as impressive as these new specs are, I expect the next iteration of Qualcomm's earbud SoCs, presumably that we'll see in the next year, to yield a 15 to 20 percent improvement in power efficiency, and feature even smarter immersive noise cancelling. For example, I expect that users will be able to more broadly customize their earbuds' noise-cancelling to match their environment and individual preferences. I also expect to see more focus on real-time translation functionality between the phone and earbuds, but that may take more time to get as fully fleshed out.
If Qualcomm's impressive demo of real-time on-device translation during its 2019 Snapdragon Summit is any indication of what is coming, that type of functionality should not take long to proliferate from Snapdragon Chipsets to other adjacent chipsets in Qualcomm's product line. It stands to reason that earbuds should eventually see some of those real-time translation capabilities bleed over into their SoCs as well. I'm looking forward to seeing this play out.
Futurum Research provides industry research and analysis. These columns are for educational purposes only and should not be considered in any way investment advice.
Other insights from Futurum Research:
Qualcomm's Tiered SoC Diversification Pays Off, Expands Footprint
Qualcomm's Virtual MWC Event Reveals Big Wins for Snapdragon 865
Qualcomm's Snapdragon Summit Day 2: First Thoughts About the Snapdragon 865
Image Credit: Qualcomm
The original version of this article was first published on Futurum Research.
Senior Analyst at @Futurumxyz. Digital Transformation + Tech + Disruption. Author, keynote speaker + troublemaker. Opinions are my own. I like croissants.