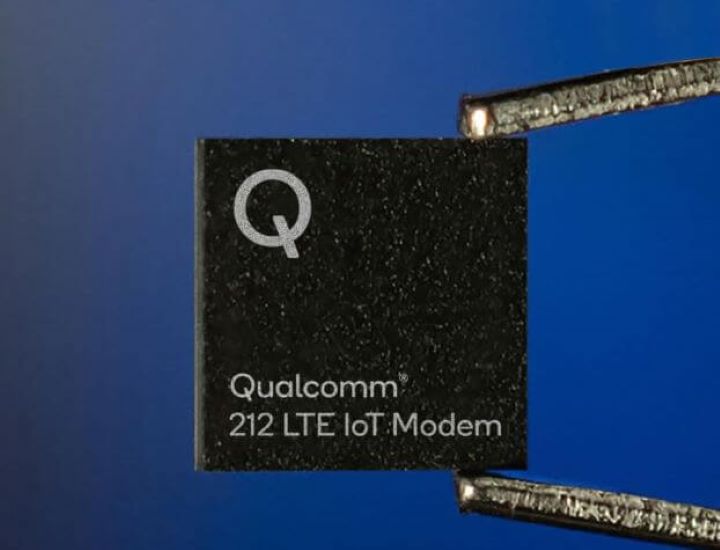 The News: Today, US chipmaker Qualcomm (NASDAQ: QCOM) is introducing a new modem solution for narrow-band (NB) IoT applications, and with it, ushering a new standard of power efficiency for the NB-IoT. Based on 3GPP Release 14 Cat. NB2 IoT, Qualcomm's 212 LTE IoT modem is compact enough to enable LTE modules smaller than 100 square millimeters, and includes a modem baseband, an application processor, memory, an RF transceiver with fully integrated RF front end, and power management units.
Qualcomm's 212 LTE IoT modem also enables extended coverage for delay-tolerant applications on RF frequency bands ranging from 700MHz to 2.1GHz for Global roaming. Its integrated ARM Cortex M3 application processor and native IoT data networking protocols mean that the Qualcomm 212 LTE IoT Modem can enable embedded IoT applications. Qualcomm is reportedly launching an SDK to support developers looking to run custom software on the applications processor and will offer pre-integrated support for cloud platforms like Microsoft Azure IoT SDK.
Because it requires less than one micro-amp (1uA) of sleep current and is compatible with devices with power supplies as low as 2.2 volts, the Qualcomm 212 LTE IoT modem delivers impressively low average power consumption – a critical feature for IoT devices that may have to operate in the field for years. Note that narrow-band IoT applications typically prioritize long battery life and/or power efficiency, high connection density, and low cost.
Predictably, the chip's solution-ready architecture aims to facilitate module design and integration in order to speed up device commercialization for OEMs. Read the full press release from Qualcomm here.
With the 212 LTE IoT Modem's Small Size and Exceptional Power-efficiency, Qualcomm can now Truly set its Sights on the NB-IoT Market
Analyst Take: Following the success of Qualcomm's multimode Cat-M1 (eMTC) MDM9206 and MDM9205 modems, it was only a matter of time before the San Diego-based chipmaker set its sights on tackling the remainder of the NB IoT market with a smaller, ultra-low power, lower cost solution.
While typical eMTC use cases require a high degree of mobility, throughput, and spectrum efficiency (think wearables, object-tracking, connected healthcare, and VoLTE), NB IoT applications focus more on lower power, reduced complexity, deep coverage, and high density (think utility metering, environmental monitoring, smart buildings, and smart city infrastructure). With the MDM9205 and MDM9206, Qualcomm had its eMTC bases covered, and the MD9205's ultra-low power (roughly 70% lower than the MDM9206) was a solid crossover product for upper-to-midrange NB2 (NB IoT) applications. The Qualcomm 212 LTE IoT Modem, being designed specifically for ultra-low power NB IoT applications, however, goes where the MDM9205 cannot.
For starters, its form factor makes it more versatile than the MDM9205 when smaller means better, and smallest is best: The 212 comes in at 10mm across compared to the MDM9205's 15.3mm. Second, the 212's one micro-amp (1uA) of sleep current makes it the most power-efficient solution of its type. This is especially important, considering that since some NB IoT devices may be expected to operate in the field for a decade or more, power efficiency is absolutely critical to their service life. Lastly, the combination of its power efficiency and connectivity profile allows devices to operate even when placed deep within buildings, which can often be a serious challenge for NB IoT applications.
In short, Qualcomm's new 212 LTE IoT modem fills a gap in Qualcomm's IoT modem portfolio that the MDM9205, for all its solid features, could not quite fill on its own. With the MDM9205 and the 212 side by side, Qualcomm's NB IoT modem portfolio now looks much more fleshed out than it did this time last year. And with companies like AT&T, Deutsche Telekom, Quectel, Gemalto, Microsoft (Azure IoT), and Telit already looking to bring the 212 into their IoT ecosystems, Qualcomm's IoT footprint may get a noticeable boost when the 212 becomes commercially available later this year (H2, 2020).
Futurum Research provides industry research and analysis. These columns are for educational purposes only and should not be considered in any way investment advice.
Related content from our Futurum Research Team:
Qualcomm's New Bluetooth Audio SoCs Represent Quiet Evolution 
Qualcomm's Tiered SOC Diversification Pays Off, Expands Footprint
Qualcomm's New Snapdragon XR2 5G Reference Design Opens The Door To Truly Wireless On-Demand 8K XR Experiences
Image Credit: Qualcomm
The original version of this article was first published on Futurum Research.
Senior Analyst at @Futurumxyz. Digital Transformation + Tech + Disruption. Author, keynote speaker + troublemaker. Opinions are my own. I like croissants.