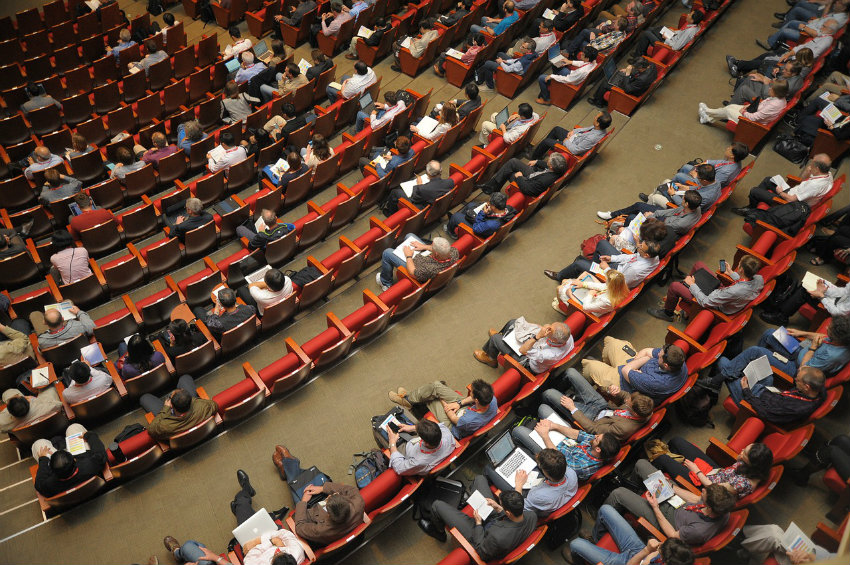 It's time to refine your 2018 conference plans. If you're in IT, you know the importance of staying relevant and gaining access to the latest ideas and tools. From one-day summits to in-depth week long conferences, there are plenty of worthwhile events for CIOs and tech leaders—and deciding which to attend can be tricky. Before you finalize this year's conference schedule, take a look at our choices for 2018's top tech events and learn more about each one.
Healthcare
HIMSS: Las Vegas, March 5-9 – The Venetian-Palazzo Sands Expo Center
The Healthcare Information and Management Systems Society (HIMSS) conference is the leading health information and technology event in the industry. This large-scale annual conference draws more than 45,000 attendees and offers insights on such topics as cybersecurity and privacy, interoperability and data integration, data analytics and business intelligence, and connected health and tele-health. This year's exhibition features more than 1,300 leading industry vendors along with live demos and showcases of the latest health information and technology solutions. There are also numerous networking and social events, including receptions, award galas, and more. Attending this week? Meet the OnRamp team at booth 12206!
Channel 
XChange Solutions Provider 2018: Orlando, March 6-8 – Lowes Sapphire Resort
Touted as the largest, independent gathering of the IT channels' premiere solution providers and technology vendors, this event will deliver cutting-edge insights from industry experts and executives, and demos of the latest products and services. In addition to a full schedule of educational sessions, attendees can participate in private boardroom sessions, visit the solutions pavilion and demo room, and attend several networking functions.
SXSW Health and Tech: Austin, March 9-18
One of the largest and most popular conferences of the year, SXSW will not disappoint. Join your peers in the health industry while soaking up the Austin vibes—IT innovators, taco lovers, and leaders from across the globe gather for what has become arguably the nations' biggest idea-fest. Hear perspectives from thought leaders that build and support the ecosystem of patients, caregivers, providers, payers, policy makers, designers, entrepreneurs, and investors to improve health in the communities where we live, work, and play.
Channel
Channel Partners Conf & Expo: Las Vegas, April 17-20 – The Venetian & Sands Expo
Join more than 6,000 industry experts—agents, VARs, MSPs, integrators and service providers—to learn and share ideas on topics shaping the technology industry. The conference includes an all-new Business Success Symposium Preconference and six conference tracks—Business of the Channel, Cloud, IoT, SDN, Security, and The MSP/CSP Opportunity. In addition to in-depth educational sessions, attendees have access to nearly 300 exhibitors, the Channel Partners Studios, MSP Pavilion, Cloud Computing Lab, SDN Experience Area, Game Zone, receptions, and even a pub crawl to quench your thirst. (Be sure to find OnRamp at booth 4064)
RSA Conference: San Francisco, April 16-20 – Moscone Center
For IT security professionals, this is the main event. With over 45,000 participants each year, the conference provides in-depth educational sessions and learning labs, networking, and interactive demonstrations on the latest technology. Attendees can choose from more than twenty tracks including Analytics, Intelligence & Response, Application Security, C-Suite View, Cloud Security & Virtualization, Cryptography, DevOps, Hackers & Threats, Machine Learning, Protecting Data & Applies Crypto, Security Strategy, and more. This event is a great opportunity to learn about new approaches to info security, discover the latest technology, and interact with top security leaders and pioneers.
Healthcare
CIO Healthcare Summit: New Orleans, April 19
This one-day event brings together more than 50 healthcare CIOs and IT executives from national healthcare systems to explore and discuss digital transformation, cloud computing, the digital workplace, and cognitive computing. Enjoy the unparalleled food and culture of New Orleans while joining a gathering of industry thought leaders to cover the IT challenges of improving patient care, controlling costs, and meeting government regulations.
Healthcare
ATA18: Chicago, April 29-May 1 – McCormick Place
The three-day American Telemedicine Association Conference and Expo is the world's largest telehealth innovation and networking event. Healthcare providers, clinicians, business professionals and leaders from a variety of health and technology sectors come together to learn, discuss, and plan the future of telemedicine. With over 150 learning options, attendees can participate in seminars, learning labs, plenaries, roundtable discussions, hands-on workshops, spotlight sessions, and product demos.
Gartner Tech Growth and Innovation Conference: San Diego, April 30-May 2 – Sheraton San Diego Hotel & Marina
Technology providers are facing changing markets and evolving business models. This three-day conference brings together technology leaders who gain access to exclusive Gartner research and discussions on some of the industry's hottest topics and challenges. As an attendee, you will gain insight on such topics as technology disruption and market opportunity; effective positioning, messaging, and branding; short and long-term business growth strategies; winning approaches to product management and strategy; and account-based marketing, demand generation, and more.
Interop ITX: Las Vegas, April 30-May 4 – The Mirage
This five-day conference for IT professionals combines educational sessions, led by industry experts and the InformationWeek editorial team, with a vendor-neutral business hall and lots of networking opportunities. Organized into six themed tracks—infrastructure, security, data and analytics, cloud, DevOps, Leadership and Professional Development—the more than 130 sessions and inspiring keynotes provide opportunities to learn about technologies and solutions outside your current ecosystems. This year's conference features a new Government track specifically for IT pros working in local, state, or federal governments.
VMWorld: Las Vegas, August 26-30 – Mandalay Bay Hotel & Convention Center
A five-day conference for technology professionals, VMWorld immerses you in the latest in thought leadership and expert insights in cloud infrastructure and business mobility technology. This event is the perfect opportunity to network with peers, make new connections, and get direct experience and training with hands-on labs and new products.
Hosting and Cloud Transformation Summit (HCTS): Las Vegas, September 24-26 – The Bellagio
HCTS is a forum for technology executives responsible for developing and implementing hosting, cloud computing, data center, and internet infrastructure strategies. The educational sessions—led by more than 50 expert analysts and executives—provide timely insight and practical guidance on designing and implementing effective IT strategies.
SpiceWorld: Austin, October 8-10
Designed for IT professionals and tech marketers, SpiceWorld offers practical how-to sessions led by tech experts and your IT peers. Attendees will enjoy real world conversations and in-the-trenches stories on such topics as managing IT infrastructure, open source and commercial security tools, multi-vector protection, hyperconvergence, preventing malware, project management, IT budgets and trends, and much more. SpiceWorld also offers a bustling exhibit hall and sponsor showcase, and plenty of networking and social activities.
IT Nation Orlando, Nov 7-9 – TBD
Regardless of whether or not you're a Connectwise user, this conference promises growth hacks, success secrets with 200+ educational tracks for executives, security leaders, and IT influencers. Use these different perspectives to better understand the trends that are shaping tomorrow's business environment and what you should do about it—i.e. conversations you should have with your team regarding security strategies. You can also participate in colleague sessions (peer-to-peer learning) and partner sessions to grow your channel program.
Channel
NextGen Cloud Conference & Expo: Anaheim, Nov 27-29 – Hilton Anaheim
There's no bigger conversation than the cloud in 2018, and NextGen 2018 is the perfect opportunity to interact with your peers and discuss the big topics of AI, IoT, security, mobility, business analytics, and big data. Organized by The Channel Company, this vendor-and platform-agnostic event is designed for the channel, by the channel.
Healthcare
2018 Health IT Summit Series: Various dates and locations
With eleven events throughout the year in nearly every corner of the U.S., Healthcare Informatics has made it easy to find a Healthcare IT (HIT) Summit that fits your schedule. Geared toward healthcare provider leaders, HIT aims to improve the quality, safety, and efficiency of healthcare through information technology. The 2018 Health IT Summit Series will feature educational content on a wide variety of topics, including a deeper focus on cybersecurity, data analytics, clinical workflow, telehealth, and policy.
Whether it is a one-day seminar, a three-day workshop, or a longer symposium, professional industry events encourage learning, networking, and can be both fun and rewarding. This year offers many opportunities to learn and network with other tech professionals and CIOs.
This article was first published on OnRamp.
With over a decade of experience in data center services, Bobby Boughton oversees the strategy, implementation and execution of OnRamp's sales and business development for OnRamp's growing, high security hosting, cloud computing and colocation services. Connect with Bobby Boughton on LinkedIn.