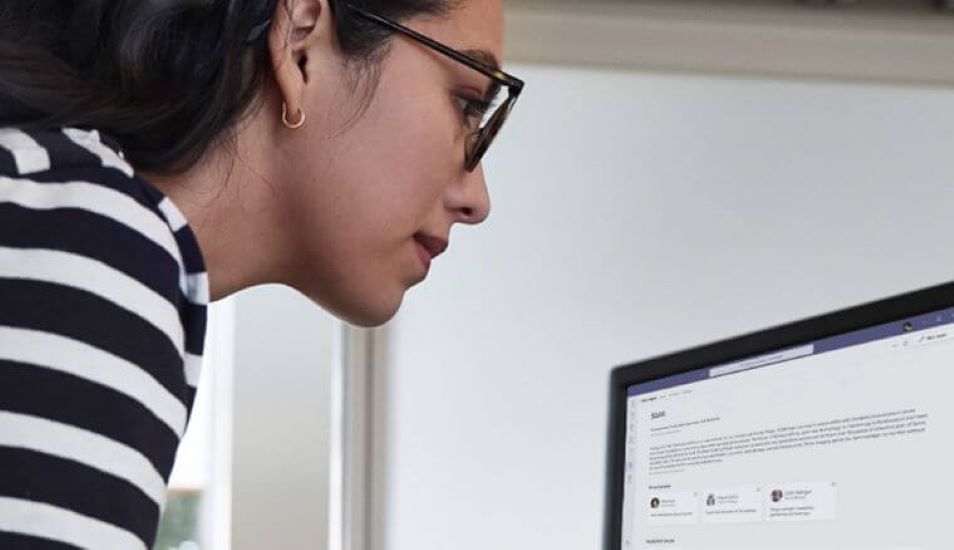 The News: Microsoft on Thursday announced a new employee experience platform, called Microsoft Viva, which is designed to combine and integrate employee engagement, learning, well-being and knowledge discovery tools directly into Microsoft 365 and Microsoft Teams workflows. Viva, Microsoft stated in its announcement, is "designed to help employees learn, grow and thrive, with new experiences that integrate with the productivity and collaboration capabilities in Microsoft 365 and Microsoft Teams." Read more from Microsoft here.
Microsoft's New Employee Experience Platform, Microsoft Viva, Connects Employee Productivity and Wellness to Smoother Work Experiences
Analyst Take: In his announcement about Microsoft Viva, CEO Satya Nadella, framed the product's vision as a "unified employee experience." In his words, the genesis for the product is that "we have participated in the largest at-scale remote work experiment the world has seen, and it has had a dramatic impact on the employee experience. Every organization will require a unified employee experience from onboarding and collaboration to continuous learning and growth." Regarding scope, he adds: "Viva brings together everything an employee needs to be successful, from day one, in a single, integrated experience directly in Teams."
Jared Spataro, corporate vice president, Microsoft 365, dove a little deeper into the product's functionality: "As the world of work changes, the next horizon of innovation will come from a focus on creativity, engagement and wellbeing so organizations can build cultures of resilience and ingenuity. Our vision is to deliver a platform for the employee experience that helps organizations create a thriving culture with engaged employees and inspiring leaders."
The announcement focused on an initial set of modules that aim to provide built-in capabilities, ecosystem partner integrations, and platform extensibility designed to empower customers to integrate Viva into their existing employee experience systems and collaboration tools to make them both more accessible and more discoverable to employees. The modules are Viva Connections, Viva Insights, Viva Learning, and Viva Topics. Here's a breakdown:
Viva Connections. Viva Connections is an app for Teams that serves as a personalized gateway to the digital workplace, and allows employees to access company resources (HR, policy documents, benefits information, etc.) as well as internal communications. It will be available for desktop H1 2021, with a mobile-friendly version scheduled for release later in the year.
Viva Insights. Viva Insights is an app for Teams whose aim is to provide decision-makers with personalized and actionable insights to balance productivity and maximize wellbeing. The app can, for instance, help employees more organically block off time or minimize interruptions for focused work, learning, training, and even breaks. It can also clue in managers to team-level and broader organizational trends they might otherwise miss, along with appropriate recommendations to either minimize or maximize the impact of those trends.
The Viva Insights app also allows organizations to blend employee feedback from LinkedIn's Glint with its own collaboration data in a single dashboard, allowing leaders to identify specific pain points in their org, adjust work norms, and monitor the progress of those changes over time, and even quantify outcomes. The app can also incorporate data from third-party services like Zoom, Slack, Workday and SAP SuccessFactors into its workplace optimization engine. The Viva Insights app in Teams and the new Glint and Viva Insights dashboard are available now.
Viva Learning. The Viva Learning app helps make professional development opportunities like learning, training, and certifications, more discoverable. Think of it as a learning resources and professional development opportunity aggregator. It appears to already be able to pull content from an organization's own library of resources, LinkedIn Learning, and Microsoft Learn, as well as from third-party providers including Coursera, Skillsoft, Pluralsight and edX. Users can use the app to discover, share, assign and consume a wide variety of learning products ranging from long form learning courses to bite-sized microlearning products, as a more natural element of their workday. The Viva Learning app is currently only available in private preview, but integrations with broadly used learning management systems like SAP SuccessFactors, Cornerstone OnDemand, and Saba, are scheduled to come online later in the year.
Viva Topics. The Viva Topics app focuses on what Microsoft calls a "knowledge discovery experience." Its aim is to help users connect to information and experts across their organization. The way it works seems fairly straightforward: An AI engine dives into a customer's Microsoft 365 data, combines it with knowledge from third-party services like Salesforce, and then automatically generates "topic cards" inside documents and conversations in both Microsoft Teams and Microsoft 365. When a user clicks on a card, it opens a topic page, complete with relevant content, profiles, connections, and reference information. Viva Topics is currently available as an add-on to Microsoft 365 commercial plans.
Could Microsoft Viva's Plan to Humanize the Workplace bet the Key to Boosting Employee Productivity, Creativity, and Retention?
I am fascinated by the evolution of workplace terminologies, and employee experience systems appears to be the latest addition to the list. It also resonates with me a bit, as it signals that the experience economy, which was once focused on customer acquisition, development, and retention, has not only also found its way into corporate environments, but found solid ground upon which to settle and thrive. The first thing that jumps out at me is that the objectives that drove companies to shift from selling products and services to selling experiences, are exactly the same inside an organization: acquiring, developing, and retaining employees.
This shift was originally partly triggered by the rise of "the gig economy", which saw a shift from traditional employment to more fluid client-contractor relationships. This subsequently led to the evolution of more flexible, remote collaboration tools like Slack, Microsoft Teams, and Webex Teams, which moved team interactions out of email and traditional enterprise productivity products and into more mobile, fluid, organic workflows. It is this evolution of collaboration tools, and the speed with which new generations of enterprise solutions replaced their more traditional precursors, that has brought us to this next phase in the transformation of the workplace, which Microsoft aims to capture with new layers of functionality for enterprise employee experience systems. Rather than focusing on maximizing productivity, which has always been weighed down by a subtext of exploitation, Microsoft's focus with Viva appears to prioritize positive motivators like employee wellness, empowerment, and development.
In other words, these new tools and workflows, rather than burdening workers and managers with additional work and responsibilities, appear to be designed instead to help them reclaim agency over their own professional development, professional connections, performance, schedules, wellness, and work-life balance. The subtext here is that happy employees probably make more productive and motivated employees than their overworked, overstressed counterparts, and that tools that improve workplace experiences, workflow experiences, and collaborative experiences, by removing friction from the equation, can therefore help employees feel less stressed, less tired, more in-control of their own work life, more energized, more productive, more creative, and more motivated to contribute on a daily basis. In short: lose the proverbial stick and embrace the whole carrot patch.
The manner in which these tools are designed also echoes the maturing trend toward the consumerization of IT, which makes enterprise productivity and collaboration solutions as mobile, intuitive, portable, and frictionless as popular consumer-facing apps. Note that the more well-designed the tool, integration, and workflow, the more likely it is to cut down on operational inefficiencies which, according to IDC, typically cost organizations anywhere from 20% to 30% of their revenue every year. Organizations therefore stand to benefit as much from enabling a boost in efficiency in their workflows as they do from wasting less time managing antiquated systems and processes. Smart automation built into new employee experience systems and agile collaboration products address that second objective also.
The Demand for Solutions that Support Employee Experience is Growing — and Rapidly
The nascent Employee Experience Platforms (EXP) category's value is estimated to amount to roughly $300 billion in annual spend already, although the current fragmented state of these products, services, and infrastructure is still difficult to define clearly. One thing is certain, that category is sure to continue its rapid growth trajectory.
Per Microsoft's own press release: "Microsoft Viva comes as economic and social trends are driving durable changes in workforce engagement. Amid the shift to an increasingly distributed and digital work environment, demand has grown for solutions that support corporate culture, knowledge discovery, on-the-job learning and employee wellbeing." This summarizes my point fairly well, particularly as the coronavirus pandemic's waves of lockdowns and travel restrictions have accelerated the need to transition from in-person workflows and traditional collaboration norms to remote, mobile, ubiquitous collaboration best practices and workflows. It is therefore logical that the very types of smart automation, intuitive AI-driven systems, and user-centric experience design that were once used to acquire, develop, and retain customers, now be applied to employees and contractors as well. And where else but enterprise software tools to integrate them into their work environments.
Don't get me wrong: These new tools are still technically productivity tools. They still aim to optimize and maximize productivity, positive outcomes, ROI, and asset retention, while minimizing risk, waste, inefficiency, and turnover. It's just that both the approach to these operational objectives and the thinking behind them has shifted from the traditional authoritarian and exploitative approach borne out of the second industrial revolution to a more holistic, human, compassionate, and dare I say post-millennial employee-centric approach, which one could simply reframe as a shift toward the informal: Lose the tie, the suit, the briefcase, the desk, and corporate baggage, and replace them with a far more relaxed, personal, mobile, frictionless, work-from-anywhere work life.
Operationally, another way to frame this may be that even in the enterprise, work culture trends have now firmly shifted from work harder to work smarter, which now also means work healthier. For example, the push to empower employees to take charge of their own professional development, on their own terms and at their own pace, by making it easier to identify and access learning and training resources, speaks to a welcome evolution from the traditional gated, merit-driven career development model favored by many companies in the past, to a far more egalitarian model that gives employees control over their own careers, work life, and advancement. By prioritizing motivation and initiative over dog-eat-dog competition, companies may find their management ranks increasingly filled with competent, empathetic leaders who would have, in the past, been pushed aside by more aggressively ambitious high performers who, sadly, were poorly equipped to lead, let alone work well with others. The humanization of the workplace could perhaps lead, in time, to an increasing humanization of corporate leadership, which could in turn tilt the very nature of enterprise corporate cultures toward operationalized benevolence, altruism, and good will.
The Application of Technology to Workflows: Humanizing Work Again?
Another aspect of this evolution of work that I find particularly encouraging is the subtle incorporation of human-machine partnerships, which Futurum Principal Analyst Daniel Newman and I wrote about last year in our most recent book: Human/Machine: The Future of Our Partnerships with Machines. What I see in these apps and new workflow systems, is a case study in human worker enhancement by technology rather than human replacement by technology. I would even argue that what we are seeing here, in stark contrast with fears of scary new smart technologies killing millions of human jobs, is the application of smart technologies not just to enhance human workers, but instead to humanize work again. This is a significant change in our overall approach to the application of technology to workflows, as technology has traditionally had the effect of dehumanizing the workplace — which one could argue already had its own dehumanizing effect on the workforce. Seeing technology now being used to re-humanize the workplace, humanize workflows, and give people rather than systems more agency and initiative, seems to me a very positive and welcome change in the enterprise. Microsoft's new Viva employee experience platform certainly appears to be aiming to deliver on that vision.
My colleagues and fellow Futurum analysts Shelly Kramer and Daniel Newman discussed Microsoft Viva in this episode of the Futurum Tech Webcast, if you'd like to watch the video or stream the audio on your favorite podcast, you can find it here:
Futurum Research provides industry research and analysis. These columns are for educational purposes only and should not be considered in any way investment advice.
Other insights from Futurum Research:
The Vaccination Credential Initiative: Oracle, Microsoft, Salesforce And Healthcare Majors Partner To Develop Vaccination Passport 
CES 2021 News: Verizon Partners With Microsoft And AWS To Roll Out Mobile Edge Compute In Its 5G Network Fueling Smart City Development
Microsoft Adds Teams App Integrations For Video Meetings
Image Credit: Microsoft
The original version of this article was first published on Futurum Research.
Senior Analyst at @Futurumxyz. Digital Transformation + Tech + Disruption. Author, keynote speaker + troublemaker. Opinions are my own. I like croissants.