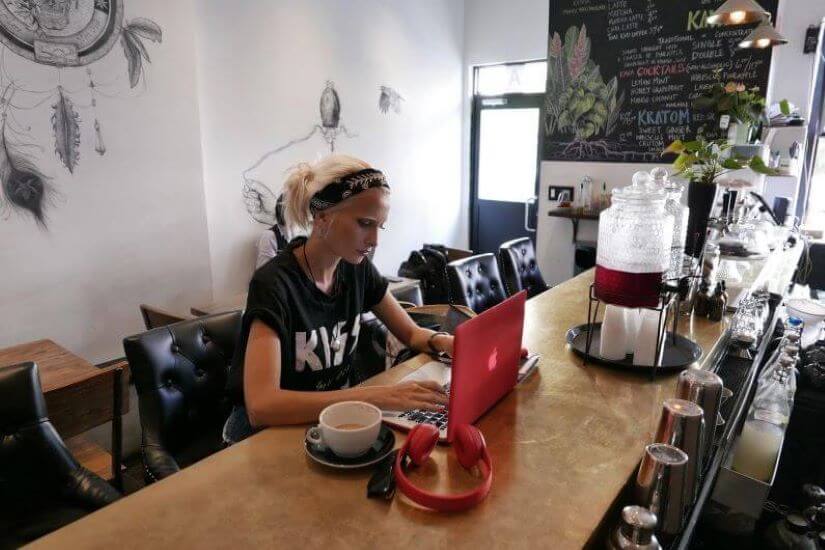 It has been estimated that 70 percent of the global population works remotely at least once a week. Seven out of ten people — let that sink in for a minute.
This remote work movement has opened up the door for several sustainable employment practices. Some of these are naturally occurring while others require a bit of initiative, whether it comes from the company or the employees themselves.
Here are a few of the ways that businesses and remote workers alike can utilize — and in many cases, already are utilizing — their far-flung work situations to make more sustainable choices.
The Naturally Sustainable Effects of a Remote Workforce
While there are several ways that businesses and their employees can strive to be exceptionally sustainable (many of which are highlighted further down), there are several sustainable factors that naturally come when a company sets up a remote workforce.
For instance, the most obvious benefit is the significant reduction of time spent driving to and from the office. The myriad of employees able to take their work home with them allows numerous commutes to be either reduced to an occasional occurrence or, often, even eliminated entirely.
The same phenomenon applies to international business just as much as local operations. As the effects of climate change are already threatening the aviation world, remote meetings from across the globe have become much more alluring, both as time savers as well as environmentally sound alternatives to an old-fashioned face-to-face meeting.
In addition to commuting, when a company allows a portion or, in some cases, all of their employees to work from home for at least part of the time, it reduces the need for a larger workspace. Where once an office, cubicle, or bullpen was necessary to house workers on a daily basis, now a much smaller space is required for the fraction of a company's workforce that is onsite on any given day.
This abatement of the physical square footage of a workspace means less electricity is needed for lighting, less fuel will be burned for heating, and less water will be needed for the plumbing. Instead, employees can access these resources in their own homes, spaces that, incidentally, would have been using up those resources while they were away at the office anyway.
Ways to Increase Sustainability With Remote Workers
While there are naturally green benefits to accommodating remote workers within your business, here are a few additional suggestions for ways that the leadership of green businesses and remote employees alike can push the eco-friendly envelope even further.
Promote Awareness
Just because a company's employees are offsite doesn't mean they're uninterested. Millennials, for instance, are significantly invested in saving the environment, and they love to see those values reflected in their employers.
Even if you do struggle with a disengaged remote workforce, creating a sense of connection and common purpose can be an ideal way to encourage engagement — and what better way to do so than by espousing sustainable practices across your company's operations?
As you manage your workforce from afar, don't be afraid to fire up those communication tools in order to promote company-wide collaboration focused on sustainability.
Plan Your Trips
Another way to help remote employees keep their carbon footprint down is to encourage them to thoughtfully plan their trips. Often, remote workers will visit co-work spaces, coffee shops, and libraries looking for a change of scenery. If your workforce utilizes this option, suggest that they try to plan other errands while they're out and about. For instance, if they need to go shopping, they can head towards the store and then find a place to work nearby. If they can't find an internet connection, they can use a hotspot on their phone in order to avoid any extra driving.
As an added tip, remote workers should look for ways to keep their own home internet bills as low as possible. One necessity of remote work is a stable internet connection. However, before they spring for the largest package offered by their local provider, encourage them to try to save a bit of money — money that can be reinvested into enabling a more sustainable lifestyle — by researching how fast they really need that internet to be.
Preparing for a More Sustainable Future
The remote workforce is an ideal shift away from unsustainable business practices. The natural decrease in the consumption of fuel, electricity, water, and office space has already made a dramatic effect on creating greener businesses.
However, the changes can't stop there. Remote workers and their employers must capitalize on the momentum already in existence. They must push to make more sustainable life choices even from within their new employment circumstances.
This mentality towards sustainability should be allowed to percolate throughout each company in order to maximize the positive effects and minimize the damage caused to the environment by business the world over.
The original version of this article was first published on Future of Work.
Sam Bowman is a freelance writer and techie who enjoys getting to utilize the internet for community without actually having to leave his house. In his spare time he likes running, reading, and combining the two in a run to his local bookstore.