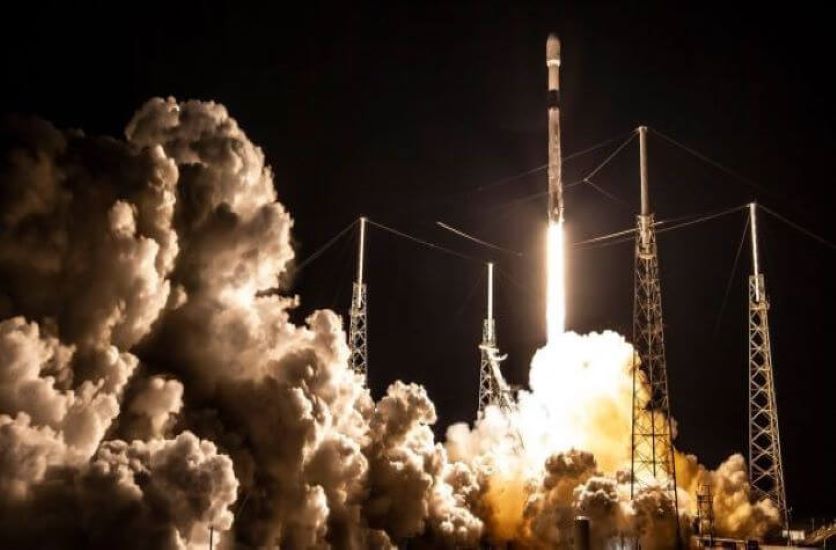 The News: Internet satellites are big news these days. This past week, after days of weather delays, SpaceX launched its fourth batch of its Starlink internet-beaming satellites into orbit and nailed a rocket landing. The company's Falcon 9 rocket made its flight lifting off from the Space Launch Complex 40 at Cape Canaveral Air Force Station in Florida. The rocket carried 60 more Starlink satellites that were successfully deployed about an hour after liftoff, adding on to the roughly 180 satellites that SpaceX already has in orbit. Read more at Space.com.
You can watch the footage of the SpaceX Falcon Rocket 9 here —
Internet Satellites Continue to Crowd the Skies, With SpaceX and OneWeb Leading the Way
Analyst Take: The launch last week of the SpaceX Falcon 9 rocket carrying 60 internet satellites is yet another step forward for Elon Musk's SpaceX undertaking. As mentioned, the rocket carried an additional 60 Starlink internet satellites, deployed shortly after liftoff. This is another step forward for the company, toward a goal of providing internet connectivity to the underserved areas of the planet, as well as provide competitively priced service to urban areas. The company also plans to sell some of the satellites for military, scientific, or exploratory purposes. Elon Musk and his company's overarching goal is to take the positive cash flow from selling satellite internet services and use it to fund his efforts to colonize Mars.
SpaceX isn't the only tech company filling the skies with more internet satellites, its competitor, Richard Branson-backed OneWeb, successfully launched its first batch of low Earth orbiting satellites in February of 2019, and its next launch is scheduled for next month from the Baikonur Cosmodrome in Kazakhstan. Like SpaceX, OneWeb plans to have regular launches of more than 30 satellites at a time to build its first phase constellation of 650 internet satellites, to be followed by further phases to deliver additional capacity and meet customer demand.
While these companies are well-recognized, there are literally hundreds of startups focused on space tech, with almost 90 companies that have received funding for a variety of offerings. Early-stage investor Space Angels reports investments of some $24 billion in over 500 companies, with $5 billion invested in space tech in the first three-quarters of 2019 alone. The biggest focus and largest investments, however, are on getting satellites into orbit.
The Challenges Private Satellite Initiatives Present
This kind of space-focused exploration and enterprise, especially related to the development and launch of satellites, is not without challenges. These private initiatives could mean some 20,000 to 40,000 satellites joining the 1,000 now in orbit over the next few years. Add to that the fact that there is already as much as 250,000 pieces of junk and debris circling the Earth, and the word 'crowded' springs immediately to mind.
Currently the U.S. Airforce tracks debris with radar and warns satellite operators about possible collisions. This tracking radar can only detect pieces 10 cm (4 in.) across or larger, but California-based LeoLabs has developed radar that can detect objects in orbit as small as 2 cm (less than an inch). While this seems like an insignificant difference, a 2 cm piece of debris can hypothetically cause great damage to a satellite.
With the skies becoming so crowded, questions arise. How will we monitor this and/or mitigate potential damage? Will the U.S. Air Force have the capacity to track all space satellites, or will this monitoring have to be privatized? There is also the matter of data protection in the skies, as the growing flow of data from these satellites becomes a concern. Start-ups are already working on that, for instance Singapore-based SpeQtral plans to build encryption keys based on the laws of quantum physics to protect space-to-Earth communications.
The astronomy community has its own concerns, fearing that the number of visible satellites will outnumber visible stars, and that their brightness in both optical and radio wavelengths will severely impact scientific observations. Musk and SpaceX counter that argument with the statement that their satellites will have minimal impact, reporting that the company is working on reducing the albedo of the satellites and will provide on-demand orientation adjustments if necessary.
What's Ahead With Regulation of Space Technology Initiatives
The government is paying attention to space technology initiatives. The 23rd Annual Commercial Space Transportation conference was held in Washington, DC this last week where there was a special focus on commercialization of the space economy. In his opening comments, FAA Administrator, Stephen M. Dickson remarked that America has found a home in commercial space and that a new generation of space pioneers are making that happen. He shared that it is predicted the space economy could be worth $1 trillion by 2040, mentioning the most obvious areas of focus include space travel and tourism, internet satellite service, space debris removal, in-space manufacturing, and mini satellites to provide high speed internet connection across the globe. While all of these will no doubt have a lasting impact on American enterprise as well as enterprise across the world, Dickson cautioned that safety, for both people and property on the ground, is the FCC's priority and urged conference attendees to ensure that safety is the primary concern as well.
One panel discussion at the event focused on the changing regulatory environment for private launch activities and discussed how those are integrated into existing rules and practices for managing commercial air transportation. Participating on the panel, an FAA administrator revealed that the agency's work on establishing rules is ongoing but noted there will be some regulation released this fall concerning launch rules once the FAA has incorporated industry comments and feedback.
Exciting Times Ahead for Space Exploration and Space Technology
It's clear that there are exciting times ahead for space exploration and space technology. Near term, with the focus on small internet satellites spurring global connectivity, the industry is going to have to be dealing with space traffic that has never been seen before and the literal prevention of satellite collisions.
I expect this will most likely mean an uptick in satellite monitoring vendors, with both the space tech industry and the government trying to find a balance between the private sector and federal regulation. Ongoing discussion and strategic collaboration will be an important part of the success here, and it's definitely something we expect to be keeping an eye on.
Futurum Research provides industry research and analysis. These columns are for educational purposes only and should not be considered in any way investment advice.
Other insights from Futurum on this topic:
Space Tech: What do Private Space Efforts Mean for the Tech Sector?
Image Credit: Space.com
The original version of this article was first published on Futurum Research.
Sarah brings 24 years of experience as an industry analyst to the Futurum team. She most recently served as the head of industry research for Oracle. Her experience working as a research director and analyst extends across multiple focus areas including AI, big data and analytics, cloud infrastructure and operations, OSS/BSS, customer experience, IoT, SDN/NFV, mobile enterprise, cable/MSO issues, and managed services. Sarah has also conducted primary research of the retail, banking, financial services, healthcare, higher ed, manufacturing, and insurance industries and her research has been cited by media such as Forbes, U.S. News & World Report, VentureBeat, ReCode, and various trade publications, such as eMarketer and The Financial Brand.