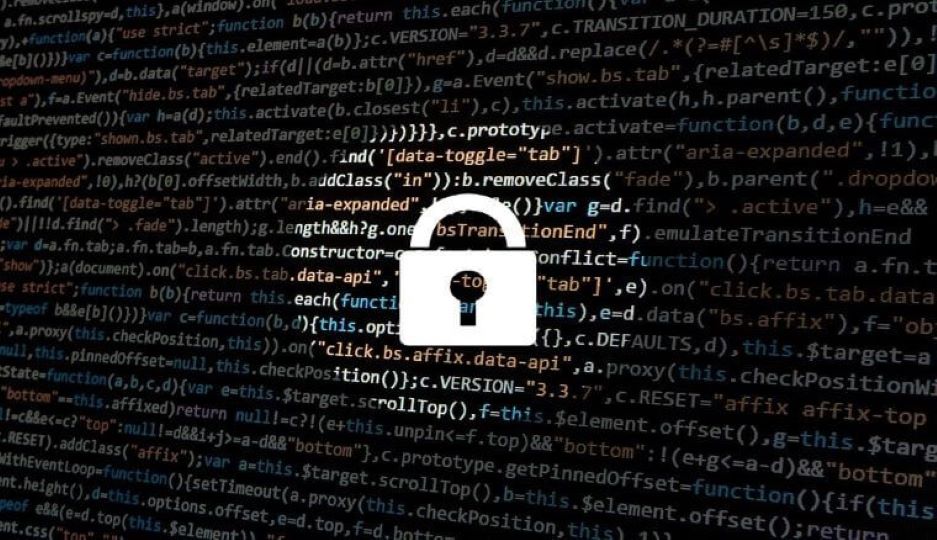 The News: Amazon and the National Cybersecurity Alliance recently launched a campaign called "Protect and Connect" to help United States citizens learn ways they can protect themselves online. Since 2004, the NCA has been a national advocate for awareness and education efforts that center on online threats and cybersecurity safety through myriad initiatives. Read the full announcement from the NCA.
Amazon and the National Cybersecurity Alliance Are Protecting You
Analyst Take: In my opinion, humor in the "Protect & Connect" campaign from Amazon and the National Cybersecurity Alliance is exactly what U.S. citizens need right now. The new campaign, which features Michael B. Jordan and Tessa Thompson, encourages users to "protect yourself before you connect yourself." With short videos that feature common cybersecurity schemes, Jordan and Thompson are bodyguards that keep unsuspecting users safe.
Like I said, Amazon and NCA kicked a 50-yard field goal dead center through the uprights. Humor in advertising works well and neuroscience research reveals that we tend to remember things that are funny since it activates the brain's dopamine reward system. In essence, people need a better education on how to protect themselves and finding fun and creative ways to do it is always welcomed.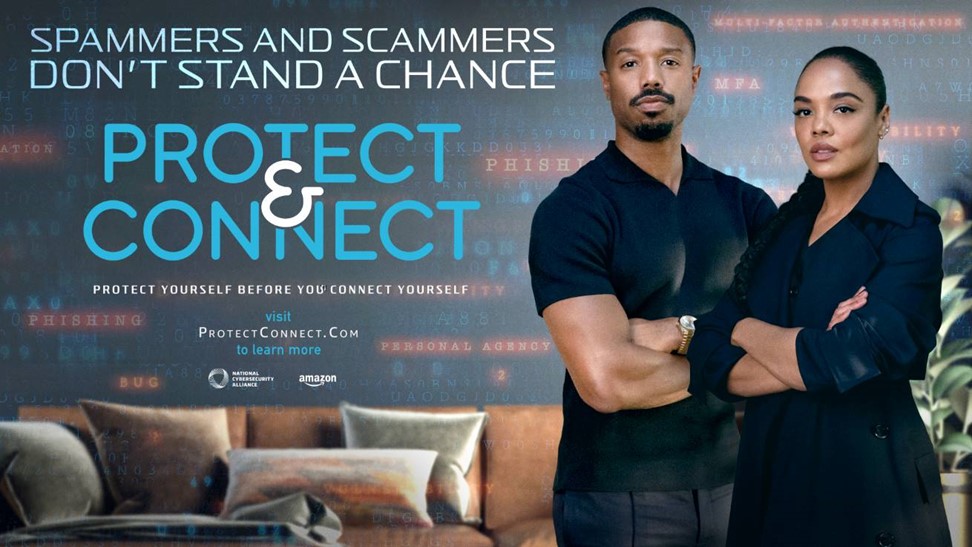 The Partnership is Needed
The Amazon and NCA partnership is very important to thwarting these attacks since there are more attack vectors than ever before due to the sheer number of devices the average household has today. In fact, the average household has 25 connected devices which is more than double what people had in 2019. And while many view hackers in a dark hoodie eating hot pockets at the wee hours in the morning like Mr. Anderson in the Matrix writing a script for attacks, that's often not the case. Like it or not, hackers are some of the best creative marketers out there, buying targeted lists from the deep web or list companies, scraping social media sites, and several other tactics. In essence, they know which levers to pull and packages to create like a media company targeting you with an advertising campaign.
Think I'm wrong? Go look how easy it is to buy a marketing list and then think back to the last time you received a random phone call from a "distant call center" telling you that the IRS is coming after you if you don't go to the store and put the desired owed amount on an iTunes card. With that said, it's even getting tougher for those that are savvy at discerning between a well-crafted e-mail from your alma-mater asking for a donation, or Netflix telling you you need to reset your password. We all need to be constantly educated. Which is why I think more companies and even the government need to jump onboard like Amazon and the National Cybersecurity Alliance.
An Absolute Win
Wrapping it up, the partnership between Amazon and NCA is an absolute win for consumers since not everyone is savvy at understanding how they are being attacked. Injecting humor into the conversation will help people understand more. It also doesn't hurt to have Jordan and Thompson on the screen. My hope is that more people will learn the dangers that lie across the web. With more programs like this we can mitigate attacks by keeping our devices — and ourselves — safer.
Disclosure: Futurum Research is a research and advisory firm that engages or has engaged in research, analysis, and advisory services with many technology companies, including those mentioned in this article. The author does not hold any equity positions with any company mentioned in this article.
Analysis and opinions expressed herein are specific to the analyst individually and data and other information that might have been provided for validation, not those of Futurum Research as a whole.
Other insights from Futurum Research:
Amazon Acquires iRobot: The Battle for the Smart Home is All Around You
Upcoming Federal Cybersecurity Guidance Likely to Address Software Supply Chain Concerns
New Bipartisan Healthcare Cybersecurity Act Aims to Improve Protection Efforts
Image Credit: WRAL TechWire
The original version of this article was first published on Futurum Research.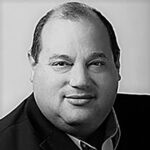 Michael Diamond is an industry analyst and foresight professional with 25 years of experience in the IT channel and market research industry. He is a route-to-market expert covering desktop and mobile devices, collaboration, contact center, ProAV, data center infrastructure, and cybersecurity. Prior to joining Futurum Research, Michael worked for The NPD Group as the sole industry analyst covering indirect channels, cybersecurity, SMB and vertical market trends, data center infrastructure (e.g., enterprise storage, servers, networking), ProAV and PCs. He has been quoted by media outlets such as Bloomberg, Kiplinger, TWICE, OPI (Office Products International), Apple World today, Dark Reading, Enterprise Storage Forum, Credit-Suisse, Footwear News, CRN (Computer Reseller News), Channel Futures and Into Tomorrow.  Michael has presented at myriad events including The Channel Company's Xchange, The Global Technology Distribution Council's summit, SMB TechFest and more.