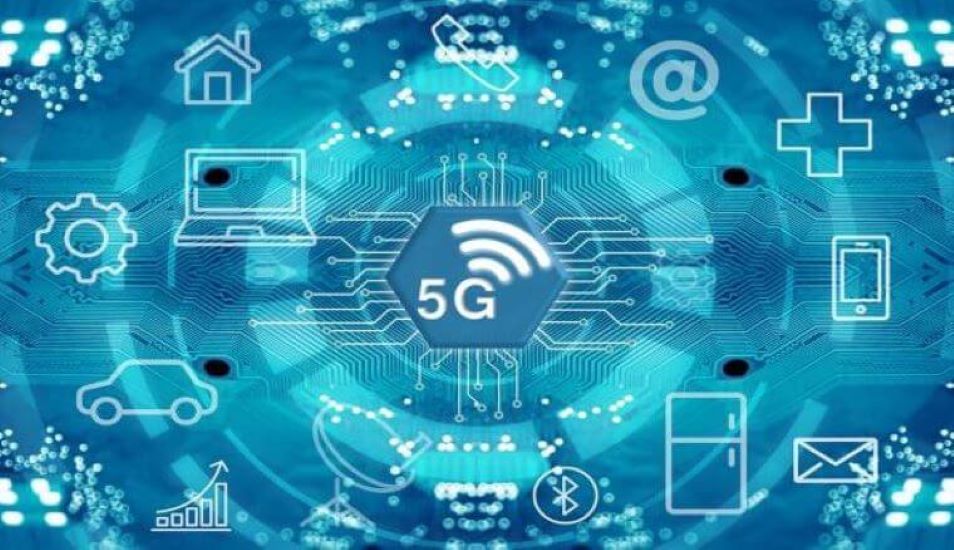 The News: Verizon (NYSE: VZ), Ericsson (NASDAQ: ERIC) and Qualcomm Technologies (NASDAQ: QCOM) join forces to demonstrate 5G peak speeds of 5.06 Gbps for the first time.
The in-lab demonstration was performed using Ericsson 5G infrastructure equipment and a 5G smartphone test device powered by a Qualcomm's Snapdragon™ X60 5G Modem-RF System featuring Qualcomm QTM535 mmWave antenna modules. The 5.06 Gbps speed was achieved by using 5G mmWave spectrum with carrier aggregation — specifically the 800 MHz bandwidth in 28 GHz mmWave spectrum, combined with 40 MHz as a 4G LTE anchor.
"This is the highest speed ever achieved to a single device," said Hannes Ekström, Ericsson's head of product line 5G, business area networks. Hannes was joined by Joe Glynn, vice president, business development, Qualcomm Technologies: "Qualcomm Technologies' collaboration with industry leaders Ericsson and Verizon in advancing 5G mmWave marks a significant milestone in making 5G a commercial reality. 5G mmWave will enable many new use cases for consumers and businesses as well as enable many of today's mobile devices to take advantage of its enhanced network capacity, multi-gigabit speeds and low latency."
Theoretically, 5G mmWave will likely deliver data speeds of 10 Gbps, so this particular achievement is merely a milestone on the road to double-digit Gbps speeds. Read more about it here.
Halfway to 10 Gbps Already, and it is Still Only 2020
Analyst Take: As impressive as this 5.06 Gbps connection demonstration is, bear in mind that it only gets us halfway to the types of connection speeds we are likely to see once 5G mmWave networks become fully mature. Consider that at a peak speed of 10 Gbps, mobile connections will not only move between cells and devices at up to 500 kph (310 mph), but networks will be able to support over 1 million devices per square km, and data volumes of 10 Tb/s/km2 – a value proposition that Verizon is clearly committed to.
Just a week ago, Verizon announced that it was expanding its 5G Ultra Wideband (mmWave) service offering to 19 new US cities, 19 stadiums, and 6 airports. This service was already capable of achieving 4 Gbps peak speeds in several locations. Overall, Verizon's 5G Ultra Wideband service is available in 55 cities, 43 sports venues, and 7 airports, and its 5G Nationwide service is also available for more than 200 million people in nearly 2,000 cities around the US.
Achieving actual >5 Gbps data speeds on commercially available 5G infrastructure equipment and a personal mobile device is particularly important for several reasons:
For starters, carriers looking to continue to invest in mmWave technologies, to supplement both the bandwidth and network capacity of existing 4G and Sub-6 Ghz 5G networks, need these types of proofs of concept in order to validate their investments and network deployment strategies, particularly with regard to mmWave equipment and the unique capabilities that mmWave technology brings to the 5G ecosystem.
Second, being able to demonstrate the real-world performance of mmWave technologies to the public as well as to commercial customers, helps them articulate the value of those investments and deployments, from reliable and low-latency bandwidth for massive IoT applications to everyday users being able to stream XR or 8K content on the go.
Thirdly, the cooperative nature of tests like this helps create awareness for the degree to which 5G-centric technology companies like Qualcomm, Ericsson (and Nokia, although not in this particular instance) collaborate side by side with carriers to provide a complete chain of solutions for their customers. I feel that the collaborative nature of the 5G ecosystem as a whole often gets missed in announcements like this, and that's a shame, because the way these companies combine their expertise to fill engineering gaps and enhance each other's contributions to these advancements and services is a win for everyone.
And lastly, achievements like this one can also help cast a light on the difference between the Sub-6 Ghz piece of 5G, and the mmWave piece, which I also feel doesn't quite get the media attention it should. Specifically, they help clarify the importance of mmWave to the growth and full realization of 5G network potential for consumers and commercial customers, and shines a light on the adjacent importance of complex engineering solutions like carrier aggregation, dynamic spectrum sharing (DSS), and Multiple Input Multiple Output (MIMO), and the value of their related IP.
In short, this 5.06 Gbps milestone hints at the yet unrealized value of 5G technology investments once they mature, and brings us a lot closer to the up-to-10 Gbps speeds and massive improvements to network capacity that 5G promises to deliver.
Futurum Research provides industry research and analysis. These columns are for educational purposes only and should not be considered in any way investment advice.
Read more analysis from Futurum Research:
Report: Huawei And Chinese Government Allegedly Working Together To Undermine 4G, 5G Network Equipment Competitors In Key Markets 
Intel Updates 5G Network Infrastructure To Focus On $25 Billion Market
MATRIXX Software Provides Cloud Native Keys To Innovative 5G Charging
Image Credit: eeNews Europe
The original version of this article was first published on Futurum Research.
Senior Analyst at @Futurumxyz. Digital Transformation + Tech + Disruption. Author, keynote speaker + troublemaker. Opinions are my own. I like croissants.