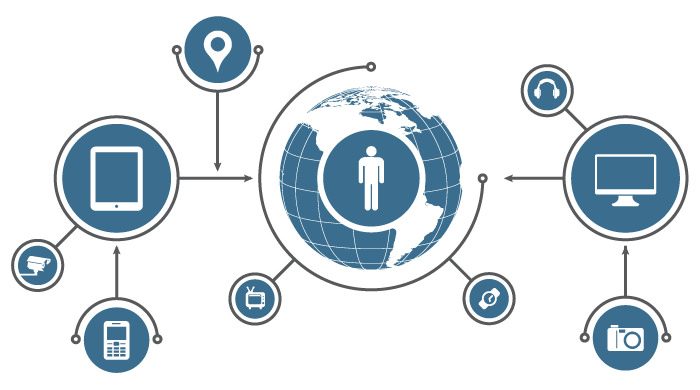 With 6.4 billion devices connected already, and an additional 5.5 million new devices added every day, the surge in IoT demands new approaches to handle these processing and analytics needs. Making the most of IoT requires a strong, seamless connection between devices and the cloud while eliminating computational issues and privacy concerns. So much so, that as I pointed out in Developing Resiliency in the Hybrid Cloud Era, many companies don't feel ready for the risks associated with IoT technology. But edge computing uses the processing power of IoT devices to aggregate, pre-process, and filter data at the source and enhances the capabilities of digital tools. Combining edge applications with cloud connectivity to perform complex analytics and promote decisions and actions means the best of both worlds—faster speeds and as-needed support. And while companies are just beginning to tap the potential of the edge, these three areas are already seeing marked enhancements for IoT networks:   
Reduced Latency and Faster Data Processing
The capabilities of cloud computing combined with IoT technology means that by 2018 IoT sensors and devices will surpass mobile phones as the largest category of connected devices. Complex algorithms for industrial and consumers applications allow for functionality from voice and facial recognition to machine learning. The opportunities in these capabilities are so robust that, as I detailed on Converge in Improving Cities One IoT Device at a Time, there are currently over 4 million app developers focusing on the IoT in India alone.  
But data getting shipped to the cloud and back to each IoT device has to contend with unavoidable network delays. 45 percent of all IoT-created data will be stored, processed, analyzed, and acted upon close to, or at the edge, of the network. This is why SAP is already working with their clients to make the most of this opportunity with SAP Edge Services and using analytics tools at the source.
Edge computing solves the IoT dilemma by adjusting to the processing needs of each application. With low-latency demands the edge runs machine-learning algorithms using the IoT device itself. Only interacting with the cloud for required processes allows the dual benefit of faster data processing and reduced latency. Companies like Cisco promise faster processing with the edge: "Time sensitive decisions should be made closer to the things producing and acting on the data. In contrast, big data analytics on historical data needs the computing and storage resources of the cloud."
The connection between IoT hardware and support is reflected in the relationships between data and analytics in edge computing as well. Through a partnership between SAS and Cisco, SAS Event Stream Processing "enables analytic models to run against data-in-motion with a sub-second response time, close to the devices and sensors creating the data."
Robust Connection Capabilities
Using the edge for speed and reduced latency creates additional benefits for users and devices in terms of network connectivity. Limiting cloud interactions to essential functions decreases the requirements for data and lowers costs when connectivity is an expense concern. In addition, applications that require network connectivity aren't disrupted by the drain of IoT devices. As more devices are connected the considerations of network and cloud requirements are solved as edge computing levels usage against needs.
EdgeX Foundry, an open source software project, has been chartered to build a common framework and surrounding reference platform for edge computing. Dell alone contributed more than a dozen microservices and over 125,000 lines of source code to seed the project. Edge X will provide an ecosystem of plug-and-play components that can be combined to create secure and scalable solutions for the IoT.
Privacy protection
In Threat Intelligence Report Highlights Seasonality of Attacks, Carolina Curby-Lucier of OnRamp explains how businesses are heading off cybersecurity issues in the IoT with encryption, alerts, and authentication. But the need for privacy protection in the IoT extends beyond traditional threats and includes using edge computing to secure data.
As IoT technology becomes the industry norm in markets from healthcare to banking, the data captured by IoT devices requires privacy protection as well. Using edge computing allows data from cameras or microphones to be processed using the device components, rather than depending on the cloud. Or, when cloud support is necessary, the edge can pre-process steps of required algorithms on the device or sensor and only transmit after data has been altered to protect privacy and accelerate processing.
Finding the Edge
Edge computing isn't limited to the processing and data storage capabilities that reside on a single IoT device or sensor. Three different types of edge locations allow for the benefits of onsite processes performed in synch with cloud commands: Edge Gateways, Edge Devices, and Edge Sensors and Actuators.
Edge Sensors or Actuators operate without their own power supply. Sensors or Actuators don't have their own operating system either, and may connect with Devices or Gateways as intermediaries between the IoT technology and the cloud.
Devices running iOS, Linux, Android, or another operating system could be considered Edge Devices. They typically have their own power—many times a battery—and run Edge Computing tasks onsite. Devices process data and run computations on their own, or with the assistance of an Edge Gateway.
Like Edge Devices, Edge Gateways have their own operating systems. With greater processing capabilities, storage, and memory than Edge Devices, Edge Gateways also collect data and begin performing algorithms before sending information to the cloud. Leveraging the relationship between these location types against the new architecture of edge computing is just the beginning for new network approaches.
A New Architecture
Edge leaders like HPE already offer services like Edgeline IoT Systems to bring the full benefits IoT data to the field. Machine learning at the edge, fraud prevention, automated maintenance support, and Augmented Reality (AR) technology are all possible with HPE deployments.
Inserting edge computing into the relationship between sensors or devices and the cloud is creating new process architecture for solving complex problems beyond the IoT. This new three-tier architecture is set to become the standard, structured around the cutting-edge technologies based on cloud, machine learning, and fast data. Edge computing's switching premise—differentiating immediate need against long-term analysis—enables technology to make the best use of the storage, computing, switching, and networking.
Photo Credit: Mobiloitte Flickr via Compfight cc
This article was first published on Futurum Research.
Daniel Newman is the Principal Analyst of Futurum Research and the CEO of Broadsuite Media Group. Living his life at the intersection of people and technology, Daniel works with the world's largest technology brands exploring Digital Transformation and how it is influencing the enterprise. From Big Data to IoT to Cloud Computing, Newman makes the connections between business, people and tech that are required for companies to benefit most from their technology projects, which leads to his ideas regularly being cited in CIO.Com, CIO Review and hundreds of other sites across the world. A 5x Best Selling Author including his most recent "Building Dragons: Digital Transformation in the Experience Economy," Daniel is also a Forbes, Entrepreneur and Huffington Post Contributor. MBA and Graduate Adjunct Professor, Daniel Newman is a Chicago Native and his speaking takes him around the world each year as he shares his vision of the role technology will play in our future.