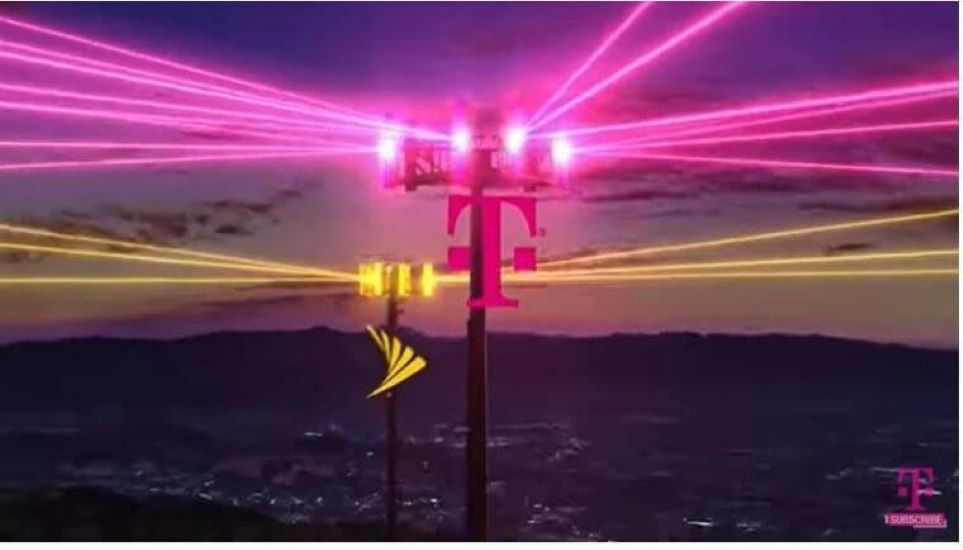 The News: T-Mobile has just unveiled T-Mobile WFX, three new solutions designed to help the enterprise meet changes brought on by the COVID-19 pandemic's new work-from-anywhere needs. T-Mobile WFX includes:
T-Mobile Enterprise Unlimited, wireless plans with unlimited 5G on T-Mobile's network for the same price as Carrier's shared, pooled rate plans
T-Mobile Home Office Internet, home broadband designed to give remote employees the bandwidth and security needed to get work done
T-Mobile Collaborate, a suite of mobile-first, cloud-based tools for business calling, messaging and conferencing from virtually any device, anywhere.
T-Mobile's WFX solutions are aimed at businesses and government organizations, and their employees. Read the press release from T-Mobile here.
T-Mobile WFX Unlimited 5G Plans Take on Verizon and AT&T in The Enterprise
Analyst Take: In launching T-Mobile WFX, the company is without question taking on Verizon and AT&T in the enterprise. The pandemic pushed the fast forward button on the future of work, giving us a decade's worth of progress in a year's time," said Mike Severt, T-Mobile CEO. "And it's clear that work will never be the same. Tomorrow's workplace won't be anything like the old work-from-office (WFO) world, and it won't be like today's work-from-home (WFH) world. It'll be something new: the work from anywhere (WFX) world. And T-Mobile WFX and our 5G network arrive at the right time to help businesses meet this moment head on … and come out the other side stronger."
That statement essentially frames T-Mobile's objectives, and helps clearly explain the WFX nomenclature behind the concept.
A bit of context: 9 out of 10 U.S. enterprises are planning for a future where employees will work remotely at least three days a week. This opens the door for 5G technologies to solve the communications challenges businesses and their employees face, particularly when it comes to bandwidth and latency. For T-Mobile, this is also an opportunity to try and displace AT&T and Verizon in the enterprise.
"The old Carriers are still using their 91% market share to feed business and government," explains Mike Katz, executive vice president of T-Mobile for Business, which he qualifies as "a very expensive starvation diet of old technologies, old plans and hidden fees. "With T-Mobile WFX and a 5G network that is faster and covers more area than AT&T and Verizon, we're on a mission to loosen the carriers' death grip on enterprise customers, so we're bringing that same disruptive, customer-first approach that made the Un-carrier the fastest-growing, most-loved consumer wireless company over the past seven years and counting."
The past 12 months have shaken the very foundations of business and created significant market shifts that companies with initiative can leverage to gain a competitive advantage over slower or less agile competitors. T-Mobile appears to be among the agile, as it clearly sees the opportunity to help businesses adapt to a new era of work that is far more open, virtual, and collaborative than it was pre-pandemic. Employees must be able to work from anywhere and collaborate with colleagues, partners, and customers everywhere. The problem, however, is that a significant performance and capacity gap still exists between business needs and network reality, and T-Mobile seems intent on being the company that bridges that gap. Among the problems still most commonly reported are dropped calls, buffering, jitter, frozen screens, and disappearing video. Pre-COVID-19 communications technology and plans are partly to blame for this inconsistent adaptation, and T-Mobile is betting that businesses are frustrated with their lack of options.
T-Mobile's New Home Office Internet
The state of broadband in America wasn't that great before the COVID pandemic, but the shift to remote work pushed home internet access to the breaking point. Employees who work from home face a daily battle for bandwidth with the rest of their household, and with that comes an hourly struggle to stay productive while waiting for videos to buffer and meetings to unfreeze. Meanwhile, companies face the thankless task of cobbling together a patchwork of regional service providers with different plans and service level agreements to serve the needs of their remote workforce. Last but not least, is the risk that comes when employees use poorly secured personal Wi-Fi to access and share critical business information. This has not only resulted in presumably millions in lost productivity every month but also poses potentially significant security risks across the enterprise.
T-Mobile Home Office Internet aims to deliver a separate, high-security connection for employees working from home designed specifically to solve these problems.
T-Mobile Home Office Internet provides:
4G/5G broadband to keep remote workers connected at home.
A dedicated preconfigured router that prioritizes access to employee devices and filters non-business content, so WFH employees can stay productive while the rest of the household can stream, study, game and more on personal Wi-Fi without disrupting work. The T-Mobile router will be shipped directly to employees and can be installed in minutes, keeping deployment costs low.
Enterprise-grade protection that is significantly more secure than personal Wi-Fi networks.
Access to a nationwide network so businesses can cut loose the hodgepodge of regional ISPs and their inconsistent services.
At launch, T-Mobile expects that Home Office Internet will cover more than 60 million households, close to half of all homes in America, with plans to cover more than 90 million households by 2025.
There is a caveat. T-Mobile wants to ensure that all of its customers achieve download speeds of at least 25 Mbps. To that end, Katz has signaled that T-Mobile will work with companies to make sure their employees will be able to access reliable T-Mobile service that is capable of properly handling video calls before providing the router. If the employee's home cannot reliably receive a strong enough signal, T-Mobile will not supply the service.
T-Mobile Collaborate
In 2019, businesses spent nearly $6 billion on outdated infrastructure like desk phones and PBX equipment, now gathering dust in vacant offices, all for employees who would rather use their smartphones anyway. Now that employees are using their phones a lot more, companies need solutions to help properly manage and secure those communications. T-Mobile Collaborate meets this need with a suite of mobile-first, cloud-based solutions that work on any mobile device, anywhere.
T-Mobile Collaborate provides:
An enterprise-grade phone system with cloud flexibility that can replace an organization's entire legacy business phone system including that old, expensive PBX.
Video and voice conferencing that make it easy to host effective meetings from anywhere in HD, without PINs.
Built-in AI including an AI assistant to take notes and follow up on action items, with a view toward helping everyone within the organization be more productive.
Built-in integration with leading workplace apps including Microsoft Office 365, G Suite, Salesforce, and Slack.
Fast, simple virtual installation from anywhere in minutes, saving time and money.
T-Mobile Collaborate is powered by Dialpad, an industry leader in mobile-first communication and collaboration technology, and as part of this relationship, T-Mobile Ventures has made a strategic equity investment in Dialpad and holds an observer seat on the company's board of directors.
T-Mobile's Enterprise Unlimited Plans Represent a Very Real Threat to Verizon and AT&T
I believe that T-Mobile's enterprise unlimited plans represent a very real threat to Verizon and AT&T, who all but control the enterprise market, with 50% of enterprise employees locked into pooled and shared plans. The problem is that these plans may only deliver a fraction of the data usage that employees will likely need in a 5G world. Enterprises have spent hundreds of millions to manage their data plans based on estimates that are little more than shots in the dark, and with 5G becoming much more a factor than it was a year ago, data usage forecasts could add an additional $2.5 billion in overages for the next five years alone. This is clearly not ideal.
I view the launch of T-Mobile's WFX as a well-timed, strategic move. It's obvious that T-Mobile sees this as an opportunity to reduce friction and provide businesses with a relatively pain-free alternative, thus the offering of an enterprise-grade unlimited data plan. In short, that plan includes unlimited data at the same or better price of its competitors, 5G access on T-Mobile's 5G network, and a solution that has been designed from the ground up to support a work-from-anywhere workforce. These plans became available on March 5th.
It will definitely be interesting to see how this offering from T-Mobile goes, as well as what Verizon and AT&T will do to counter this move.
Futurum Research provides industry research and analysis. These columns are for educational purposes only and should not be considered in any way investment advice.
Read more analysis from Futurum Research:
Microsoft's Move To Make Power Automate Desktop Free Is A Major Power Play
Honeywell Recognized For Quantum And Pandemic Leadership
HPE's Formation Of HPE CTG Validates Organization-Wide Commitment To Open 5G Mission
Image Credit: Fierce Wireless
The original version of this article was first published on Futurum Research.
Senior Analyst at @Futurumxyz. Digital Transformation + Tech + Disruption. Author, keynote speaker + troublemaker. Opinions are my own. I like croissants.