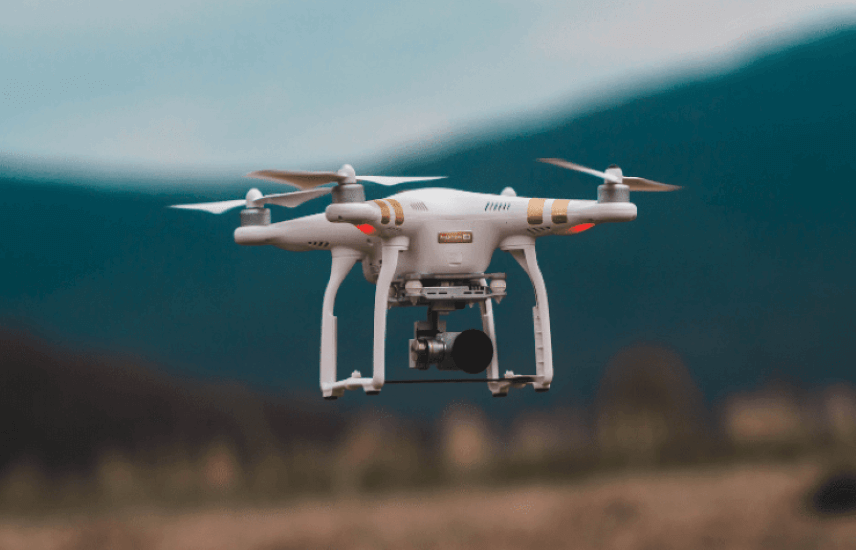 Amazon is considering using drones not simply to deliver packages but additionally to provide surveillance as a service to its customers, based on a patent granted to Amazon earlier this month by the US Patent and Trademark Office.
According to the patent description, in addition to delivering packages, the delivery drones may be utilized to record a video of consented user's house to gather data which may be examined to look outside for things that aren't as they should be, for instance, a broken window, a fire, or a garage door has been left open throughout the day. The surveillance function of the drone would be limited via geo-fencing, a technology used to draw a virtual boundary. According to the patent, anything outside of the boundary would be obscured or removed.
Customers could pay for surveillance on an hourly, daily, or weekly basis. Drones would be equipped with night vision cameras and microphones to extend surveillance capabilities.
Drone Surveillance Programs Aren't Really New
Drone surveillance programs aren't new, by any stretch. Drone surveillance has long been used by the military, and it will be no surprise to see this technology move into the private sector. It's important to remember, however, that delivery drone service is, at best, in its infant stages. As a result, I don't think we'll be seeing drones used for home surveillance overnight, but I can definitely see it happening.
While it is completely possible that this drone technology from Amazon (or any company) will never come to fruition for homeowners, I can absolutely see some interesting use applications. I've headed to the office and once I arrived, wondered whether I inadvertently left my garage door open. Who hasn't had one of those "Oh no" moments? Ordering a drone to "pop by" and check could be kind of awesome. Or think about leaving town on vacation for a week or two, and instead of only having auto-programmed smart lights coming on in the evening to ward off trouble, also having drone surveillance intermittently while you're away. Could be cool.
The Applicability of Drone Surveillance for Physical Security
What I'm really interested in, however, is the applicability of drone surveillance for physical security. My colleague Brian Cox and I talk often about security integration trends and the rapid evolution the industry is going through, and AI, robotics, and autonomous devices are always part of the conversation.
The impact of these kinds of devices on physical security is exciting. As Brian wrote in a recent article on security trends, there are already companies renting independent robots and drones for security purposes and we expect demand for this kind of technology to grow at a fairly rapid pace. Without question, they are changing the physical security landscape in myriad ways. If you'd like to read a deeper dive on Brian's coverage on trends, be sure to check out his recent article, Top 8 Security Integration Trends.
Video Surveillance + Drone Surveillance Together FTW
Without question, when it comes to physical security, video surveillance is your first line of defense for protecting assets and personnel from incidents. While it's true that Amazon has its fingers in many pies, I'm not particularly worried about Amazon's patent for the use of delivery drones for surveillance and how it might impact or compete against the physical security sector.
As part of a strategic physical security plan and integrated system, drone surveillance could deliver big benefits. A drone surveillance program could work in conjunction with your existing video surveillance system and provide an extra layer of protection. I'm betting we'll see this in the physical security sector, provided by bona fide security integrators and their partners, sooner than we'll see it rolled out to homeowners by Amazon. It's definitely something to watch, that's for sure. And you can bet Brian and I, and the rest of our team, will be watching.
If you'd like to read more about Amazon's potential surveillance offering, you can do that by visiting here. Want to read the full text of the patent? You can find it here. And of course, if we can help you and your team understand and work through the process of building an integrated security plan including video surveillance, we'd love to help. Feel free to reach out and connect with me on LinkedIn, send me an email.
The original version of this article was first published on 3Sixty Integrated.
Will Duke is the CEO of 3Sixty Integrated, a security integration company headquartered in San Antonio, Texas and co-founder of Site Owl, a cloud-based security management platform designed to make the lives of security and IT professionals better in every way. Will and his team operate on the principle of SOLID, developed to capture their most deeply-rooted core values. What does SOLID stand for? To Serve others, with an Outstanding attitude, to commit to constantly Learn and grow, to bring innovative Initiative to every situation, and to always Dream big.